---
NEWS NOTES — ENERGY & RESOURCES
---
Supreme Court rules in landmark climate case
Alabamans await new gas
Mineral Resource of the Month: Phosphate Rock
---
Supreme Court rules in landmark climate case
In a ruling April 2, the U.S. Supreme Court gave the Environmental Protection Agency (EPA) clear authority to regulate greenhouse gases — a task that the agency had previously considered outside its purview. The ruling could set the stage for future cases related to climate change.
In 1999, 12 states and a slew of cities petitioned EPA to regulate emissions of carbon dioxide, a major greenhouse gas, from new vehicles. Almost four years later, EPA denied regulatory action on the basis that the Clean Air Act does not authorize the agency to do so, and "even if it had the authority to set greenhouse gas emission standards, it would have been unwise to do so at that time because a causal link between greenhouse gases and the increase in global surface air temperatures was not unequivocally established," according to a summary of the case released April 2 by the Supreme Court.
The 12 states, numerous cities and environmental groups promptly sued. The issue first appeared in lower courts, where EPA's decision to deny regulation was upheld. After a lengthy review of the case, however, the Supreme Court ruled 5-4 in favor of reversing the lower court's decision, sending EPA a clear message. The agency "has statutory authority" to rewrite its policies and begin regulating carbon emissions in new vehicles, Justice John Paul Stevens wrote in the majority opinion. Stevens called EPA's previous decision not to regulate the gases "arbitrary, capricious … or otherwise not in accordance with the law."
The Supreme Court decision also states that greenhouse gases are considered a pollutant under the Clean Air Act, and should be regulated as such — as evidenced by sound science and a strong consensus among qualified experts, Stevens wrote. "On all accounts it's a landmark decision because it makes it clear there is a responsibility on the part of government to act to reduce the threat posed by climate change," says Jonathan Overpeck of the University of Arizona.
Overpeck, along with notable scientists across the country, filed an amicus curiae, or friend of the court, brief along with the case, with the purpose of assisting the Supreme Court in its decision. The brief discusses three climate change reports produced by the National Academy of Sciences during the Bush administration, and attempts to clarify the science. "We were happy to see the Supreme Court recognize the real science behind the issue," Overpeck says.
As for what the decision will mean for the future remains to be seen. Congress now has a "green light" to deal with climate change's threat to society, Overpeck says, and research into greenhouse-gas-reducing technology will likely be increased.
Furthermore, it is likely that the Supreme Court decision will trickle down pretty quickly through suits currently waiting in lower courts: In anticipation of this decision, lower courts had previously delayed ruling on several climate lawsuits, such as those pitting major automakers against California, Vermont and several other states in emissions battles.
California Gov. Arnold Schwarzenegger said in a statement April 2 that he expects that the Supreme Court decision will lead to quick resolution in the California case. "We remain hopeful that the EPA will soon determine, as California has, that vehicle greenhouse gases must be reduced," Schwarzenegger said.
Although the political ramifications of this decision may be significant, the effect on basic climate research will not likely be substantial, Overpeck says — "other than to say in big bold letters: Climate change is for real."
---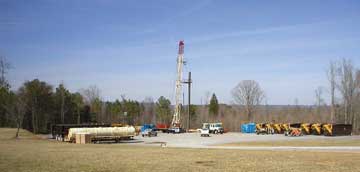 Photograph is by Randy Oglesby, State Oil and Gas Board of Alabama.
Some Alabama residents face a potential economic boon, as a sizable natural gas field was established Feb. 16 at a special hearing of the State Oil and Gas Board of Alabama, according to Nick Tew, state geologist and a member of the board.
Big Canoe Creek Field, as the field was named in February, encompasses about 100 square kilometers in St. Clair County, Ala., in the Appalachian Valley and Ridge geologic province, and is part of the larger Cambrian-aged Conasauga Formation, Tew says. "Natural gas production is new to this area of the state, and this [will mark] the first production from the Cambrian Conasauga Formation," he says.
The state as a whole produced almost 9 million cubic meters of gas in 2005, according to the Energy Information Administration. Exactly how much gas Big Canoe Creek Field could contribute to that is currently uncertain. Data retrieved from wells so far are "not sufficient" to characterize the potential of the wells and surrounding area, says Dave Bolin, also of the State Oil and Gas Board of Alabama.
Dominion Black Warrior Basin Inc. currently operates the field, and has drilled four test wells to evaluate gas reserves with 11 more wells permitted to depths of about 2,400 to 2,700 meters. The deepest well drilled so far, however, has reached only about 2,100 meters due to the structural complexity of the shale in the Conasauga Formation, Tew says. The formation exists in the Appalachian fold and thrust belt, and as such, the shale has been effectively deformed by the area's thrust faulting and folding, he says.
"Development of the Conasauga shale gas play is in the early stages, but it has the potential to represent a significant new natural gas resource for the state of Alabama and its citizens," Tew says.
---
Stephen M. Jasinski, the phosphate rock commodity specialist for the U.S. Geological Survey, has prepared the following information on phosphate rock, which is the source of phosphorus in fertilizers and industrial chemicals.
Phosphate rock minerals provide the only significant global resources of phosphorus, which is an essential element for plant and animal nutrition. Phosphate rock is used primarily as a principal component of nitrogen-phosphorus-potassium fertilizers, but also to produce elemental phosphorus and animal feed.
The grade of the rock ore is expressed as the percent phosphorus pentoxide or tricalcium phosphate, which is commonly referred to as bone phosphate of lime. The phrase came about at a time when animal bones were the principal source of tricalcium phosphate fertilizer. Today, phosphate rock is used as a concentrated product, known as marketable phosphate rock, which has phosphorus pentoxide content greater than 28 percent for use in phosphoric acid production plants. Elemental phosphorus production plants can use lower grade ores.
The untreated form of phosphate rock is not very soluble and provides little available phosphorus to plants, except in moist, acidic soils. Treating ground phosphate rock with sulfuric acid creates wet-process phosphoric acid, the basic material for producing most phosphoric fertilizers. The primary fertilizer products are diammonium phosphate and monoammonium phosphate, which are manufactured by reacting phosphoric acid with ammonia and triple superphosphate, produced by treating phosphate rock with phosphoric acid.
More than 95 percent of the phosphate rock mined in the United States is used to produce phosphoric acid. In the United States, phosphate rock is mined by open pit methods, and processed by washing and milling the phosphate rock ore zone (matrix), then separating the rock particles and grinding them to a uniform size. The process produces marketable phosphate rock.
Manufacturers can also produce phosphorus in its elemental form by smelting phosphate rock, coke and silica in an electric furnace. The phosphorus is then liberated as a gas, collected by condensation and stored underwater to prevent combustion. Elemental phosphorus is used to produce phosphorus chemical compounds that are used in applications such as cleaners, food additives and herbicides. Elemental phosphate is slowly being replaced by high-purity, wet-process phosphoric acid as a feedstock for phosphorus chemicals because of its lower production cost and cleaner technology.
Most phosphate rock deposits are of sedimentary origin, with phosphorus found in the form of hydroxy fluorapatite, or as carboxyapatite. Active U.S. phosphate rock mines exist in Florida, Idaho, North Carolina and Utah. Florida and North Carolina alone account for 85 percent of U.S. production. Worldwide, large deposits are found in northern Africa, Australia, China and the Middle East. Phosphate rock also occurs in igneous deposits, in the form of apatite, generally as fluorapatite. Significant igneous deposits are located in Brazil, Canada, Finland, Russia and South Africa. Morocco, China, South Africa, Jordan, and the United States have the largest reserves, in descending order.
In 2006, world phosphate rock production was about 145 million metric tons. China, the United States and Morocco, in descending order, were the leading producers, accounting for approximately 65 percent of the total. The United States was once the biggest producer and consumer of phosphate rock, but China's production surpassed the United States in 2006, when U.S. phosphate rock production and consumption fell to the lowest levels in nearly 40 years, owing to mine and plant closures and lower export sales of phosphate fertilizers.
Visit http://minerals.usgs.gov/minerals for more information on phosphate rock.