Subscribe

Archives

Classifieds

Advertise

Customer Service

Geotimes Search
---
---
---
Web Extra Monday, May 12, 2008
---
Quake rocks central China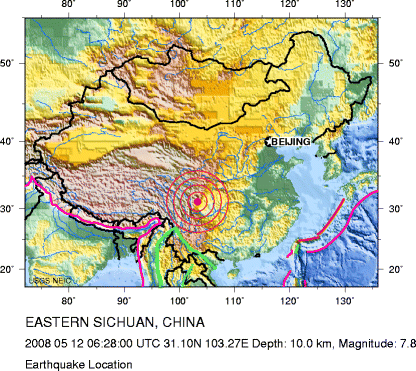 USGS
A magnitude-7.8 earthquake rocked through China's Eastern Sichuan province Monday. Eighty percent of the buildings in Beichuan County, with a population of 160,000, are estimated to have collapsed, and more than 7,600 people were killed.
At 2:28 p.m. local time Monday, a powerful magnitude-7.8 earthquake rocked through China's Eastern Sichuan province. Death tolls are expected to be in the thousands and injuries in the tens of thousands, according to the state-run Xinhua news agency. The quake was only 10 kilometers deep and struck in the middle of the afternoon, when office buildings and schools were full. Strong aftershocks, several measuring more than magnitude 5.5 themselves, are continuing to shake the region.
Approximately 80 percent of buildings in Beichuan County in Sichuan are thought to have collapsed. Authorities say that as many as 7,600 people may have been killed and 10,000 people may have been injured by collapsing buildings due to the quake. Beichuan's population is about 160,000 people.
The earthquake was located about 90 kilometers west-northwest of Changdu and 1,545 kilometers southwest of Beijing, and was felt widely throughout China, according to the U.S. Geological Survey's National Earthquake Information Center. Reports suggest it was felt in Pakistan, Vietnam and Thailand as well.
Central and eastern Asia is prone to strong earthquakes. The quakes are the result of tectonic stresses produced by the collision between the India Plate and the Eurasia Plate, which are converging at about 50 millimeters per year. According to USGS, the latest temblor was the result of motion along a thrust fault on the northwestern margin of the Sichuan Basin (where it meets the eastern margin of the Tibetan Plateau), possibly the Longmenshan Fault. A magnitude-7.5 quake in 1933 in the same region killed more than 9,300 people.
Carolyn Gramling
Links:
Associated Press news report on earthquake
USGS information on China earthquake

Back to top