Subscribe

Archives

Classifieds

Advertise

Customer Service

Geotimes Search
---
---
---
FEATURE
---
---
Getting geology on the AP track
---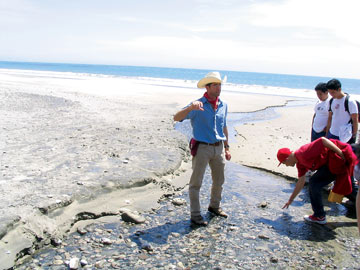 Matt Linhares
Richard Nevle explains sediment transport to his high school geology class at the Año Nuevo State Reserve in Northern California.
In the 1990s, ninth graders at DeKalb High School in Illinois had two science options: biology or earth science. The school encouraged those who had strong math and science skills to take biology, which was part of the advanced track. Those who were faltering took the less-rigorous class: earth science. But Jim Walker, a geologist at Northern Illinois University, felt that even rudimentary earth science would be better than none at all. "Earth science is pretty basic," he says. "It's the science where you apply biology, chemistry and physics to the place that you live." So although his daughter, Erin, excelled at math and science, he and his wife decided to enroll her in the school's earth science class.
Times haven't changed all that much since Erin was in high school. Ninth graders in DeKalb have more options these days, but the school still recommends that those who plan to pursue science as a career take biology, chemistry and physics — not earth science. DeKalb is by no means the only high school where earth science is thought of as "rocks for jocks." And the problem goes well beyond simplified curriculum. Robert Ridky, the national education coordinator at the U.S. Geological Survey in Reston, Va., says that the number of high school students taking earth science classes has fallen from a peak of about 28 percent in the early 1970s to about 8 percent today. That also affects the number of students entering geoscience majors in college and the geoscience workforce after college, Ridky says.
As a discipline, "we made a tactical error several years ago," says Jacqueline Huntoon, dean of Michigan Technological University's Graduate School and former program director for diversity and education in the National Science Foundation's (NSF) Directorate for Geosciences. "We made geoscience accessible to everyone, but there was also a tendency, at least in some places, to dumb down our science. In a lot of cases, all the mathematics and physics got taken out." Today earth science has a reputation for being, as one teacher put it, "the dumb stepbrother" of the sciences. A group of dedicated geoscientists, however, is working to change all that.
Their chance to help partially reverse the trend came a few years ago. In 2002, the National Research Council (NRC) found that the advanced science and math courses designed to give high school students college credits lacked depth. The courses tried to cover too much, the teachers weren't qualified to teach them and the students weren't prepared to take them, the report said. "They found that these courses were an inch deep and a mile wide," Ridky says. The College Board, which oversees the Advanced Placement (AP) program, is the largest provider of such courses. Students who take AP courses have the opportunity to earn college credits by passing a final exam at the end of the year: In general, the higher their score, the more credits they can earn, although not every institution accepts AP credits. In the United States alone, AP students took more than 600,000 math and science exams last year. Some students forgo the tests and instead use the AP courses to bolster their high school transcripts. "AP has such cachet," says Richard Nevle, a geology teacher at a college preparatory in San Jose, Calif.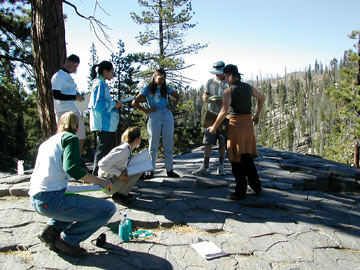 Tom Harris
Paula Messina's students at San Jose State University examine the Devils Postpile formation in eastern California.
Soon after NRC released its critical report, the College Board began looking for funding to update its AP science courses to address NRC's concerns. Huntoon, then at NSF, saw a golden opportunity for the earth science community to reach the best and brightest students. She convinced the Directorate for Geosciences to lend some financial support to the College Board's redesign effort. In May 2006, NSF awarded the College Board $1.8 million to help rework AP biology, chemistry, physics and environmental science, even though it was not one of the courses reviewed by NRC.
Together NSF and the College Board put together commissions composed of scientists and educators and tasked them with identifying some of the fundamental concepts that should be included in each course. Much to the chagrin of Ridky and others, the College Board doesn't have an AP earth science. They do, however, have AP environmental science (APES), which includes geoscience concepts such as plate tectonics, ocean circulation and the rock cycle. Ridky was asked to join the commission that would lead the redesign effort for APES. "Our interest was to see if we could strengthen the earth science component," he says. Joining him were four other geoscientists and seven environmental scientists, including several high school APES teachers.
"We were told by the College Board that we really didn't have to use what existed before as a model. This was a really exciting idea," says Paula Messina, a geologist and science educator at San Jose State University in California who served on the commission. "I thought that the charge was to make a more rigorous science course." The earth scientists even tossed around the idea of renaming the course AP Earth and Environmental Science.
But it quickly became clear that their vision was going to be difficult to achieve. "It's really two different types of communities," Ridky says. The course, he says, has a heavy emphasis on social science and a policy perspective, and the APES teachers like it that way. According to Ridky, they argued that the old APES curriculum gave students who didn't have a strong science background and couldn't do the complex calculations required for AP physics or chemistry a chance to take an advanced science course.
"I can sympathize with the AP environmental science teachers," says Jenelle Hopkins, an earth and environmental science teacher in Las Vegas, Nev., who also served on the commission. "They were having success the way it was."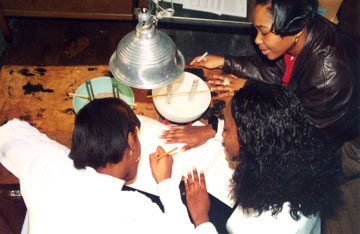 courtesy of Paula Messina
High school students in Brooklyn, N.Y., hone their earth science lab skills.
As the year progressed, the curriculum framework took shape. But the structure made the geoscientists uncomfortable. They say big picture concepts, such as natural hazards and natural causes of climate change, were thrown out in favor of pollution case studies. Messina fought so hard to include Milankovitch cycles — variations in Earth's orbit that influence climate — that "it almost became a running joke," she says. But it didn't make the cut. And plate tectonics, which was part of the original APES curriculum, "is virtually gone," she adds. "I'm afraid we have a laundry list of environmental problems," Hopkins says. Messina agrees. That's particularly problematic because the new curriculum won't be implemented until 2011 at the earliest and won't be reworked for another decade. By then, different environmental issues may have become more important, the geoscientists point out. The geologic processes that underlie these issues, however, will remain relevant.
"It seemed that the deck was stacked against a true redesign," Messina says. "Getting more science into the curriculum couldn't succeed given the composition of the commission." And given the amount of earth science that is likely to end up in the redesigned course, no one is pushing to change the name to earth and environmental science. "We'd be doing an injustice to our science," Ridky says. "It would be far better for the geosciences to have a separate earth science course."
Jill Karsten, Huntoon's successor at NSF, is more magnanimous. "I think the foundational scientific concepts have been greatly strengthened," she says. "I predict it's going to be a popular course, which could be very good for our community."
Ben Smith, the commission's co-chair, has been teaching APES for 12 years in Rolling Hills, Calif. He says the redesign hasn't substantially altered the course, which is "inherently interdisciplinary," drawing on everything from biology and ecology to chemistry, geology and climatology, as well as economics, law and ethics. But he points out that the process is still ongoing. "Those of us who've been teaching it feel that it's a great course — very solid, very relevant, very meaningful," he says. With respect to earth science, Smith says that depth and rigor are already present. "These topics are not glossed over in the course."
Wendy Van Norden, who also teaches APES but is not on the redesign commission, agrees that the course is relevant and meaningful, but she says that it suffers from being too broad. Adding more earth science, however, would only make APES unwieldy, she adds. "I already can't fit everything I teach into one year."
"The charge to our commission was not to build an earth science course by way of deleting an environmental science course," Smith says. Some of the geoscientists "didn't get what they were maybe most hoping for. Nobody likes to have that," he adds.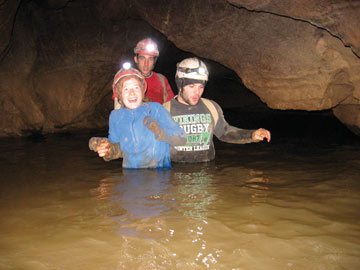 Courtesy of the Department of Geological Sciences at Ohio University
Geologists hope field trips like this one, to Indian Rockland Cave in West Virginia, will help get students to pursue careers in the geosciences.
High school earth science courses are important to help get students interested in the field and to feed the geoscience pipeline. Convincing schools to implement such courses, however, can be a daunting task. "In the education community there's an incredible amount of inertia," Messina says.
No one knows that better than physics teachers Chris Lawrence and Mark Snow. Seven years ago, the San Diego Unified School District in California reconfigured the sequence of its high school science courses and began teaching physics in the ninth grade, before chemistry and biology. But ninth-graders don't have the math they need to understand physics, Lawrence says, so the course was watered down. "It ended up being a disaster," he says. "I refused to do it. We had a rebellion."
Instead, Lawrence and Snow convinced the school board to let them teach ninth-grade earth science as an alternative. After persuading textbook publishers to donate books, they began pilot classes at three different schools. The results, Lawrence says, were dramatic. The students who took ninth-grade earth science had significantly higher standardized test scores than those who took physics. Lawrence attributes the boost to the fact that he and his colleagues are not only teaching earth science, they're ensuring that their students' math and reading skills are up to speed. Other schools were impressed. Over the past three years, the number of ninth-grade earth science teachers in the district has grown from three to 40. Nearly all the schools in the district — the sixth largest in the United States — have signed on. "If publishers have to start producing textbooks for earth science to meet San Diego's needs, then the rest of the country may follow," Messina points out.
Lawrence hopes to expand the initiative further by developing a more rigorous earth science course for older students. He even plans to implement his own advanced earth science course to help students earn college credit. "The heck with the College Board," he says.
Grass roots initiatives are cropping up in other places too. A few years ago, Nevle brokered a deal with San Jose State University. Now students who take his geology class earn three credits from the university. For Nevle, it was a way to attract students who might otherwise take APES or other AP courses. Nevle teaches math and physics as well, but earth science is his passion. "I wanted to keep the course alive," he says. "So I had to get aggressive."
High school students in New York can earn college credits for earth science too. Ten high schools across the state have a similar arrangement with the State University of New York College at Oneonta. "It's been phenomenally successful," says James Ebert, a professor at SUNY Oneonta who coordinates the project. "Some of the schools have told me they think this is superior to AP because it's actual college credit."
Such grassroots efforts may be the only way to get rigorous earth science classes into the high schools. "Nobody's going to do this for the geoscience community," Huntoon says. "We're going to have to take it on ourselves." And with the current and growing gap in the geological workforce, such measures are drastically needed, Hopkins says. The mining industry in Nevada is "crying for geologists," she says. "Old guys that should be retired are still tromping around" because there aren't enough workers to replace them. And geoscientists will also be needed to fill future "green-collar" jobs.
Even if earth science students don't pursue geoscience as a career, more earth science education couldn't hurt. Erin Walker, the DeKalb student whose parents forced her to take earth science in ninth grade, doesn't regret taking the class. "Back then, I was really angry that my parents made me take earth science," she says. But now she's glad she did. "I secretly found it way more interesting than biology, though I never would have told my parents that."
Getting geology on the AP track
The College Board sponsors a handful of Advanced Placement (AP) science courses: Neither geology nor earth science, however, are among them. That's a problem, says Wendy Van Norden, a science teacher at Harvard-Westlake School in Hollywood, Calif., because bright college-bound students who might be interested in the field are encouraged to take AP courses instead to bolster their transcripts. "We needed an AP course to get the kids to understand that geology even exists," she says.
Van Norden began pushing for AP Geology in 2000. At the time, the College Board was looking to create new AP courses: AP Geology, AP Chinese and AP Japanese made the short list. To rally support for geology, Van Norden began making calls and sending e-mails. But despite backing from hundreds of teachers and several professional organizations, including the Geological Society of America, the American Geological Institute, the National Earth Science Teachers Association and the National Association of Geoscience Teachers, the effort failed. Van Norden speculates that the College Board didn't want to create a course that would pull students away from other AP science courses.
But today there's reason to believe that the College Board will reconsider, says Robert Ridky, the national education coordinator at the U.S. Geological Survey in Reston, Va. Last year, the board decided to develop science standards for grades 6 through 12. "It became obvious to the College Board that you can't expect students to do well in an AP science course if you don't pay attention to what they're learning all the way up," Ridky says. That's why the board created a separate commission to develop standards for biology, chemistry, physics and — for the first time — earth science. While the College Board currently has no formal plans to create an AP earth science course, Ridky, who co-chairs the College Board's Science Standards Commission, says the board's interest in the field is promising. "The hope is that having a separate track for earth science standards will help pave the way to an AP Earth Science course," he says. "It's a necessary precursor."
CW

Back to top
---