---
NEWS NOTES
---
Aftershocks of peace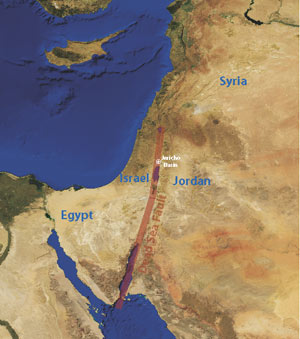 AGI/NASA
Although Israel and its Muslim neighbors have a strained relationship, they all have at least one thing in common: earthquakes. "Natural hazards know no boundaries," says Hillel Wust-Bloch, a seismologist at Tel Aviv University in Israel. That common danger is promoting cooperation: To assess the potential for earthquakes in the region, Israeli, Palestinian and Jordanian scientists are abandoning religion and politics and working together to create the area's most detailed seismic hazards map to date. They hope to not only make their respective countries safer, but to contribute to making the region more socially stable as well.
Seven Middle Eastern countries lie along the active Dead Sea Fault. Each country has assessed the seismic hazards associated with the fault, but not in a uniform way, Wust-Bloch says. To better understand earthquake risks, Wust-Bloch is working with Jordanian and Palestinian earth scientists to measure seismic activity in a 100-square-kilometer area north of the Dead Sea in the Jericho Basin.
The researchers will rely on a new technology developed by Wust-Bloch and a colleague in Germany called a "seismic microscope" that can detect the tiniest of earthquakes. Typical seismometers can only record earthquakes with a magnitude of 1.5 or greater, Wust-Bloch says, but his seismic microscopes can measure events as small as magnitude 0 — earthquakes too small to be felt by people. And they're portable, making it easier and cheaper to collect data.
Once the teams start collecting and analyzing data, they will meet every few months for the next three years to compare notes and integrate each other's work into one large hazards map. Israel has already deployed three mini-arrays of the seismic microscopes and Jordan has set up one.
This is the first time that earth scientists from these three regions have worked together without a third party moderator such as the U.S. Agency for International Development, Wust-Bloch says. Now that this first collaboration is under way, he hopes more will follow. He and his colleagues are working to establish a permanent Dead Sea Observatory where earth scientists could work together to study other regional activities, such as weather patterns or pollution. Too many of the region's scientists leave because of a lack of job opportunities, Wust-Bloch notes, but these collaborations could give them incentives to stay. "We're trying on a small scale to reverse the brain drain and bring these people back here."