Subscribe

Archives

Classifieds

Advertise

Customer Service

Geotimes Search
---
---
---
NEWS NOTES
---
China's Olympic race for cleaner air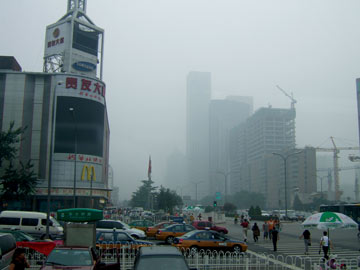 Michael Henley
A thick smog hangs over Beijing, China.
On March 10, marathon record-holder and two-time Olympic gold medalist Haile Gebrselassie said he would not participate in the marathon at the summer Olympics because he is concerned that Beijing's polluted air will exacerbate his asthma. It was exactly the kind of announcement Chinese officials had hoped to avoid when Beijing won the right to host the 2008 Olympics and vowed to green up the city.
Beijing, a city often obscured by a thick haze, has long boasted some of the dirtiest air in the world. Over the past few years, Chinese officials have spent $17 billion trying to cast off this dark pall: Smoke stacks have been fitted with scrubbers; antiquated, pollution-belching buses and taxis have been replaced with clean-burning vehicles; stricter vehicle emissions and fuel quality standards have been adopted; and dozens of cement, steel and chemical plants have been ushered out of the region. "Given that the Chinese government is an authoritarian government, it can really mobilize all these different economic actors," says Hongyan He Oliver, a member of the Energy Technology Innovation Policy research group at Harvard University in Cambridge, Mass.
Despite these draconian measures, the problem persists. A report released last fall by the United Nations Environment Programme found that while Beijing's sulfur dioxide and carbon monoxide levels have fallen, the level of particulates in the atmosphere often far exceeds World Health Organization air quality guidelines. In March, the International Olympic Committee (IOC) Medical Commission found that "there may be some risk" to athletes who participate in outdoor endurance events, such as bicyclists and marathon runners. Officials plan to monitor Beijing's air quality closely: If the air quality is poor, some events may have to be rescheduled.
Beijing's air quality issues have been difficult to resolve, in part, because the problem is regional. A study released last April in Atmospheric Environment suggests that 34 percent of Beijing's fine particles and 35 to 60 percent of the city's ozone come from outside the city, with neighboring Hebei and Shandong Provinces and the Tianjin Municipality significantly contributing to Beijing's air pollution. "Concerted effort in the whole region is a must for the air quality to be improved in Beijing," Oliver says.
Chris Nielsen, executive director of the Harvard China Project at Harvard University, points out another challenge: "The character of Beijing's air pollution has changed," he says. The city's residents used to burn coal in their homes and the particulate loads were terrible, he says. Now they burn coal in centralized power plants but many drive cars. In Beijing alone, 1,300 new vehicles are registered every day. "Photochemical smog is very difficult to redress. It's hard to understand," Nielsen says.
And it's hard to keep up with, given China's rampant growth. Last year, the country's economy grew 11.4 percent: It was the largest increase in 13 years and the fifth year of double-digit growth. That growth has been fueled almost exclusively by coal. Energy consumption in China increased 70 percent between 2000 and 2005 and coal consumption increased 75 percent, according to Kelly Sims Gallagher, director of the Energy Technology Innovation Policy research group. In the past two years, she says, China has added enough generation capacity to equal the total capacity of India and Germany combined.
The environmental damage caused by such rapid growth has been hard to ignore, even for China's central government. "The environmental quality has been so bad, they cannot afford not to care," Oliver says. In March, officials announced that the State Environmental Protection Administration would become a "super-ministry," with more clout. But, at the local level, economic gain sometimes trumps environmental protection. "Oftentimes in the relatively less-wealthy regions, they will just accept any investment" she says. "The enforcement agencies are handicapped."
Chinese officials say progress is being made — at least in Beijing. According to the Beijing Olympic Organizing Committee, the number of "blue sky" days increased from 100 in 1998 to 246 in 2007. But Steven Andrews, an environmental consultant who served as a Princeton-in-Asia Fellow at the National Resources Defense Council's office in China last year, is skeptical. He says that the reported gains were due, in large part, to a change in the way Beijing measures air pollution. "From 1998 to 2005, the same seven stations — located in the city center — were used to measure air quality," he wrote the Wall Street Journal on Jan. 9. "In 2006, however, just as international scrutiny on China's air quality was increasing, two stations monitoring traffic were dropped from the city API [air pollution index] calculations, while three additional stations in less-polluted areas were added."
Despite billions of dollars spent and years of effort, Beijing's air is still murky enough to make athletes think twice about taking a deep breath. But Chinese officials are doing everything in their power to make sure the air clears before the games, which begin Aug. 8. As of July 21, Beijing will suspend all construction to try to reduce the amount of dust and particulates in the air. In August, steel, coal and other industrial plants will shut down and a traffic ban will go into effect that will pull half of Beijing's 3.5 million cars off the roads. Drivers with odd license plates will be allowed to drive one day and those with even license plates will be allowed to drive the next. The organizing committee even has plans to seed the clouds with silver iodide and dry ice, if necessary: A well-timed rain shower could help remove lingering particulates from Beijing's air. "This is a huge priority," Nielsen says. "They're very worried about air quality damaging how the Olympics are perceived."