---
NEWS NOTES
---
The Grand Canyon's shifting sands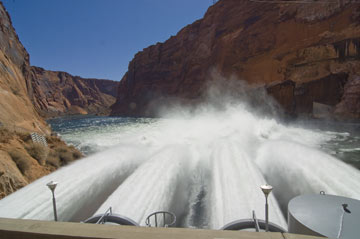 U.S. Department of the Interior Bureau of Reclamation
During a 60-hour deluge, water poured through Glen Canyon Dam and down the Colorado River.
In mid-March, the U.S. government unleashed billions of gallons of water from Glen Canyon Dam in a dramatic attempt to rebuild the Grand Canyon's beaches. The 60-hour deluge was designed to force sand and silt from the riverbed onto the eroding beaches and sandbars to expand habitat for nature enthusiasts and rare wildlife alike.
The Colorado River once ran swift and brown. But since 1963, much of the river's water and sediments have been trapped behind Glen Canyon Dam, a situation that has spelled disaster for the canyon's most sensitive species. Today, three native fish are locally extinct and one species — the humpback chub — is endangered. Larger, more stable beaches might mean more backwater breeding ground for the rare fish.
Although it will be weeks or even months before all the data are in, the flood appears to have been a success, says John Hamill, head of the U.S. Geological Survey's Grand Canyon Monitoring and Research Center in Flagstaff, Ariz., who monitored the torrent's effects from a boat on the river. The sandbar formation he and his colleagues observed was "encouraging." But, he adds, "the big question will be how long do these sandbars persist. That's the nature of sand — it tends to go away."
This story originally appeared on Geotimes online March 14, 2008. Read the complete story in the Geotimes Web Extra Archive at www.geotimes.org/WebextraArchive.html.