Subscribe

Archives

Classifieds

Advertise

Customer Service

Geotimes Search
---
---
---
Travels in Geology November 2006, posted November 14, 2006
---
Vieques: Night swimming under a moonless sky
Natalie Stemp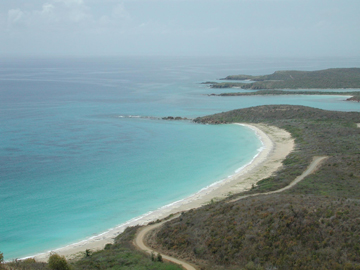 Night swimming in a tropical bay under a moonless sky immediately sounds romantic, but the more you think about it, the more it sounds clandestine and, frankly, dark and scary. As you make your way out of the warm, Caribbean breeze and into dark, refreshingly cool water, ripples suddenly illuminate around you. A sardine disguised as a lightening bug zips by leaving a trail of light. Your fellow eco-tourists are making "snow angels" on the water's surface. Night swimming under a moonless sky now sounds a little more like Neverland, but is indeed a reality at the bioluminescent Mosquito Bay on the southern shores of Vieques Island in Puerto Rico — and November is the perfect time to go.

Yellow Beach is one of many picturesque beaches on Vieques Island off Puerto Rico. Snorkeling and diving are popular activities on the island, as is night swimming in Mosquito Bay. Photo is courtesy of Tom MacKenzie, U.S. Fish and Wildlife Service.
Just after the rainy season but preceding the peak tourist season, November offers both off-season value and a slight respite from otherwise constant temperatures in the high 80s and 90s. To get to Vieques from the United States, arrive in San Juan, Puerto Rico, and then take a 20-minute flight, which usually runs around $140 roundtrip; six airlines fly to Vieques from San Juan. If you are traveling in a group you may be able to schedule your trip to fit your timeline and receive a discount. Alternatively, take a taxi to Fajardo for approximately $55, and then an hour-long ferry ride for $4 roundtrip. Be aware, however, that delays retrieving luggage are common so it may take two hours from your arrival at San Juan Airport to your arrival in Fajardo.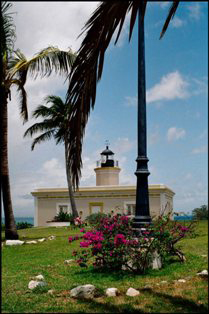 Vieques is a tiny slice of paradise, at 34 kilometers long and 6 kilometers wide, so a couple of days should give you enough time to relax and weave a few stories to bring home. Rent a car and take a driving tour. Or rent a bicycle and take off on one of several adventure trails. Explore its historic capital, Isabel Segunda. Snorkel at Isla Real, the coral gardens of Vieques. For the more adventurous diver, try Angel Reef, which is teeming with ocean life. Then relax at Media Luna Beach, which as its name suggests, curves like a half moon, and walk 12 meters into its shallow azure waters. Hungry after all that activity? Vieques hosts a few restaurants, ranging from Caribbean and Latin American to Asian fare. And lodging on the island varies from high-end resorts, such as Martineau Bay, to bed and breakfasts or cottage rentals.
Driving around Vieques can give visitors a good sense of Puerto Rican history. Visit the lighthouse "Punta Mulas," located in the historic capital Isabel Segunda. Photo is courtesy of www.viequestravelguide.com.
The science behind the swimming stars
Although high concentrations of dinoflagellates do exist elsewhere in the world, what is unique to Vieques is a delicate balance that allows this enchanting phenomenon to exist and rejuvenate. Vieques has the right climate, level of forestation, and low pollution rate, and the bay is of the right size and depth and has the right amount of tidal exchange with the ocean.
Scientists think that the high concentration of these dinoflagellates is created by the controlled flushing of water through a narrow, restrictive channel to the ocean, and the presence of red mangroves surrounding the bay that infuse the water with nutrients, such as vitamin B-12. Mosquito Bay's size and depth enable the water to remain relatively cool during the day — perfect the dinoflagellates, and for swimming.
Additionally, the narrow channel at the windward end of the bay and prevailing currents act as a sieve, preventing many of the dinoflagellates and the nutrients from being washed out to sea while allowing enough exchange to prevent overheating and stagnation. At about 5 meters deep (16 feet), the bay's relative shallowness results in a high rate of evaporation that makes the surface water saltier, so that it sinks to the bottom. This heavier water then moves out to sea, leaving dinoflagellates flourishing at the surface, which keeps them out of reach of their predators, such as comb jellyfish, bay and reef shrimp. (While these feasting critters may stir a panic within the dinoflagellate community, they usually don't pose a problem for human visitors, as this jellyfish lacks stinging cells.)
Other elements contribute to this unique balance. Forestation and ground cover on the surrounding hills is currently sufficient to prevent continual sediment runoff. Pollution, particularly oil and gas, are toxic to dinoflagellates, but the access point to Mosquito Bay is too shallow for most boats to navigate, thereby keeping pollution low. Environmentally minded tour companies use electric-powered boats or simply provide visitors with kayaks.
NS
After your Vieques excursion, return to the main island to visit Old San Juan's colonial Spanish fort, charming cobblestone streets and acclaimed restaurants, and hike through El Yunque rainforest.
Before heading back to the main island, however, plan on booking an eco-tour with a local company to swim in Mosquito Bay. For $30 per person, bilingual tour guides transport groups through the very rough roads that lead to the bay, explain the bay's fragile ecology, and give interpretive lectures on the stars above.
To get the full effect of the bay's luminosity, be sure to go on a moonless night. Each gallon of the 64-hectare bay contains 720,000 phosphorescent dinoflagellates (Pyrodinium bahamense) and it is these single-celled organisms that produce the light in the water. The dinoflagellates glow when they feel pressure against their cell wall. The slightest agitation in the water will make them flip the switch, lighting any object nearby with a turquoise radiance. The spark is a chemical reaction within the organism, emitted when a protein and enzyme fuse in the presence of salt and oxygen converting chemical energy to light energy.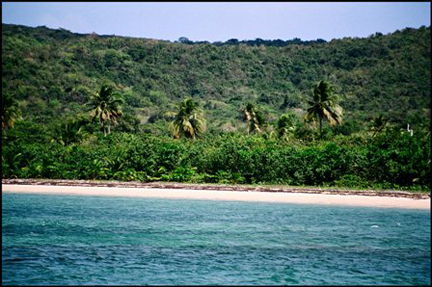 Night swimming in Mosquito Bay is a must on Vieques, as the bay is filled with dinoflagellates that light up the bay — visitors are virtually swimming in stars. Photo is courtesy of www.viequestravelguide.com.

Scientists think the lighting up of the dinoflagellates is a defense mechanism used to daze predators, buying enough time for the dinoflagellates to make a quick exit. The amount of light that a single dinoflagellate creates is readily visible to the human eye and collectively they produce enough light to read. Like solar-powered motion detectors, they seem to derive the intensity of their glow from the previous day's bright sunlight.
Although biophosphorescent organisms are not exclusive to Vieques, what is unique on the island is a delicate balance that sustains this elusive Neverland (see sidebar). "The climate is ideal — not too warm or too cold," says Sharon Grasso, previous owner of Biobay Conservation Group, Inc., which runs eco-tours to the bay via Island Adventures. Additionally, Grasso says, "there is a continuous source of nutrients and the opening to the ocean is not large enough to allow the dinoflagellate or the nutrients to escape with changing tides."
Biophosphorescent organisms are scattered throughout the world's waters, but very few areas boast such high concentrations of and continuous bioluminescence as Vieques. The bioluminescence is year-round at Vieques, rather than seasonal as it is elsewhere, which means you could swim in Mosquito Bay's radiant waters any time of year.
Of the three best-known "biobays," two are in Puerto Rico: Mosquito Bay and La Parguera. The third is in Jamaica. Hawaiian and the Bahamian bays used to host these luminescent creatures, but they disappeared when the bays' channels to the sea widened. Other bays lost their luminous little dwellers due to pollution, harvesting of surrounding trees and overgrazing of nearby land, which decreased the nutrient source and increased sediment runoff into the bays.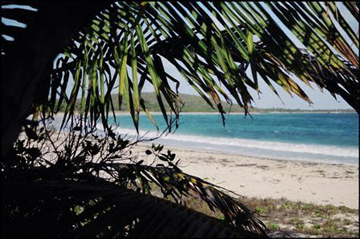 La Parguera, now only one-tenth as bright as it once was, is quickly following that trend. And a recent storm dropped more than 30 inches of rain on the island, causing excessive runoff, and transforming Mosquito Bay into a giant puddle of mud, much to the detriment of the dinoflagellate population. Fortunately, the tides washed away the sediment over the ensuing weeks, and the dinoflagellates repopulated the bay.

Water activities are also popular at Blue Beach. Stay a couple days on Vieques, then head back to the main island to explore Puerto Rican culture further. Photo is courtesy of www.viequestravelguide.com.
You're almost ready for some night swimming, but one last question is gnawing at you…what about sharks? The bay's narrow mouth and reef near that entry point keep out a lot of predators. You're more likely to see manta rays forming gentle rings of light. So take a dip in those tropical waters, chase those liquid stars and enjoy the show.
---
Stemp is a freelance writer who loves to travel and explore the land around her wherever she goes.
LINKS:
Vieques Travel Guides — for places to stay and things to do on the island :
ViequesTravelGuide.com
ViequesTourism.com
Vieques-Island.com
Island Adventures BioBay Eco-Tours
Blue Caribe Kayaks