---
Education & Outreach
---
Sustainable Mobility: Hybrid Vehicles Compete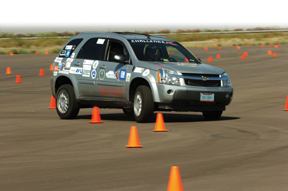 Against a backdrop of concerns about energy scarcity and climate change, teams of students gathered in the Arizona desert earlier this year to showcase their ideas for building a cleaner, more fuel-efficient SUV.
A student team from Virginia Tech tests its hybrid vehicle on the handling course in Mesa, Ariz., during the second year of the Challenge X competition. The team won first place for lowest time to brake and for handling. Photograph is by Roy Feldman.
The students are participants in Challenge X: Crossover to Sustainable Mobility, a three-year-long vehicle design competition aimed at developing the automotive technologies of the future. Specifically, teams reengineered a 2005 Chevrolet Equinox to minimize its energy consumption and emissions, while maintaining or improving its utility and performance.
Sponsored by the U.S. Department of Energy (DOE) and General Motors Corporation (GM), the competition gives graduate and undergraduate students an opportunity to gain hands-on experience in vehicle research and design. Moreover, "Challenge X shows that the cooperation of industry, government and academia is an excellent approach to developing more energy-efficient and greener automotive technologies," says Ed Wall, program manager for the FreedomCAR and Vehicle Technologies Office at DOE's Office of Energy Efficiency and Renewable Energy.
Seventeen student teams from the United States and Canada are participating in Challenge X. In their first year of competition, which began in the fall of 2004, teams focused on modeling, simulating and testing the components of their vehicle systems. In their second year, they installed the components into their vehicles and completed additional testing. Over the course of the upcoming third, and final, year of the competition, teams will work on refining their vehicle systems.
This past spring, at the conclusion of the second year of competition, the teams met at the GM Desert Proving Grounds in Mesa, Ariz., to compete in a variety of tests for handling, acceleration, emissions and vehicle design. The team from Virginia Tech in Blacksburg, Va., took top honors in the overall competition, as well as in a number of subcategories.
"Our inspiration for this project came from our students wanting to show that they could have a real impact on reducing petroleum imports and improving energy security," says Doug Nelson, faculty advisor of the Virginia Tech team. "Along the way, this project can also have a positive impact on our economy and environment."
Recently, Geotimes contributing writer Jennifer Yauck talked with Steven Boyd, a Virginia Tech graduate student in mechanical engineering and the team's student leader for the past two academic years, about his team's accomplishments, the place of alternative fuels and new technology in the future, and what he's gained from the Challenge X experience.
JY: What is the atmosphere like at the Challenge X competition?
SB: It is a very friendly competition because it's all students, and it's a good learning environment. There are no two vehicles that are exactly the same because every team takes a slightly different approach. So everything is different, and you always want to see what the other teams have done.
JY: What was your team's strategy for increasing fuel efficiency and decreasing emissions?
SB: First, we decided to use E85 ethanol — a blend of 85 percent ethanol and 15 percent gasoline — as a fuel. One of the big benefits of E85 is that it reduces our petroleum use significantly compared to gasoline because ethanol is primarily a domestically produced fuel from corn, instead of from a fossil resource. So the idea is you're switching from an imported, non-renewable fuel — petroleum — to a domestic, renewable fuel.
We also wanted to make the vehicle more efficient, and we designed a hybrid system to do that. We used a smaller engine on the vehicle, which helps to increase the fuel economy a little bit. And then we paired that with electric motors that also help to increase the fuel economy and performance of the vehicle, so it has enough power to accelerate quickly and tow a trailer.
JY: What were some of the accomplishments of your vehicle?
SB: Our major accomplishment was that we realized a 74 percent reduction in petroleum use when compared to the stock vehicle. We had a small fuel-economy gain, about 10 percent. Despite the desert heat, our vehicle accelerated faster than the stock vehicle. The emissions were about the same, although we did achieve the lowest emissions of any of the other student vehicles there.
JY: What approach did other teams take?
SB: Most of the other teams built hybrid vehicles. There were a lot of biodiesel hybrids, one hydrogen fuel cell hybrid, and two other ethanol-powered hybrid vehicles.
JY: What's been the most rewarding aspect of the Challenge X experience?
SB: We have new students join the team every year, and typically during the spring semester, I'll come into the shop after awhile, and I'll see that they've learned enough that they've been able to do things on their own. One of the greatest feelings is seeing that they've taken that knowledge, they've learned it, and they've started to apply it.
JY: What have you personally gained from participating in the Challenge X competition?
SB: I have more technical knowledge about hybrid vehicles and alternative fuels, which is great. But you can get that from any education. The biggest thing it really has given me is motivation. I've seen that sustainable mobility is an important topic, and that we need to keep thinking about this and keep trying to make things work so that we can eventually make a difference and come up with a better solution.
JY: What do you think about the place of alternative fuels and new technology in the energy future of the United States.
SB: My take on it is that obviously we're going to have to change some aspect of what we do. Petroleum is a fossil fuel, and represents a finite resource. We're going to have to become more energy conscious, and we're going to have to find alternative sources of energy. I don't think there is one magic answer that everyone will agree on. Right now, it's a matter of everyone agreeing that there is a problem.
JY: What are your career ambitions?
SB: My career ambitions are to continue to advance the cause of alternative fuels and more efficient vehicles, like hybrids and fuel cell vehicles. There's so much work to be done, and I think it's a great challenge developing more efficient vehicles that still meet consumer demands for performance and utility.
JY: What kind of car do you drive now, and what would you like to drive in the future?
SB: I drive a Ford Focus. For everyday driving, I like small cars, but really I'd rather be in a metropolitan area and be able to use mass transit everyday, and save driving for the weekend racetrack or autocross!
Jennifer Yauck