Subscribe

Archives

Classifieds

Advertise

Customer Service

Geotimes Search
---
---
---
Travels in Geology November 2007
posted November 19, 2007
---
Copahue: Volcanoes and spas in Patagonia
Jane Coffey
Jane Coffey
A provincial park at Copahue/Caviahue in the province of Neuquén, high in the Andes Mountains of Argentina, provides clear evidence of the region's volcanic past and present. An acidic river, the Rio Agrio, runs down from

Volcán Copahue

and into Lake Caviahue.
If you are the kind of person who likes to discover things on your own, Copahue, a volcano in a unique provincial park in Northern Patagonia, is a good spot for you. The travel guides will tell you to enjoy the therapeutic thermal spas and ski resort in this remote part of Argentina but in truth, it is the things they don't mention about this unusual landscape that will make it worth the trip. And right now, it's summer in Argentina, making it a good time to visit and hike in these impressive mountains.
Area Natural Protegida Parque Provincial Copahue/Caviahue is a 69,930-acre park in the province of Neuquén, high in the Andes Mountains, set aside in 1962 as a biological reserve predominately to protect the majestic South American conifer Araucaria araucana. The park sits in a massive, 20-kilometer by 15-kilometer caldera that collapsed some 2 million years ago. One of the first things you might want to do upon arrival in this remote region is to hike out to the tip of the peninsula flanked by the two lobes of Lake Caviahue to take in the 360-degree view of the weathered maroon mountains that encircle the valley. Imagining the height of the walls that once rose here and slowly coming to terms with the scale of the volcano that created this high mountain valley is a good, contemplative place to start when exploring this remote location. In fact, it is this coming to terms with the reality of what you see here that makes this park such an exceptional and enigmatic place.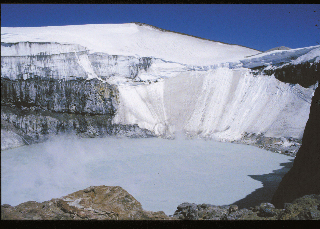 Jane Coffey
Copahue/Caviahue has several lakes worth seeing, all very different. The crater lake shown above is quite a climb and worth getting a guide to take you up. Lake Escondido, a small freshwater lake on a steep escarpment provides a beautiful view, while Lake Caviahue is the shimmering sight from most windows in town.
You'll first arrive in Caviahue, the small town at the foot of Volcán Copahue and the place to base your trip. This town is renowned for its thermal baths and outdoor activities, such as skiing, horseback riding and mountaineering. Though small, it does have varied lodging options, including the ski resort, hotels, cabins and apartment hotels. If you do stick with the guidebooks to begin with, you'll soon discover there is more than meets the eye to their recreational suggestions.
If you arrive in the winter, strap on your skis — cross-country and downhill are both popular —and grab the lift as it swings by at Caviahue Ski Resort. At first glance, it appears you are headed up the flank of just another Andean snow-covered mountain. But as the chairlift floats closer to the top of the run and you discern in the distance the gray ash dusting the snow and ice farther up the mountain you might sense you are not: You are actually swinging above Volcán Copahue, a 3,000-kilometer-tall composite volcano that last explosively erupted ash and gas in 2000, raining ash over much of Caviahue. If you are a bold skier, there is an eight-kilometer off-piste descent from the crater to the base of the volcano — but if you don't know the terrain you won't want to try this run alone.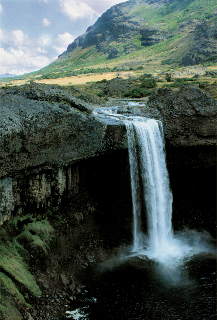 Jane Coffey
In the winter, skiing is the most popular activity in this region; in the summer, it is hiking to spots like this waterfall along Rio Agrio in the Caviahue valley. Here, Rio Agrio drops over a basalt cavern into a dark blue pool. Beware of swimming or drinking the clear water, though: It's highly acidic.
For the après-ski experience or during the summer months, the ski resort and some of the other hotels in Caviahue pipe water down from the volcano and offer rather inexpensive thermal baths and massages. If you are there any time but winter, be sure to take the bus up to Copahue to explore the large-scale thermal spa that Copahue is famous for. In winter, though, the village of Copahue is off-limits: It's quite a bit higher elevation than Caviahue, and although the government invested $12 million to install a thermal heating system beneath the roads of Copahue, the depth of drifting snow still makes the road impassable for most of the winter months (June through October).
But it is in the summer that the Argentines flock to this government-run therapeutic spa, staffed with doctors who will prescribe for you a variety of "hydrotherapies" for your particular health concerns. The spa sits along the spine of the cordillera in a 25-acre ravine at the northeast base of the volcano. The village of Copahue, barren of vegetation, is predominately volcanic rock and ash, with the spa built in an area of thermal pools, mud-pots and steam vents. Naturally occurring spas are always intriguing places to visit, but it is always a good idea to scan the compositional fact sheet before you drink or soak in them.
Caviahue is accessible year-round. Most precipitation falls as snow in the winter, making summers pretty dry (though you may get the occasional snowfall). This tiny town — population in the hundreds — hugs the northwest side of Lake Caviahue and is surrounded by a spectacular forest of giant araucaria trees. These trees can grow 45 meters tall and live up to 1,300 years. And, as a species, this tree is relatively unchanged since the Jurassic. The pehuéns, as those indigenous to Caviahue call these trees, produce cones the size of a human head, laden with two-inch pine nuts. If you visit in the fall, buy a roasted bagful, if you can find someone to sell them to you — the Mapuche are sometimes quite guarded with their privacy in an area that was once solely their territory.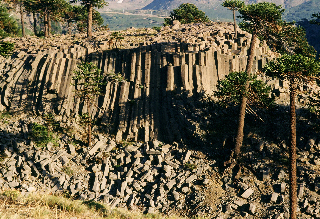 Jane Coffey
In the valley below Volcán Copahue

, visitors can hike among massive columns of basalt and the

araucaria

forest, which hasn't changed much since the Jurassic.
The araucaria forest ranges across the red volcanic hills and plateaus of the valley. In the summer and fall, hikes are a great way to see the region. Start by walking or driving out of town on Route 27 just a short distance to a crossroad and take Cañadón del Trolope to find a stunning series of waterfalls along the Rio Agrio, the river that cascades down from the volcano. Your attention might be drawn to the unique basaltic formations in this landscape, or to one of the shimmering pools beneath these thundering falls. Watching the crystal clear river flow into the lake below, however, it might slowly dawn on you that the water is a bit too clear. When you look around and notice nothing appears to be growing in or around this river or down at the lake, and no birds wade or dive, no amphibians jump, no fish swim, it will become apparent that the life-giving nature of water seems to be missing. And it is, as this water is too acidic. The acidity of the water does vary, but it generally measures between ph 1 and ph 2.6 — somewhere between grapefruit juice and hydrochloric acid.
To find freshwater, you will have to go hunting for Lago Escondido. The lake, as its name alludes, is hidden. But it's hidden right out the back doors of Caviahue — out back, but 457 meters above their heads atop a sheer escarpment. It is a steep scramble up, but a spectacular place to greet sunrise, an event you might share with a few Andean lapwings, speckled ducks or the shocking pink sight of an Andean flamingo. Here in this valley, sunrise or sunset from any such vista will give you pause, looking down on a massive, sweeping intrusion of columnar basalt, an acid river running through the valley and a grove of ancient araucarias with a pair of condors flying overhead. You will find it hard not to come away with a strong sense of the pre-historic. In this real-world panorama, you might sense the only thing missing here are the dinosaurs thundering beneath those towering majestic trees.
To get to Neuquén you can fly from Buenos Aires on either Aerolineas Argentinas or LADE. Be aware that because of the remoteness of this location, this isn't going to be a quick trip for you. But if you're heading to Patagonia to see glaciers, dinosaurs or the wild landscape, a side trip to Caviahue/Copahue is worth it. And if dinosaurs are what you are looking for, the province of Neuquén is known as the Valley of Dinosaurs. On your five- to six-hour bus ride from the city of Neuquén on either Centenario or El Petróleo (from where you'd get to Caviahue/Copahue), you will pass through Plaza Huincul, home to the Carmen Funes Museum where on display are two of the largest dinosaurs ever discovered, Argentinosaurus huinculensis and the Giganotosaurus carolinii. Stop on your way up to Caviahue/Copahue: It will prepare your imagination for the landscape ahead.
---
Coffey is a freelance writer and photographer currently living in Brooklyn, N.Y. She would like to thank Jelle Zeilinga de Boer and Johan C. Varekamp, geologists at Wesleyan University, for introducing her to this unique region.
Links:
Caviahue Tours

Back to top