Subscribe

Archives

Classifieds

Advertise

Customer Service

Geotimes Search
---
---
---
Web Extra Wednesday, November 14, 2007
updated November 15, 10:00 a.m. EST
---
Powerful quake rumbles through Chile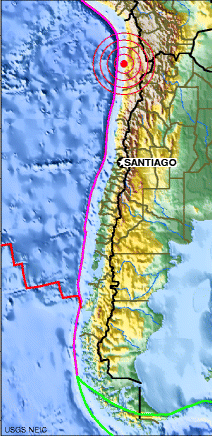 USGS Earthquake Hazards Program
A magnitude-7.7 earthquake shook up northern Chile Wednesday, killing two people and destroying hundreds of buildings in the nearby towns of Tocopilla and Antofagasta.
A powerful magnitude-7.7 earthquake rocked northern Chile at 12:40 p.m. local time Wednesday, killing two people, injuring more than 100 people and destroying more than a thousand homes. The quake's epicenter was near Antofagasta, a coastal city that is also the mining capital of the country. Chile is the world's top copper producer.
The quake occurred about 40 kilometers east-southeast of Tocopilla, a city 120 kilometers north of Antofagasta, and was about 60 kilometers deep, according to the U.S. Geological Survey (USGS). Several aftershocks, ranging from magnitude 4.9 to magnitude 6.8, followed the larger temblor, according to USGS.
Immediately following the earthquake, presidential spokesman Ricardo Lagos Weber told the state-run National Television that initial reports indicate no injuries, but some damage, which he said was not serious, according to Reuters. Chilean authorities later reported, however, that two women had been killed near Tocopilla when their houses collapsed, as well as dozens of injuries and damage to more than a thousand homes in Tocopilla and Antofagasta.
Because the quake hit a region rich with copper mines, copper futures in New York jumped by up to 3.2 percent, Reuters reported, even though no mine damage had been reported yet.
The quake was felt as far away as Peru and Bolivia. Because the quake was so large and near to the coast, NOAA's Pacific Tsunami Warning Center initially issued a tsunami warning for Hawaii as well as a regional tsunami warning for the Pacific region nearest the earthquake, but has since canceled both warnings. Some coastal areas in Hawaii, however, may still experience "small, non-destructive sea-level changes and strong or unusual currents" by later today that may last for up to several hours, according to the center.
Chile's last powerful earthquake was in June 2005, when a magnitude-7.8 quake rattled the northern part of the country. The most powerful earthquake ever recorded, a magnitude-9.5 temblor known as the Great Chilean Earthquake, shook up the country in May 1960, triggering a tsunami that affected coastlines as far away as Hawaii, Japan, the Philippines, New Zealand and Alaska's Aleutian Islands. The combined death toll from both the earthquake and the resulting tsunami numbered in the thousands.

Carolyn Gramling
Links:
USGS Earthquake Hazards Program
Reuters report on Chilean earthquake
NOAA's Pacific Tsunami Warning Center
"Quake shakes Chile," Geotimes online, Web Extra, June 14, 2005

Back to top