---
Geomedia

---
Geotimes.org offers each month's book reviews, list of new books, book ordering information and new maps.

Check out this month's On the Web links, your connection to earth science friendly Web sites. The popular Geomedia feature now available by topic.

Book Review:
Time Traveler: In Search of Dinosaurs and Ancient Mammals from Montana to Mongolia



Maps:
Aggregates map helps save Quecreek miners


---
Time Traveler: In Search of Dinosaurs and Ancient Mammals from Montana to Mongolia
by Michael Novacek. Farrar, Straus and Giroux (2002), ISBN 0-374-27880-6, Hardcover, $26.

Louis L. Jacobs


---
Michael Novacek, a distinguished paleontologist at the American Museum of Natural History, is probably best known to the public for his work on the spectacular fossils of Mongolia. These fossils were the subject of his first book, Dinosaurs of the Flaming Cliffs. Time Traveler is his second book, and his acknowledgements make it clear that he wrote it because he and his readers enjoyed the passages in his first book about his learning to be a paleontologist, his feelings and experiences.

In Time Traveler, Novacek expands on these themes and delves into his fieldwork prior to Mongolia. He states that the book is not "a book about a life, but largely about a life in the field." In that sense, it is an autobiography, albeit an unconventional one. His "recollections are meant to show how a childhood of dinosaur dreams was transformed into a paleontological career." The book is just what Novacek promises. Time Traveler is a primer for a successful career in paleontology.

Together, the book's many themes give it many layers and serve a broad audience. Consequently, as one might imagine, depending on the experiences and expertise of the reader, not all parts of the book are equally informative or entertaining. Thus it is a good but somewhat hummocky read, speeding up and slowing down like a field vehicle crossing the badlands.

The first three chapters describe Novacek's childhood in Los Angeles, his desert explorations, and his affection for the Santa Monica Mountains. He describes a trip to the Grand Canyon with his family to introduce principles of stratigraphy and time. He discovered his first impressive fossil, a trilobite, in Wisconsin, where his family moved for a short interval before returning to southern California. He enters a rock-band musical phase, which segues into his undergraduate years at UCLA.

In his narrative, Novacek is kind to his paleontology professors. They obviously recognized in him the talent that has since blossomed, and he responded to their consideration. His paleontological fieldwork began with Peter Vaughn of UCLA in Paleozoic rocks of the Colorado Plateau and southern New Mexico, a spectacular but difficult field area that yields its treasures begrudgingly, as described in six chapters. Novacek uses these chapters to provide further background in geology and paleontological methods.

This section also hosts a few errors: In a discussion about coprolites, he explains the process of CAT-scanning, which he incorrectly calls "cathode axial tomography" (instead of computed axial tomography) and which he says uses "lasers to make an internal image map" (instead of X-rays). These are only errors; I was hurt to read Seymouria unkindly referred to as a "sluglike labyrinthont amphibian." How could this glamorous amphibian misfit with brawny terrestrial limbs be likened to an askeletal mollusk? But this is just a paleontologist's infatuation with the extinct.

In the early 1970s, after a stint as a crew chief in the La Brea Tar Pits, Novacek set off for San Diego, continuing his fieldwork in the wilds of urban paleontology. At San Diego State University he studied under Jay Lillegraven (now at the University of Wyoming). Under Lillegraven's tutelage, Novacek completed a thesis on the insectivoran mammals from late Eocene sediments in San Diego and its environs. With his thesis, Novacek began to define his place in the profession. He pursued his doctoral studies under Don Savage and Bill Clemens at the University of California, Berkeley. Through them he participated in fieldwork in the classic badlands of the Bighorn and Washakie basins in Wyoming, and Crazy Mountain Field and the Hell Creek Formation in Montana. These chapters afford the opportunity to discuss the colorful history of paleontology in western North America.

After completing his doctorate, Novacek took a position at his alma mater in San Diego, Lillegraven having moved to Wyoming. But Novacek was not in San Diego long before he migrated permanently to the American Museum of Natural History in New York.

His time in San Diego led him to fieldwork in Baja California, the first field project that was truly under his direction. The locality was known from earlier work and the fossils were said to be Paleocene. Novacek's team found more fossils, including the placental Hyopsodus, which a missing comma on p. 169 transforms into an opossum-like marsupial; and Meniscotherium, which for the same reason became a rodent. But those who know the names will know the taxa and the editing will not matter. The new fossils Novacek and his team found there indicated an Eocene age. They utilized the systematics of fossil vertebrates, marine and nonmarine stratigraphy, and magnetostratigraphy to dispel the notion of asynchrony of early Eocene mammalian faunas of North America, a conclusion that would have relevance in later years as the global climate controversy heated up.

Following Baja, Novacek tackled Chile, to which five chapters are devoted. He took a nasty spill from a horse, the last of a number of calamities chronicled in the book, but continued in his fieldwork. The description of the discovery of the Tinguiririca fauna is my favorite part of the book because it was real discovery from the beginning. No one had ever found bones there before, and the find was in rocks that represented an interval of geologic time not previously known in South America.

From South America, Novacek's search led to Yemen in the southern portion of the Arabian Peninsula. Pickings were slim, but the country is fascinating and he describes its mountains and deserts well. One legendary home of the Queen of Sheba is Marib on the sandy edge of the Empty Quarter of Arabia, Novacek's last stop in the country.

From the sands of Arabia, Novacek traveled to the sands of Mongolia, the subject of his first book. Here he provides more background into how he got there and presents some interesting results. The magnificent and numerous skeletons, including dinosaurs brooding on nests, were preserved between ancient dunes when rainstorms triggered mud flows down the slopes. On the slope faces, dinosaur tracks were found going uphill, as footprints preserved on dune faces most often are. Interestingly, a modern analog in many ways to the Cretaceous environment of Mongolia might now be found in Arabia Felix, in the dunes and interdunes around Marib.

The impression is that he was not overly fond of Marib as a town, although Novacek does provide a Web address in the notes to lead the reader into the archaeological wonders of Yemen, and he mentions the archaeological ruins protruding from the sand around Marib.

Novacek notes the threat commercial collectors pose to the paleontological resources of Mongolia. One can only imagine what we would not know had the resources been sold off and had the American Museum not built a long history of fieldwork and study in Central Asia.

What will we lose if access to the field and its study is removed for shortsighted gain? It gives pause to contemplate the responsible management of fossil resources on public lands in the United States, a great concern to the paleontological profession, to museums, and to the broader paleontological and educational communities.

The book closes with a consideration of the value of paleontology to humanity, specifically the perspective it gives to extinction and the current biodiversity crisis. While few pages are devoted to the topic, I consider this one of the most important parts of the book because it is profound. Certainly, extinction would be viewed differently if we had no fossil record; even if, as Novacek points out, we do not need fossils to know about the current biodiversity crisis and its causes. I would add two other contributions of the fossil record in this solemn vein. Firstly, the fossil record contributes significantly to our understanding of evolution and tangibly to the recognition that all biological variations, physical or otherwise, are trivial compared to the realization that we all share a common ancestor and a common history.

Secondly, fossils remain the primary data for determining time and place in Earth history.

Now, with concerns of global warming looming large, the fossil record is invaluable in documenting intervals of climatic anomaly. A case in point derives from Novacek's work in Baja. He and his team were focused on correlating early Eocene fossil localities, including those on Ellesmere Island. That locality, above the Arctic Circle, contains alligators and other warmth-loving creatures, and therefore provides certain indication of a warmer global temperature compared to now. The fossil record is instrumental in establishing boundary conditions for understanding past climates and avenues for investigating the mechanisms of climate change.

More importantly perhaps, paleontology brings the uniqueness of our times into focus. Now is the first time in Earth history humans have been subjected to extensive global change precipitated by us and over which we have control.
---
Jacobs is president of the Institute for the Study of Earth and Man at Southern Methodist University in Dallas, and is also a professor in the Department of Geological Sciences there. E-mail

Back to top
---
Maps
Aggregates map helps save Quecreek miners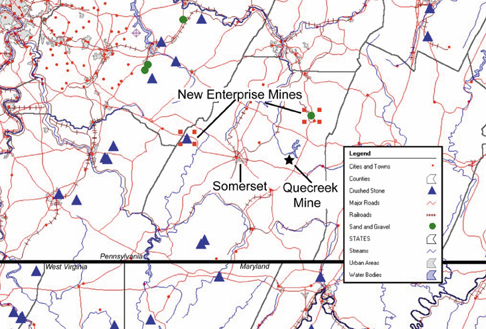 The rescue of nine coal miners trapped in a flooded shaft in Somerset, Pa., in July, involved dozens of agencies and organizations, with hundreds of people pooling their resources. One of those people was Val Tepordei, and he didn't even know it. His efforts to create an Aggregates Industry Atlas CD four years ago enabled nearby local quarries to aid in the Quecreek mine rescue.

Click on the map to link to online information.

Tepordei is a crushed stone specialist at the U.S. Geological Survey (USGS). In 1998, he and colleagues at USGS began work on a map of more than 6,000 U.S. aggregates mines. Completed in November 2000, the aggregates atlas was part of the USGS National Atlas. A year later, USGS and the National Stone, Sand and Gravel Association (NSSGA) cooperatively developed and released an interactive CD with the same information to the public. Then, at an international trade show in Las Vegas, Tepordei recalls, the aggregates atlas CD captured the attention of David Lauriski, assistant secretary of the Mine Safety and Health Administration (MSHA). Lauriski would remember the CD months later.

In late July of this year, when the Quecreek miners became trapped, MSHA officials contacted the NSSGA with an urgent request for information from the electronic aggregates atlas. The emergency workers needed a list of nearby aggregate quarries that might be able to provide equipment and personnel to the rescue efforts. Using the searchable database of crushed stone, gravel and sand producers, NSSGA was able to immediately provide to MSHA the names of two aggregate producers: New Enterprise Stone and Lime Co. in New Enterprise, Pa., and New Centerville Stone and Sand Co. of Rockwood, Pa. Both companies donated their time and gear, such as high-capacity water pumps, to the MSHA-coordinated rescue.

Two days after the rescue, Bill Ford at NSSGA called Tepordei and told him how the atlas helped save the nine coal miners. Tepordei was surprised, never having imagined such an application for the aggregates map. "I was pleased. I guess you never know how your work will be used," Tepordei says.

The USGS CD Aggregates Industry Atlas uses LandView IV, a geographic information system (GIS) program produced by the federal government. In addition to mine information, the CD includes a significant amount of GIS information produced by USGS and the U.S. Census Bureau — such as roads, railroads and congressional districts — as data layers. To learn more about the CD atlas, visit the NSSGA site.

Lisa M. Pinsker

Back to top
---