---
Web Extra Friday, October 1, 2004
Updated at 4:00 p.m. EDT, Monday, Oct. 4, 2004.
---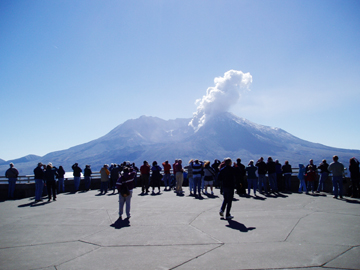 Mount St. Helens erupts steam and ash

More than a week after seismic activity began, Mount St. Helens in Washington erupted on Friday afternoon with a thick plume of white steam and light ash. Since then, additional steam-and-ash emissions have occurred and will likely continue, prompting officials on Saturday to raise the alert level to Volcano Alert, which is the highest level and indicates that an eruption could be imminent.

Aviation warnings are at color-code Red, also the highest level. Parts of the surrounding area, including the Johnston Ridge Observatory, have been evacuated as a precaution.

Mount St. Helens has erupted several times since its initial steam-and-ash eruption on Friday, pictured here. Geologists are constantly monitoring the volcano for signs of further activity. All photos courtesy of the U.S. Geological Survey.

Although seismicity quieted down at first after Friday's 24-minute eruption, it picked back up again within a few hours, with small earthquakes (maximum magnitude-3.0) occurring at rates of one to two per minute. The next day, the volcano had another small eruption of steam and ash. After yet another small eruption on Sunday night, the volcano awoke on Monday morning with two eruptive events.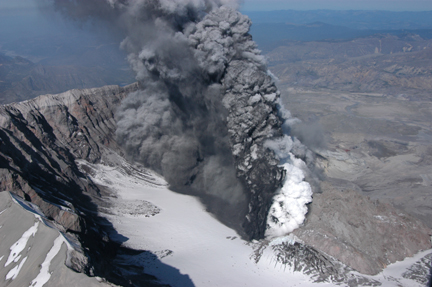 Monday's events, however, are different from the previous few days' steam-and-ash eruptions, said geologist Willie Scott in a press conference held by the U.S. Geological Survey's Cascades Volcano Observatory. Two eruptive clouds, which looks to be predominantly, if not all, steam, rose several thousand feet above the summit of Mount St. Helens, but were not accompanied by seismic signals or waves that indicate movement, he said. Instead, the steam events indicate that magma or gas must have moved close to the surface and to the glacier, and have basically started "boiling the glacier" to produce steam. Hot gases from the volcano may have vaporized ice and snow contained in the glacier in the summit crater to produce the steam eruption. Background earthquakes have continued at the same rate as occurred with the other eruptions, but there was no onset of larger earthquakes such as occurred prior to the steam-and-ash eruptions on Friday, Saturday and Sunday.

Friday's eruption at Mount St. Helens was both ash and steam, as seen here. Monday's eruptions were predominantly steam, indicating that magma is rising toward the surface.


"This is pretty good evidence that we have something very hot near the surface," Scott said, but it does not indicate any greater or less likelihood that a magma eruption will occur soon. Scientists are monitoring the volcano by taking thermal images of the dome and the crater, flying over the volcano to measure the gases being released and monitoring GPS instruments for ground deformation. But, Scott said, it is likely the volcano will "go without any warning at all." If that occurred, the eruption would be rich in ash that could reach 50,000 feet in altitude, and would produce lava and last tens of minutes to hours. He said the scientists will be looking for all possible indications that something bigger is about to occur, but "all options are open right now. It's best just to watch and see what happens."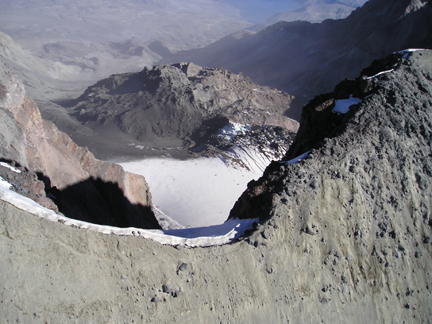 One interesting thing to note, Scott said, is that the lava dome around the glacier has seen intense deformation over the past few days — around 100 feet. Furthermore, new cracks have popped up on the dome and in the glacier — all indications that "somewhere down the line, we [can] expect an explosive eruption." The cracks might lead to a greater likelihood of a larger, magma and ash-rich eruption, Scott said, because the magma would have more escape options. All of the events so far, he said, have been "expectable."
The lava dome atop Mount St. Helens has been growing and deforming significantly since activity began there last week. It has deformed more than 100 feet, according to USGS geologists.

Indeed, "this is pretty much exactly what we expected to happen," says Jim Vallance, a geologist at CVO. From 1981 to 1986, "we saw a lot of events like this," in which steam and ash erupted and quiesced. The last eruption of Mount St. Helens was in 1986, six years after the major eruption on May 18, 1980, that blasted away the entire top and northwest face of the mountain releasing 24 megatons of thermal energy.

Geologists are continuing to monitor the volcano to see what happens next.

Last updated at 4:00 p.m. EDT, Oct. 4, 2004.
Megan Sever
Links:
Article on MSNBC.com
Seattle Times coverage

"Mount St. Helens could erupt in days to months," Geotimes Web Extra, Oct. 1, 2004

Mount St. Helens VolcanoCam
U.S. Geological Survey Cascades Volcano Observatory

Past related Geotimes stories:
"Paths of Destruction: The Hidden Threat at Mount Rainier," April 2004
"Mount St. Helens 20 Years Later: What We've Learned," May 2000

---