---
Travels in Geology October 2005
---
On Darwin's trail
Michael Roberts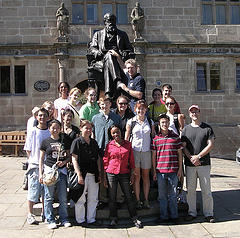 It was a perfect English summer's day as I drove from Lancaster to Shrewsbury in England to meet students from Harvard University on their summer school course on the life and work of Charles Darwin. The students were based in Jesus College at Oxford University, and were visiting Darwin localities in Cambridge, London and, of course, Darwin's country home "Down House." I was to show them where Darwin went on his geological trip around Wales with geologist Adam Sedgwick in 1831, just before setting sail on the Beagle — Darwin's famed five-year voyage around the world that led to The Origin of Species — but it's a trip anyone can follow.
Harvard students pose in front of a statue of Charles Darwin in Shrewsbury, England, where Darwin was born. Over three days, the students followed Darwin's path in the mid-19th century on a geological tour of North Wales. All photos by Andrew Berry, taken on the summer field trip.
The route followed by Darwin in 1831 goes through some of the most beautiful parts of Wales. The nearest airport is Manchester in England, but the route begins only six hours' drive from London. It is essential to rent a car or, if energetic, a bicycle! To re-trace all of Darwin's steps, you need to be a good hiker, and competent with map and compass if you tackle the higher mountains. There are many hotels, bed and breakfasts or campsites where you can stay. You will need the Ordnance Survey maps of the area and the Geological Map of Wales.

The best time to visit Wales is between May and September. The trip can be combined with visiting some of the finest of Welsh and English castles. As my American friends say, you will visit places no American goes to!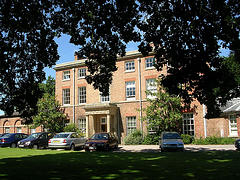 Day 1
Our first stop on Darwin's trail was Shrewsbury, where Darwin was born and his family home and school are located. There's hardly a trace of Darwin at the home, a fine Georgian house now used as a tax office, but a statue erected in 1897 stands in front of his old school, built in 1600.
Charles Darwin's family home, named "The Mount," in Shrewsbury bears no trace of him.

After dinner in the Field Studies Centre (a country estate that offers outdoor studies in biology, geology and other sciences), near Shrewsbury, we hiked up Nesscliffe Hill, a quintessential English hill that Darwin incorrectly identified on his first attempt at geological mapping in July 1831. We compared his geological descriptions with actual outcrops and looked over to Llanymynech Hill, the scene of another of Darwin's early geological field trips, providing us a tantalizing taste of what was to come. After watching the sun set from atop Nesscliffe, we moved on to a Darwinian pub, the Queen's Head, for a pint. It was a good end to our first day following Darwin.
Day 2
After breakfast, we piled into the bus and set off up the A5, which was Thomas Telford's magnificent London-to-Holyhead coach road. Telford was one of the great civil engineers of the early 19th century. Robert Darwin's (Charles' father) investment in the road was allegedly the source of funding for Charles' voyage on the Beagle. For the next two days, we were to follow the route Darwin took with Sedgwick in August 1831. Sedgwick had come to Wales to work out the ancient strata below the Old Red Sandstone, later known as the Devonian, and took Darwin as a field assistant at the suggestion of Darwin's mentor, John Stevens Henslow.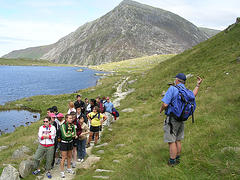 Pretty soon, we crossed the border into Wales, where our first stop was to visit a monument in Chirk Church to Fanny Mostyn Owen, Darwin's first love before he left to attend college at the University of Cambridge. They corresponded during the Beagle voyage and occasionally after that, though Darwin married his cousin Emma Wedgwood not long after he returned from his voyage.
Michael Roberts explains the glacial geology of this Welsh valley to Harvard University students. This scenery was about the same as what Charles Darwin examined 174 years ago.

A few miles away, the town of Llangollen beckoned us, with the ruins of Castell Dinas Bran, a 13th-century Welsh castle, looming above, and the Carboniferous limestone cliffs of Eglwyseg Mountain beyond. Darwin and Sedgwick ascended Eglwyseg Mountain on Aug. 6, 1831, trying to find a conformable sequence from the limestone through the Old Red Sandstone into the older strata below. Sedgwick was determined to find the Old Red Sandstone and would spend the next few days trying to follow its trail.

There was no Old Red Sandstone on Eglwyseg, so off they went on Aug. 7 (as did we, 174 years and 2 days later) over the Horseshoe Pass into the Vale of Clwyd, a broad valley bounded by hills, containing the little towns of Ruthin, Denbigh and St. Asaph. The few outcrops there were also not of Old Red Sandstone. We pressed on, passing by the hills where Darwin did a 50-kilometer traverse on foot and marked his findings on Sedgwick's map. Sadly we had no time to stop either to look at the details of the geology, especially the Ogof caves where Darwin and Sedgwick found a rhinoceros tooth, or at the towns.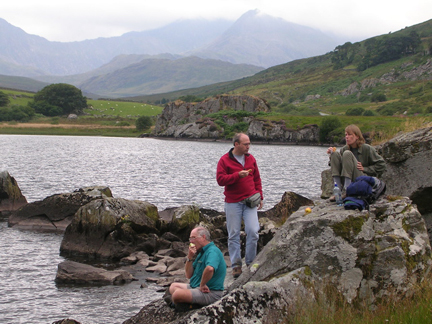 If you have more time, stop at some charming Welsh spots in this area for a nice respite. The Great Orme is one of the neatest coastal sites in North Wales, full of fossils and Neolithic artifacts; Conwy Bridge and Castle, erected in the 13th century, are pretty; Aber Falls offers good hiking; and Telford's picturesque Britannia Bridge will take you across the Menai Strait into Anglesey, a beautiful island with several quaint Welsh villages and castle ruins.
Charles Darwin first explored the Snowdonia mountains in North Wales in 1831, but failed to notice the glacial geology — moraines, a glacial lake, cirque valleys — that can be seen throughout this popular hiking area.

Shortly after midday, we arrived at Llyn (lake) Ogwen in the heart of Snowdonia. We could see all the glaciated scenery that Darwin did not notice in 1831 but did notice during another visit in 1842. We immediately set off into Cwm Idwal, a magnificent glacial valley that is both Darwin's and my favorite place. Darwin visited it several times prior to 1831 and again in 1842, during his last trip to the mountains. The path to the lake in the heart of the valley weaved through ice-scoured Ordovician volcanic rocks, which Darwin thought were altered slate or basalt, but he didn't have Roadside Geology to guide him! Darwin was a geology novice attempting to understand complex Paleozoic geology with no previous work to help him.

After eating our lunch and admiring the scenery with hanging valleys and corries all around, we looked at Darwin's notes from 1831 and 1842 to see how he understood the geology. In 1831, Darwin missed a syncline named Devil's Kitchen, thinking it was a volcanic plug. Sedgwick put him right in a letter a few weeks later, but by then Darwin was thinking of the long ocean voyage ahead of him. We hiked up the steep slopes by Devil's Kitchen (a botanist's paradise), and quickly passed the limit of Darwin's exertions in 1842, when illness had already weakened him at the age of 33. Above Devil's Kitchen we could see much of the geology of Snowdonia laid bare by glacial action. We returned the way we came, marveling at the scenery, the geology and Darwin's perception.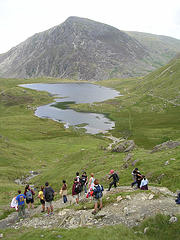 Day 3
Another fine day dawned, and we retraced Darwin's last mountain walk of 1842, ploughing though bracken and stinging nettle to find the limits of the Nant Peris glacier, just below Snowdon itself. We had lunch on the rocks by Lynnau Mymbyr, a stone's throw from Plas y Brenin, the old coaching inn at Capel Curig where Darwin stayed many a time. We had fine views of Snowdon peak looking larger than its 1,085 meters. To the south, we could see Moel Siabod, a mountain that Darwin climbed in 1831, making geological notes as he went. We looked longingly, but we had no time to climb the mountains.
The Nant Peris glacier sits just below Snowdon peak in North Wales. In 1842, when Darwin returned to this site after his voyage around the world on the Beagle, at the age of 33, he could no longer hike these hills, as his health was already failing him.

We did not have time to follow Darwin's 65-kilometer route south from Capel Curig to Barmouth, which took him two long days. In his autobiography, Darwin claimed that he "went in a straight line by map and compass across the mountains to Barmouth." However, I explained to the students that this was not a physical possibility because of the terrain. In fact, Darwin traveled in an s-shaped squiggle, following an ancient road, the Sarn Helen, then a "drovers' road" (used in the past for driving sheep), ultimately to the coastal resort of Barmouth, where he stayed for a few days with university friends before heading back to Shrewsbury. There, a letter awaited him inviting him on the Beagle.

After lunch near Snowdon, we headed back to Oxford following the same coach road to Shrewsbury that Darwin followed 174 years ago. Thus ended our three-day journey with Darwin in Wales, which took Darwin many weeks over many years — and even more time for me to unravel from his notebooks and correspondence.
---
Michael Roberts studied geology at Oxford and was an exploration geologist in Africa for several years before becoming an Anglican clergyman, and is now vicar of parishes south of Lancaster. He is a member of the History of Geology Group of the Geological Society. For more information or a list of references, email: michael.andrea.r@ukonline.co.uk.
Links:
Darwin Country
North Wales Tourism
Shrewsbury Tourism

---