Subscribe

Archives

Classifieds

Advertise

Customer Service

Geotimes Search
---
---
---
NEWS NOTES
---
Science and Society
Homestake a gold mine for science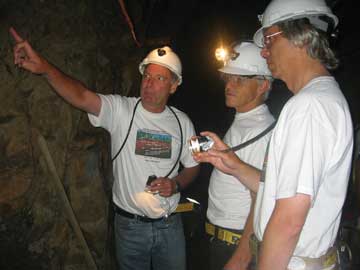 Kevin Lesko
Bill Roggenthen of the South Dakota School of Mines and Technology, left, Richard DiGennaro of the Lawrence Berkeley National Lab, center, and Kevin Lesko of the University of California at Berkeley discuss the geology of the Homestake Gold Mine, future home of a national deep underground science and engineering laboratory.
Known for being home to both Mount Rushmore and rich gold deposits, the Black Hills of South Dakota may soon add a new distinction to that list. In July, the National Science Foundation (NSF) announced its selection of the Homestake Gold Mine near Lead, S.D., as the site of a national deep underground science and engineering laboratory. Upon completion, the lab will host scientific research as deep as 2,255 meters below Earth's surface as well as foster multidisciplinary collaborations between the physical, biological and earth sciences.
NSF's recent approval of the Homestake proposal provides the project with $5 million per year for the next three years for further design study of the proposed lab. Following the studies, the lab's construction will require the stamp of approval from NSF, the National Science Board and Congress, says Bill Roggenthen of the South Dakota School of Mines and Technology and co-principal investigator of the Homestake Collaboration project. Led by Kevin Lesko, a physicist at the University of California at Berkeley, the Homestake Collaboration has been developing its proposal for an underground lab over the past six years.
Compared to Canada, France, Japan and Russia, the United States is lacking when it comes to deep underground research facilities. Currently, in the U.S., scientists can only carry out experiments as deep as 730 meters belowground at the Soudan Underground Laboratory, the site of a former iron mine in northern Minnesota. So scientists got really excited in 2000, when the Homestake Gold Mine — the country's deepest mine and home to the Western Hemisphere's largest gold deposit — announced it was going to end its operations after more than a hundred years of mining, says Joe Wang of the Earth Sciences Division of the Lawrence Berkeley National Lab in California and a member of the Homestake Collaboration.
In addition to its great depth, Homestake's existing infrastructure, including its hundreds of kilometers of tunnels, makes it a good choice for a future underground lab, Lesko says. The site will also be dedicated solely to scientific pursuits, giving researchers the ability to conduct long-term studies over many decades, he says.
Conducting research deep underground is important to many physicists, especially those studying particle physics, because the thick layers of rock shield their experiments from contamination from cosmic radiation. A variety of earth sciences — from geomorphology to hydrology to economic geology — will also benefit from going underground and taking a deeper look at Earth's crust. By working at Homestake, geologists may gain a better understanding of how fluid flows through the upper crust, Roggenthen says, or assess opportunities for carbon sequestration, Lesko adds.
It's also a unique opportunity for researchers to collaborate with others outside their disciplines. Geologists and biologists, for example, plan to work together to investigate microorganisms that may call deep Earth home, Wang says. "The multidisciplinary aspects are much more important than I would have thought," Roggenthen admits, who is excited about the possibilities of physicists and geologists working together at Homestake to examine geoneutrinos, a recently discovered type of particle that originates from the radioactive decay of uranium and thorium inside Earth.
Although it will be several years before full-scale construction is approved, the Homestake Collaboration already has funding from the state of South Dakota for an interim lab, as well as $70 million from philanthropist T. Denny Sanford, which means some experiments may begin before the end of next year, Lesko says.