Subscribe

Archives

Classifieds

Advertise

Customer Service

Geotimes Search
---
---
---
NEWS NOTES
---
Natural Hazards
Indonesia mudflow caused by earthquake?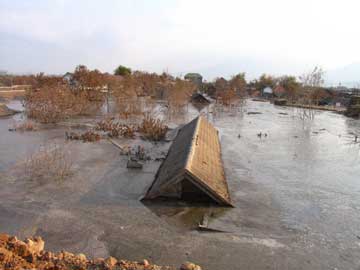 Adriano Mazzini
A mud volcano has been erupting since May 2006 in Indonesia. New research says the initial eruption was caused by an earthquake.
A new study of the mudflow that has been erupting in Indonesia since May 29, 2006, suggests that the initial activity was triggered by an earthquake on May 27, and not from gas exploration activity, as has been previously suggested.
Adriano Mazzini of the University of Oslo in Norway and colleagues have been observing the volcano since last year. They analyzed gas, water and mud samples from the site over time, examined fluid and gas movement in the well near the time of the initial eruption and looked at previous seismic activity in the area. The team determined that seismic activity had caused mud to move vertically in the past, and that this mudflow was likely caused by the energy released by the magnitude-6.3 quake (which killed almost 6,000 people) that struck 280 kilometers away from the mudflow, they reported in Earth and Planetary Science Letters July 12, 2007. "It is likely that the [earthquake] redistributed the stress in several parts of Java and in particular contributed to reactivate fractures in this preexisting fault, affecting the fluid pressure and permeability and ultimately triggered the eruption through the already overprocessed subsurface," the team wrote.
Not everyone is convinced that the mudflow was caused by the earthquake, however. Richard Davies, a professor at Durham University in the United Kingdom, told Reuters on July 31 that Lapindo, the gas company that had been drilling in the area, likely caused a subsurface blowout, which set off the mudflow. The earthquake, he said, was too small and too far away to have played a significant role.
Regardless of the cause, the mudflow is still going strong despite attempts to block it, such as by throwing giant concrete balls into its mouth. By June 2007, it was still erupting more than 111,000 cubic meters of mud per day. The mudflow, which has erupted between 5,000 cubic meters per day and 180,000 cubic meters per day, has displaced some 30,000 people and buried the landscape under more than six cubic kilometers of hot mud, Mazzini and colleagues reported. Meanwhile, the Indonesian government ordered Lapindo to pay $412 million to victims and to help halt the flow, according to Reuters.
Links:
"Mudflows inundate Indonesian villages," Geotimes, December 2006