---
Geomedia
---
Geotimes.org offers each month's book reviews, list of new books, book ordering information and new maps.

Check out this month's On the Web links, your connection to earth science friendly Web sites. The popular Geomedia feature now available by topic.

Book Reviews:
The Chicago Guide to Communicating Science

Maps:
Lewis and Clark
USGS maps

DVD:
Glacier DVD accolade


---
Book Reviews


The Chicago Guide to Communicating Science
by Scott L. Montgomery. University of Chicago Press, 2003. ISBN: 0-226-53484-7 (cloth); ISBN: 0-226-53485-5 (paper).

L. Greer Price


---
Scientists are in the business of communication; it's their life's work. Publication is how scientific work gains a presence in the world. But for the last 75 years or so, scientists who have been educated in research skills have generally not acquired the communication skills necessary to highlight that research to its best advantage.

That is the premise of Scott Montgomery's book, The Chicago Guide to Communicating Science. In it, the author offers some very practical advice on just what those skills are and how to get (and use) them. It's a timely offering — well-written, well-organized and full of practical information. One of a series of guides to writing, editing and publishing put out by the University of Chicago Press, it meets the same high standards we've come to expect from them. Montgomery draws on many disciplines for examples; however, the author is a geologist by training, so many of his examples have pertinence to the geologic sciences.

In its 16 chapters, the book addresses such diverse issues as the review process, graphics, oral presentations and the online world. He offers some compelling words about the importance of the editorial process. With the volume of scientific literature doubling every 15 years over the last century, the importance of saying it more succinctly has grown tremendously.

Montgomery also offers the usual cautions on technology, in particular those electronic aids that are both a blessing and a curse to editors everywhere: "These writing aids, taken together, betray an ancient and broken dream, namely, that technology can free us from our own inevitably faulted humanity." He restates some rather obvious but overlooked truths about the importance of structure, of writing to your audience and of mastering the invisible grace of fine writing — "true authorial expertise in science lies in subtlety and restraint, not showmanship," Montgomery writes.

But the author doesn't just offer philosophical views on communicating science, he also provides practical, hands-on advice. In the chapter on graphics, he lists eight categories by which to judge the effectiveness of illustrations in a given work — including the use of type, the use of color, consistency and overall aesthetics. Similarly, in his chapter on online publishing, he offers some very sage words to those who think online publishing is the answer to the high costs of publishing in general: "Most of the labor needed to publish any article in print still applies to Web journals — especially those that are peer reviewed and editorially quality controlled."

If I had one quarrel with the book at all, it would be a sin of omission. Although Montgomery does include one chapter on handling the press, I would like to have seen more material on scientists communicating with the general public. But that is perhaps another book altogether, and this book may be all the more successful because it focuses on scientists communicating with other scientists.

The book comes at a time when the business of communication is rapidly changing. The fact is that whether it's traditional print publications, oral presentations or electronic publishing, the way we do business has changed — and will continue to change — in the years ahead. We have the luck (or have been cursed) to live in a time of emerging new technologies that offer both promise and challenge. It's a world where information is readily available, but it is increasingly difficult to find the information we want and to discern the credible from the incredible. Just how well scientists master these challenges will determine to a very large degree how successful they are in reaching their intended audience.

For those scientists who are looking for guidance, I can recommend this volume as a good place to start. For the rest of the scientific community, many of whom are already secure in their ability to communicate with their fellow researchers, I would offer my own sage advice: The world of communication is a rapidly changing one, and it is as discerning and competitive as the world of scientific research. If you have not given this some thought of late, this book would be money well spent.
---
Greer is senior geologist and chief editor for the New Mexico Bureau of Geology and Mineral Resources in Socorro, N.M. E-mail: gprice@gis.nmt.edu.


Back to top
---
Maps


Lewis and Clark: A Legacy of Science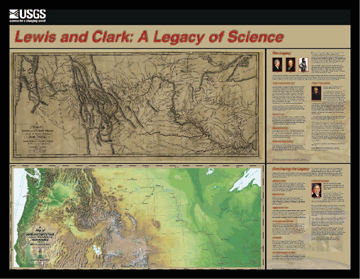 The U.S. Geological Survey (USGS) has produced a new poster that commemorates the upcoming 200th anniversary of the Lewis and Clark trek, which lasted from 1804 to 1806. The poster features two maps. At top is a reproduction of "Lewis and Clark's Track," a map published in 1814 by Samuel Lewis from the original drawing by William Clark (reproduction of the 1814 map is from a copy held by the Library of Congress). The lower map is a vividly accurate shaded-relief image digitally produced from elevation data in The National Map — an online, interactive map service that provides public access to geospatial data from many organizations.

A new poster, created by the U.S. Geological Survey, commemorates the 200th anniversary of the Lewis and Clark expedition. The upper map is a reproduction of the 1814 trek map, and the bottom map is a shaded-relief image. Photo courtesy USGS.

This reproduction allows you to precisely locate the travels of the Corps of Discovery and illustrates how difficult Lewis and Clark's expedition was, how well they mapped unknown terrain and how far cartographic techniques have advanced in 200 years. The poster also includes text with facts about the Lewis and Clark mission and the mapmaking techniques used by USGS today. A color brochure accompanies each poster and details the various phases of the journey: preparation, recruitment, exploration and homecoming. The brochure also has historically significant sites listed on the back.

Click here for a USGS Web site about Lewis and Clark.
To order: The poster is available from USGS Information Services for $10 plus a $5 handling fee per order. The item number is 113605. The poster can be downloaded free online.
MF-2397. NEW MEXICO. Geologic map of the Rio Puerco quadrangle, Bernalillo and Valencia Counties, New Mexico by Maldonado, Florian. 2003. Scale 1:24,000. One color sheet 35 X 29 inches with 7-page text. Available for $20 from USGS Information Services or free online.
MF-2406. COLORADO. Ferricrete, manganocrete, and bog iron occurrences with selected sedge bogs and active iron bogs and springs in the upper Animas River watershed, San Juan County, Colorado by Yager, D.B., Church, S.E., Verplanck, P.L., and Wirt, Lauri. 2003. Scale 1:24,000. One color sheet 54 X 42 inches with 10-page text. Available for $20 from USGS Information Services or free online.
I-2785. MARS. Topographic map of the Northwest Loire Valles Region of Mars by U.S. Geological Survey. Prepared in cooperation with NASA. 2003. Scale 1:500,000. One color sheet 28 X 40 inches. This map and the following two maps are part of a series of topographic maps of areas of special scientific interest on Mars. The topography was compiled photogrammetrically using Viking Orbiter stereo image pairs. The contour interval is 250 meters. Available free online.
I-2786. MARS. Topographic map of the Southeast Loire Valles Region of Mars by U.S. Geological Survey. Prepared in cooperation with NASA. 2003. Scale 1:500,000. One color sheet 28 X 40 inches. Available free online.
I-2787. MARS. Topographic map of the Parana' Valles Region of Mars by U.S. Geological Survey. Prepared in cooperation with NASA. 2003. Scale 1:500,000. One color sheet 28 X 40 inches. Available free online.
GQ-1800. MARYLAND AND VIRGINIA. Geologic map of the Buckeystown quadrangle, Frederick and Montgomery Counties, Maryland, and Loudoun County, Virginia by Southworth, S., and Brezinski, D.K. Prepared in cooperation with Maryland Geological Survey. 2003. Scale 1:24,000. One color sheet 40 X 57 inches. The Buckeystown quadrangle is underlain mostly by rocks of the western Piedmont Province and a portion of the eastern Blue Ridge Province. The western Piedmont Province is underlain by Late Proterozoic and Lower Cambrian metasedimentary rocks of the Westminster terrane, Lower and Middle Cambrian metasedimentary rocks and Upper Cambrian to Lower Ordovician carbonate rocks of the Frederick Valley synclinorium, Upper Triassic sedimentary rocks of the Mesozoic Culpeper basin, and Early Jurassic dikes; Lower Cambrian metasedimentary rocks underlie the Blue Ridge Province. Cenozoic deposits, which overlie the bedrock, include high- and low-level alluvial terraces, residual gravel, colluvium and alluvium. The map area includes part of the Chesapeake and Ohio Canal National Park, and the Monocacy Natural Resources Area. Sugarloaf Mountain is a registered natural landmark. Available for $7 from USGS Information Services.
To order USGS maps: Contact USGS Information Services, P.O. Box 25286, Denver, Colo. 80225. Phone: 888-ASK-USGS (888/275-8747). Click here for more information or to order online.
---
Randall Orndorff compiles the Maps section and is the Associate Program Coordinator for the USGS National Cooperative Geologic Mapping Program. Email: rorndorf@usgs.gov.

The author thanks Gene Jackson of USGS for contributing information about the Lewis and Clark poster.
---
Glacier DVD accolade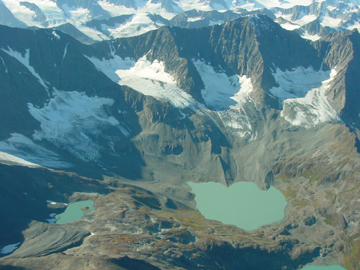 Massive glaciers majestically stretch across Alaska's landscape. Embedded in this icy beauty are complex, natural processes that govern how the glaciers form and change throughout geologic time. A new educational DVD, Glaciers: Alaska's Rivers of Ice, brings this rich geologic history to life.

North of the terminus of the Tonsina Glacier in the Chugach Mountains, Alaska, much of the ice disappeared last century. Photo courtesy Bruce Molnia.

U.S. Geological Survey geologist Bruce Molnia and computer scientist Jerry McFaul collaborated with Alpha DVD to produce the 90-minute video intended for a non-technical audience of high school students. The video gives viewers a detailed introduction to glaciers and their relationship to climate history, global sea level, local exploration and global water resources. On June 10, the DVD Association recognized the video, awarding it with the Duane Marquis Government DVD Excellence Award for its "stunning still photography blended with scientific graphics."

---