---
Profiles: News about people from AGI and its 41 member societies
---
Jim Davis: Lessons from Josiah Whitney
Jan Childress

---
Sidebar:
Changing of the guard
---

The online version of this profile is different from what appears in the print edition of Geotimes.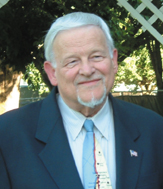 Relief is clear in Jim Davis' voice. In late July, the state legislature voted to spare two earthquake initiatives of the California Geological Survey (CGS), strong-motion monitoring and seismic-hazard mapping — programs that had been on the chopping block for months. Technically, the budget is no longer his concern because Davis retired on June 30, after more than 25 years as California's state geologist. Still, he hated to watch programs he had helped to develop and nurture — programs that were protecting millions of Californians — voted out of existence.

Jim Davis stepped down this summer from his position as California's state geologist. (Photo courtesy of Jim Davis.)

Most of the nation's state surveys have weathered survival crises before. As each state came into the union, a geological survey was set up to inventory its mineral resources. Once the initial work was done, however, state legislatures often disbanded the surveys, only to realize a need for them later. Davis describes with relish the experiences of California's first state geologist, Josiah Whitney (as in Mount Whitney). During the Gold Rush era, California's entrepreneurs and lawmakers were eager for regional reports on minerals, including gold-bearing gravels. In 1860, they created the Office of State Geologist and gave Whitney a broad mandate. Whitney was a visionary but he lacked the necessary focus. Instead of mineral reports, his first volume was on paleontology, which he insisted on shipping for publication to Germany, where the best lithographic work was done. Enraged, the lawmakers abolished his job and the survey. When the legislature created a similar organization nine years later, they called it the State Mining Bureau. Its focus was specifically on mining and mineral resources and the new director was called "state mineralogist."

"All surveys can learn from Whitney's mistakes," Davis says. "You have to be focused on your organization's mission and understand what the users of your products want and why you're being supported. And you must communicate in a way that they can understand."

Changing of the guard
Seven state geologists have retired during the past year. The length of their service adds up to 116 years, an impressive amount of "institutional memory." Long-serving former state geologists become honorary members of the Association of American State Geologists, which currently has 51 members (including Puerto Rico) and 60 honorary members.
James F. Davis, New York, 1968; California, 1978
Robert R. Jordan, Delaware, 1969
Earl H. Bennett, Idaho, 1988
Vicki J. Cowart, Colorado, 1993
William V. Bush, Arkansas, 1995
Milton A. Wiltse, Alaska, 1995
Ralph S. Lewis, Connecticut, 1997
Geoscience public policy has intrigued Davis since the earliest days of his career as head of the Mineral Resources Program for the New York Geological Survey; when he became New York's state geologist in 1968, he fully realized its importance. The environmental consciousness movement was sweeping the United States, and geologists were essential to implementing new water-quality and land-use laws. "It was a very exciting period because we were looking at issues that had not been holistically addressed from a geologic point of view before," Davis recalls. "The common issue was urban waste landfills. There wasn't a state in the union that didn't have to comply with Environmental Protection Agency regulations to protect their surface water and groundwater. State governments needed accurate appraisals of subsurface geology in order to comply with the regulations, and the surveys provided that expertise through environmental impact studies, mapping and other geologic investigations."

Davis applied geologic mapping to many environmental projects in New York. He also spearheaded the development of a seismic monitoring system to investigate whether deep-well injection of industrial waste could trigger small earthquakes and to evaluate the seismic setting of proposed nuclear power plants.

Geologic mapping, once the raison d'etre for a state survey, had gone into decline after World War II. When Davis moved to California in 1978 as director of the California Geological Survey, he re-established that organization's regional geologic mapping program.

In 1971, seven years before his arrival, the San Fernando Earthquake had killed 65 people in central Los Angeles County and caused more than $500 million in damages. It was the first earthquake to stress the state's modern infrastructure, including the freeway system. A year later, two laws were passed that were designed to help communities avoid similar catastrophic losses in the future. The Alquist-Priolo Special Studies Zone Act assured that buildings for human habitation are not placed directly on active fault traces and the Strong-Motion Instrumentation Program (threatened with elimination last July) established a statewide network of seismic monitoring instruments to record measured strong ground shaking immediately after a significant earthquake.

Following the Loma Prieta Earthquake of 1989, Davis and his colleagues worked for passage of the Seismic Hazards Mapping Act, which gave the survey responsibility for identifying post-earthquake liquefaction zones. The strong-motion program and the mapping program also help emergency response agencies develop plans for coping with post-earthquake problems. The mapping program, too, was nearly abolished this past summer.

"The Seismic Hazards Mapping Act turned out to be a clairvoyant piece of legislation because in 1994, the Northridge Earthquake led to a great deal of earthquake-induced landsliding," Davis says. Among the act's provisions are requirements for local governments to approve new construction projects within mapped CGS hazard zones after on-site hazards have been investigated and necessary mitigation strategies have been included in the project design. The survey must produce zone maps of the area, showing the general locations of earthquake-induced landslides and liquefaction at the 1:24,000 scale.

Public policy issues will continue to drive new applications of geology, Davis predicts, as government agencies work to hold down or reduce their costs while serving a growing population. The issue of landslide hazards vis à vis new construction in California provides an example.

"Our state's population has increased to the point that in many places we are no longer building on flat bottom lands," he explains. "We must determine which sites are most suitable for development and which are potentially hazardous. When development is permitted, building and foundation designs should be able to minimize future damage. To be economically efficient, the general extent of hazardous areas in California are defined at the regional level by the public sector with on-site investigations within those areas that are conducted and financed by developers.

Digital technology will also continue to transform the way state surveys provide data and services (for example, California's real-time seismic monitoring program) and how they connect with the public. The web offers a broad range of communication possibilities that are both a boon and a challenge, Davis says. Reams of information, offered at no cost, are just a few clicks away from the user; but the surveys must also determine when it is appropriate to charge for information in order to recover their investment costs. All the state surveys (as well as publishers and many other organizations) are still sorting out these information transfer questions, Davis says. They will remain policy issues as well as financial challenges for some time to come.

How the surveys apply their financial resources to deal with these and other issues will also change, he adds. "I believe we will see continued transitioning from appropriated funds to outside grant or contract funds that are consistent with an organization's mission. We must continue to do regional mapping and we will use our mapping and GIS capabilities, as well as our understanding of engineering geology and the basic geology of our state to better serve our citizens."

Despite his retirement, Davis, who was president of the American Geological Institute (AGI) in 1987, plans to remain involved with AGI and other professional societies and organizations.

---
Childress, former managing editor of Geotimes, is a freelance writer and editor in Washington, D.C. E-mail her at janochil@aol.com.
Archive of past Society Page/Profiles stories by date
---