Subscribe

Archives

Classifieds

Advertise

Customer Service

Geotimes Search
---
---
---
Web Extra Wednesday, September 12, 2007
---
Huge quake strikes Indonesia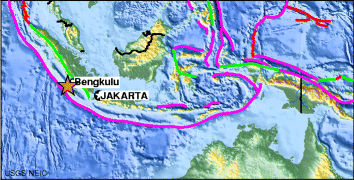 USGS
A magnitude-8.4 earthquake hit off the southwestern coast of Sumatra Wednesday, triggering a small tsunami.
At 6:10 p.m. local time, a magnitude-8.4 earthquake hit Indonesia Wednesday, according to the U.S. Geological Survey (USGS). The quake triggered a small tsunami, killed at least seven people and injured dozens more, according to The Associated Press.
The earthquake struck off the southwestern coast of Sumatra — approximately 130 kilometers southwest of the province of Bengkulu — at a depth of just 30 kilometers belowground, USGS says. The effects of the quake could be felt 620 kilometers away in Jakarta, Indonesia's capital on the island of Java, and in Malaysia, Singapore and Thailand, where the quake's tremors caused tall buildings to sway and be evacuated, Reuters reports.
After the quake, a small tsunami — with an estimated height of between 1 and 3 meters — hit the Indonesian city of Padang on Sumatra, an official from neighboring Malaysia's Meteorology Department told Reuters, and the Pacific Tsunami Warning Center issued warnings for the Indian Ocean. The quake also destroyed coastal buildings in Padang and damaged phone and power lines, causing panicked residents to seek safety further inland.
Sumatra is no stranger to seismic activity. Earlier this year in March, a magnitude-6.4 quake killed at least 70 people after striking 60 kilometers northeast of Padang, and the island was home to the magnitude-9.1 earthquake that caused a massive tsunami, killing more than 200,000 people in December 2004.

Erin Wayman
"Deadly quake shakes Sumatra," Geotimes online, Web Extra, March 6, 2007
USGS Earthquakes Hazards Program
Associated Press News Story, September 12, 2007
Reuters News Story, September 12, 2007


Back to top