Subscribe

Archives

Classifieds

Advertise

Customer Service

Geotimes Search
---
---
---
NEWS NOTES
---
Science and Society
Live Earth: Scientists rock Antarctica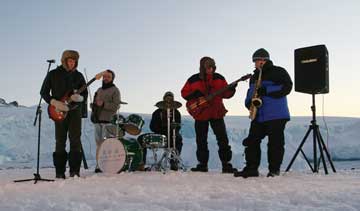 British Antarctic Survey
A band called Nunatak, composed of five Antarctic researchers, performed outside in single-digit temperatures on July 7 as part of the Live Earth concert series.
On Saturday, July 7, concerts to "combat our climate crisis" occurred on all seven continents, as part of Live Earth, a campaign led by the Alliance for Climate Protection, which is chaired by former U.S. Vice President Al Gore. Concerts were held in London, England; Tokyo, Japan; Shanghai, China; Johannesburg, South Africa; Rio de Janeiro, Brazil; Sydney, Australia; Hamburg, Germany; at Giants Stadium in East Rutherford, N.J.; and Antarctica — yes, Antarctica. Although the major cities headlined famous acts such as Snoop Dogg, Enrique Iglesias, Bon Jovi and Dave Matthews Band, perhaps the "coolest" concert took place in Antarctica, performed by a five-person house band of Antarctic scientists.
While rockstars performed in giant arenas filled with screaming crowds in the 24-hour Live Earth concert series, the band of researchers, who call themselves Nunatak — a Greenlandic word meaning an exposed summit of a ridge mountain or peak not covered with snow within an ice field or glacier — performed in front of their 17 colleagues at the British Antarctic Survey's Rothera Research Station. The Antarctic concert was broadcast around the world via television and the Internet.