Subscribe

Archives

Classifieds

Advertise

Customer Service

Geotimes Search
---
---
---
NEWS NOTES
---
Paleontology
Baby woolly mammoth frozen in time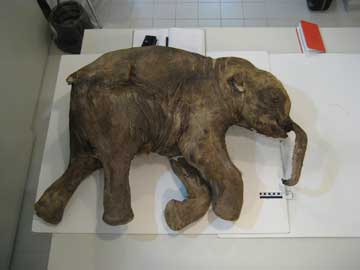 Daniel Fisher, University of Michigan
A reindeer herder recently discovered this perfectly preserved baby woolly mammoth. Researchers are hoping the specimen will teach them more about woolly mammoth biology.
Recently, an international team of researchers announced the discovery of a perfectly preserved months-old baby woolly mammoth that had been buried under western Siberia's thick permafrost for at least 10,000 years until spotted last May by a reindeer herder named Yuri Khudy.
Dubbed "Lyuba" after Khudy's wife, the carcass — only missing its hair, right ear lobe and tail — will likely provide researchers with the material necessary to decode the woolly mammoth's genome, Alexei Tikhonov, deputy director of the Russian Academy of Sciences Zoological Institute in St. Petersburg, told Reuters on July 11. While other researchers plan to work on the mammoth's genetic code, University of Michigan paleontologist Daniel Fisher plans to study the mammoth's teeth and incipient tusks to learn more about the species' development and maturation rates.
Lyuba will soon leave the Zoological Institute, where the mammoth has been since its excavation in May, to go to Japan, where scientists will conduct a CT (computer tomography) scan to map the mammoth's body, before returning again to Russia to be placed on public display.