Subscribe

Archives

Classifieds

Advertise

Customer Service

Geotimes Search
---
---
---
Web Extra Friday, April 6, 2007
---
IPCC report warns of economic, health impacts from climate change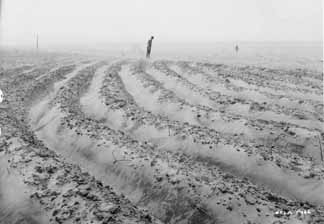 In the 1930s, arid conditions in prairie regions of the United States, such as these barren fields in Oklahoma, helped drive thousands of farmers out of business. A new report suggests that climate change is likely to bring more frequent severe drought to the Southwestern United States. Image courtesy of USDA-NRCS.
Amid sobering statistics and warnings of worldwide impacts on agriculture, water quality and human health due to current and future climate change, the Intergovernmental Panel on Climate Change (IPCC) released the second volume of its Fourth Assessment Report today in Brussels, Belgium. Following the release of the first volume in February, which reported on current understanding of the physical factors driving climate change (see Geotimes online, Web Extra, Feb. 2, 2006), the second volume focused on how communities and resources around the world are already experiencing climate change, and on these communities' vulnerability and ability to adapt to those changes.

Non-climatic factors, including increases in human population, degrading air quality and land-use changes, are likely to combine with increasing temperatures and other climatic factors to produce a host of future economic, social and health problems, scientists announced today at a press conference.
"It's clear that the heart of the climate change issue has shifted toward concerns about the impact of climate change on the environment and resources," Linda Mearns of the National Center for Atmospheric Research (NCAR) in Boulder, Colo., told reporters today. Mearns was lead author on a chapter on new methods and scenarios in the report, and also led a chapter on regional projections of climate change in the first volume of the report.

Some of the most vulnerable areas are coastal regions, as they are susceptible to changes occurring in both land and sea and tend to be densely populated, said Susanne Moser of NCAR, who was a contributing author on the report's chapter on coastal systems. In 2003, Moser said, 53 percent of the United States' population lived in counties bordering the ocean. Observed and projected impacts in these regions include increasing coastal erosion and cliff retreat and wetland disappearance, as well as water quality decline as sea levels rise and saltwater intrudes into coastal aquifers (see Geotimes, May 2006). The report also states that the economic cost of planning for these future problems is likely to be much less than the cost of mitigating their effects, Moser said.
In the United States and around the world, water resources are likely to be strongly affected by climate change, as was also suggested by the earlier volume in February (see Geotimes, April 2007). In particular, some of the world's most water-stressed regions, such as northeastern Brazil, southern Africa, the Southwestern United States and northern Mexico, are likely to see a 10 to 30 percent decline in water availability by the end of the century, said Kathleen Miller of NCAR, who was lead author on a chapter on freshwater resources. Snowpack in the mountains, which accumulates during the winter and provides freshwater to many areas of the Western United States in summer, is also likely to decrease, exacerbating drought conditions (see Geotimes, December 2006). In the northern United States, northern Europe and southeastern Asia, rainfall will increase; in Asia, that could also lead to increased monsoon flooding.

Water quality is likely to decrease in many areas, as warmer temperatures promote algal growth and reduce oxygen levels in rivers and lakes, Miller said. Developing countries, which lack resources to deal with these changes, may be the hardest hit, she said.

Some of the most sobering projections of the report are for human health impacts of climate change (see Geotimes, January 2006). "Climate change presents one of the most challenging environmental public health threats of the millennium," Jonathan Patz, an environmental health scientist at the University of Wisconsin at Madison who has contributed to the IPCC's past three reports, told reporters. Climate change, he said, affects many pathways that connect to health, including air, water, food and biological systems such as the mosquitoes that can carry diseases. Such changes can also act in concert with environmental stresses such as urban sprawl and deforestation to increase the impact of future heat waves on cities, for example. Heat waves and ozone air pollution — which increases as temperatures rise — are both likely to increase in the United States, Patz said.

The report's release coincides with research released April 5 in Science, which used data from the IPCC's previous Third Assessment Report of 2001 to predict extreme aridity in the southwestern United States. Mearns said that the results presented in the Science paper agree closely with the IPCC's conclusions. "They're quite right that we can easily expect to see droughts as intense as in the 1930s," when the Great Plains region of the United States experienced severe drought, she said.

Links:
Intergovernmental Panel on Climate Change
"Climate report points finger at fossil fuels," Geotimes Web Extra, Feb. 2, 2007
"Coastal Playground's Water Woes," Geotimes, May 2006
"Drinking Water for All: A 21st Century Challenge," Geotimes, April 2007
"Thawing ice shifts water cycles," Geotimes, December 2006
"Warming linked to disease outbreaks," Geotimes, January 2006