---
FEATURE
---
Speak Now or Forever Hold Your Peace: The Business World Looks at Climate Change
Truman Semans and Andre de Fontaine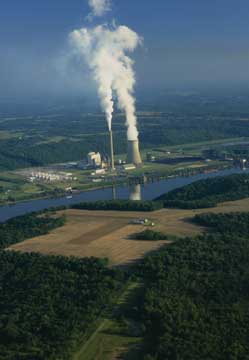 This coal-fired power plant in Westport, Ky., emits steam and small amounts of pollutants. Thermal pollution is abated by the use of the large cooling tower. Companies are increasingly taking climate change and possible future carbon regulations into consideration, and designing their programs, including power plants, around such regulations. Photograph is copyright Michael Collier, courtesy of Earth Science World Image Bank.
Recent months have seen an explosion of activity on climate change, to the point where it is now almost impossible to pick up a newspaper without reading about a major new climate-related initiative from the business or policymaking community. Businesses increasingly think that climate change regulations are inevitable and are responding by engaging in the policy arena. Some of the most progressive companies are openly calling for national greenhouse gas emissions limits, while other businesses and trade associations have been transitioning away from their historical stances against mandatory climate policies.
The shifting winds in the business community are both a reaction to and a driver of increased congressional action on climate change. On one hand, the priority given to the issue by the new Democratic leadership in the 110th Congress has convinced the corporate world that it needs to get involved in the debate or risk being left behind as crucial policy decisions get hashed out. On the other hand, support from the business community is paramount to mustering up enough votes in Congress to enact mandatory national climate change legislation.
One of the most significant developments in the business community's growing involvement in climate policy was the recent formation of the U.S. Climate Action Partnership. The partnership is an unprecedented collaboration of 10 major corporations and four leading nongovernmental organizations that is calling on Congress to enact climate protection legislation at the earliest date possible. Specifically, the group endorses an economy-wide U.S. climate policy including a "cap-and-trade" system, goals for U.S. global leadership, and mandatory measures and incentives to cut emissions in transportation, buildings, and coal-based energy. The coalition includes some of the largest corporations in the United States in a number of important industries such as Alcoa, BP America, Duke Energy, GE, DuPont and PG&E.
Participants in the climate partnership realized that through collaboration between businesses and environmentalists, the group had the potential to spur action on federal climate policy. It was clear that pressure was building on Congress from the states, scientific community and international arena to do something about climate change. Particularly encouraging was the passage of a nonbinding "Sense of the Senate" resolution offered by Sen. Jeff Bingaman (D-N.M.) calling for Congress to "enact a comprehensive and effective national program of mandatory, market-based limits on greenhouse gas emissions that slow, stop and reverse the growth of such emissions..." The Senate Energy and Natural Resources Committee held a public conference on design of such a program in April 2006, in which a number of major companies stated their support for a mandatory climate change policy. The stage has thus been set.
Congressional action
While the past several years have seen a steady increase in the level of congressional attention to climate change, 2007 is shaping up to be unique both for the volume and seriousness of congressional proposals to address climate change.
In the Senate, several bills have been proposed that aim to cap overall carbon emissions. Sens. Joseph Lieberman (I-Conn.) and John McCain (R-Ariz.) are again teaming up to push legislation that would establish a cap-and-trade system for greenhouse gases, with the intent of reducing emissions to 1990 levels by 2020, and dropping them to 60 percent below 1990 levels by 2050. A bill by Senate Environment and Public Works Committee chair Sen. Barbara Boxer (D-Calif.) would also cap emissions at 1990 levels by 2020, but seek additional reductions equivalent to 80 percent of 1990 levels by 2050.
Bingaman, chair of the Senate Energy and Natural Resources Committee, has floated a more moderate proposal that aims for progressively steeper reductions in greenhouse gas intensity, meaning relative reductions in greenhouse gas emissions per dollar of gross domestic product. Meanwhile, Sens. Dianne Feinstein (D-Calif.) and Tom Carper (D-Del.) have introduced a bill that would cover only the electric utility sector, capping emissions at 1990 levels by 2020, followed by progressively steeper reductions.
In the House, Speaker Nancy Pelosi (D-Calif.) has made climate change a priority and publicly stated the goal of preparing climate change legislation for passage before the July 4 recess. She has also formed the Select Committee on Energy Independence and Global Warming, chaired by Rep. Ed Markey (D-Mass.), which will serve as a venue for raising the profile of climate change and gathering input on potential solutions.
While action is growing at the federal level, for the last few years state policymakers have been leading the way on climate change. Nearly all states have now enacted some form of climate-related standards, and a growing number are joining regional greenhouse gas reporting programs. California is in the process of implementing a law that would establish economy-wide limits on greenhouse gas emissions, while 10 Northeastern states have joined together to reduce carbon dioxide emissions from power plants. Action by the states is adding to the momentum behind a national policy, as many corporations grow increasingly concerned about being forced to comply with a "patchwork quilt" of state and regional regulations.
A business parallel
Movement can also be seen on the financial front, as mainstream investors such as Goldman-Sachs, Bank of America, JP Morgan Chase and Citigroup are adopting guidelines for lending and asset management aimed at promoting clean-energy and climate-friendly technologies.
For example, the recently proposed $45-billion buyout of TXU, a major Texas electric utility company, by two private equity groups provides compelling evidence that the financial world is taking seriously the risks from climate change. As part of the proposed deal, which has been endorsed by the Natural Resources Defense Council and Environmental Defense, the private equity firms have agreed to scale back plans to build almost a dozen coal-fired power plants, to support federal climate protection legislation, to invest hundreds of millions of dollars in demand-side management initiatives, and to work to reduce greenhouse gas emissions to 1990 levels by 2020.
The deal reflects the growing certainty within the business and financial community that carbon emissions will eventually be regulated. The TXU deal is just one example of a business that is positioning itself to prosper in an environment where carbon emissions have a price tag attached to them.
In March, Bank of America announced a $20 billion initiative to help foster green business practices. The bank says it will set aside funds to lend to companies offering environmentally superior services and products, and offer lower mortgage rates on energy-efficient homes. Similarly, GE has invested heavily in its "Ecomagination" initiative, which focuses on developing products that help solve environmental problems (see Geotimes, August 2005). And in October 2005, Wal-Mart announced a sweeping environmental initiative that features pledges to vastly improve energy efficiency at its retail locations and push its suppliers to also improve their environmental performance.
Businesses are increasingly realizing that it is in their strategic interest to engage in the climate issue to manage climate-related risk, capture opportunity and maximize profits. The most progressive companies are actively working to take advantage of the future market shifts that will occur due to climate change.
A 2006 report from the Pew Center titled Getting Ahead of the Curve: Corporate Strategies That Address Climate Change, details the business case for climate action, while offering a step-by-step approach for companies to reshape their core business strategies to succeed in a marketplace where greenhouse gases are regulated and carbon efficiency is in demand. The report was authored by Andrew Hoffman of the University of Michigan, and developed through collaboration with companies participating in the Business Environmental Leadership Council, a group of 42 largely Fortune 500 corporations working with the Pew Center to address issues related to climate change.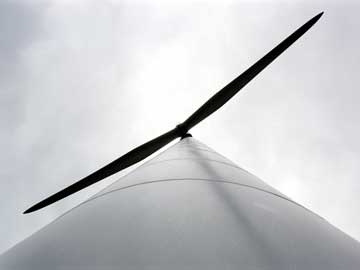 BP is putting energy into its renewable fuels and green campaigns, such as by funding wind turbines in Ireland, as seen here. Many other companies are likewise introducing green campaigns. Photograph is courtesy of BP.
A number of key points surfaced from the report, which involved six in-depth case studies of Alcoa, Cinergy/Duke Energy, DuPont, Shell, Swiss RE and Whirlpool, and included a survey of 31 large corporations. First of all, from a business perspective, timing on climate action needs to be strategic and aimed at staying one step ahead of the competition. Also, businesses need to engage in the policy process to ensure they have a voice as important regulatory decisions are made. And the ultimate goal is a game-changing strategy to leap far ahead of competitors by creating or reshaping key markets that they can dominate. Above all, however, climate strategies cannot be an add-on to business as usual: These strategies must be fully integrated into core business activities to truly minimize the risks and capitalize on the opportunities present in a carbon-constrained environment.
Companies surveyed in the report identified regulatory risk — the risk that new rules developed in Washington will change the value of a company's assets almost overnight — as the most immediate concern. However, climate change brings with it a number of potential physical risks as well: Future warming could affect vulnerable sectors such as agriculture, insurance and real estate, as well as offshore energy infrastructure. Legal risks are beginning to come into play, too. For example, eight states and New York City have filed a lawsuit against five of the nation's largest power companies demanding that they reduce carbon emissions. Finally, companies face reputation risks, the risks that consumers will recoil from products being offered by companies they believe to be bad actors on climate change.
Increasing momentum at the state and federal levels, along with the business community, is proof that we are now in the design phase for climate change legislation, and companies clearly expect regulations soon. In the survey of large corporations conducted during the development of the Pew Center's 2006 corporate strategies report, 67 percent of corporations expect greenhouse gas regulations to take effect between 2010 and 2015. A further 17 percent expect this before 2010. This implies that climate regulations will pass Congress even sooner. The question now is not whether it will pass, but about the timing and form climate legislation will take. Companies who prepare for this future and attempt to influence it will be the winners, and the rest will be running to catch up for years to come.
---
Links:
"Injecting energy into advertising," Geotimes, August 2005
"Climate Policy in an Adapting World," Geotimes, April 2005