---
DOWN TO EARTH WITH...: News about people from AGI and its 44 member societies
---
Archive of past profiles stories by date
---
Susan Avery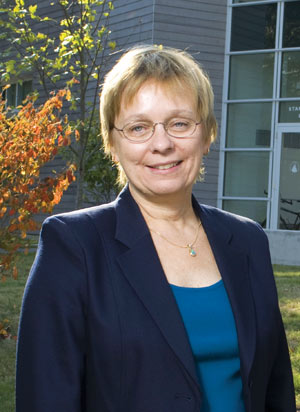 Photo by Tom Kleindinst, Woods Hole Oceanographic Institution
When atmospheric scientist and engineer Susan Avery joined the faculty at the University of Colorado at Boulder in 1982, she never anticipated "president" would end up on her résumé. But somehow, in the midst of studying precipitation patterns, developing remote-sensing radar techniques and assessing how climate variability affects the American West's water supply, Avery found time to serve as the director of the university's Cooperative Institute for Research in Environmental Sciences, interim dean of the graduate school and vice chancellor for research, and president of the American Meteorological Society. She also helped outline a national science plan for climate change research, advised the National Science Foundation on atmospheric sciences and worked with the National Research Council to create a long-term plan for earth science and space research.
In February, Avery added another title to this long list: president and director of the Woods Hole Oceanographic Institution (WHOI) in Woods Hole, Mass. Recently, Avery talked with Geotimes reporter Erin Wayman about her experiences.
EW: What's your vision for WHOI's future?
SA: It's a little too early to articulate a succinct vision because I think one of the things a good president does is to understand an institution and where it is. But there are some areas that I'm exploring. Clearly, the issue of climate change is beginning to be in the forefront and often climate change is portrayed as being just an atmospheric problem — the buildup of greenhouse gases in the atmosphere — but the planet as a whole is going to be responding to this and the oceans play a critical role. Strategically, I think that ocean science is probably moving into a new era, where developing networks of observation that are available to a wider community is going to be an important asset. There are also some interesting biological questions of how life in the oceans helps regulate productivity and the climate system. The role of energy is another big question: What's the ocean's role in answering some of the questions regarding new alternative energies? What's the ocean's role in looking at carbon capture and storage or carbon sequestration? Lots of fun things.
EW: You've held many administrative positions during your career that take time away from your research. What draws you to these positions?
SA: That's a good question because I love my science too. Let's say I had to be convinced to try it at first. There are certain levels of administration that you can do and still do your research, until you get to a certain point and the job is just all consuming. And then you have to let others take over the research enterprise. I found out that I liked strategic thinking, I liked program development and I enjoyed pulling teams together to tackle new problems. I just enjoyed some of the challenges that one can address in furthering the research and scholarship agendas in graduate education.
EW: What are some of those challenges?
SA: The science has evolved significantly from when I started. When I started, I could work on a research problem all by myself with maybe a graduate student. Now, a lot of the questions that one wants to address are much bigger in scope. So, one of the challenges is bringing the right people together. I think some of the other challenges are the intersection of science and decision-making — whether it be in the policy realm, in marine management or, in the case that I worked on a lot, freshwater management. And I think probably the third [challenge] is communicating science to the public.
EW: In terms of the decision-making process, what role can scientists take?
SA: I think what you can see is scientists working with those who work in policy to make sure that the science is sort of an honest broker in the discussion. When scientists can sit down and work with people who have the challenge of managing a natural resource, you can help see where science can be beneficial to them and where it can't be, because a lot of the decisions are not just science-based. In fact, most of them are not. But at least you can, in the process, look at what kind of forecasting they need and what timescale they need and then you can say, "Oh, in order for me to do better forecasting on this, I need to understand this fundamental science." So in a way, it's working with decision-makers who then help inform the problems.
EW: Have you ever thought about what you might be doing if you weren't in the geosciences?
SA: [Laughs.] That's really hard! I've never thought about it because I'm doing what I love. I don't know what my life would be like without geoscience.