Subscribe

Archives

Classifieds

Advertise

Customer Service

Geotimes Search
---
---
---
NEWS NOTES — ENERGY & RESOURCES
---
Tunnel vision revived
Turning the tide on renewable energy
Mineral Resource of the Month: Silver
---
For more than a century, visionaries have talked about linking Russia and the United States, two countries separated by the approximately 100-kilometer-wide frigid Bering Sea. The late structural engineer T.Y. Lin, for example, spent decades advocating plans to span the strait with a bridge, but political, economic and environmental challenges proved too great an obstacle (see Geotimes, February 2007). Talks were revived April 3 at the "Megaprojects of Russia's East" conference, according to an April 24 Associated Press (AP) story. Rather than talk of a bridge, however, conference attendees discussed a subterranean connection.
The tunnel was touted at the conference as a means to drive economic growth by connecting the western and eastern hemispheres so that oil, gas and other natural resources could move between the countries. To make that happen, the approximately 110-kilometer-long rail tunnel and pipeline must accommodate the transport of cargo and possibly people, as well as oil and gas. Lobbyists at the conference said that the $65 billion tunnel could become profitable after 30 years, according to AP, but construction could take as long as 20 years.
Despite support from people such as Walter Hickel, a former Alaska governor and interior secretary, others are not as ready to jump onboard. Maxim Bystrov, deputy head of Russia's Federal Agency for Management of Special Economic Zones, said his agency would consider investing in the project only after a firm commitment by other investors to move forward with building the tunnel, according to the AP story.
Still, the outcome of the conference was a statement urging countries to support the plan. But don't buy a passenger ticket quite yet — the world's longest tunnel is likely still a long way off.
Links:
"Building Bridges With Icy Challenges," Geotimes, February 2007
---
Turning the tide on renewable energy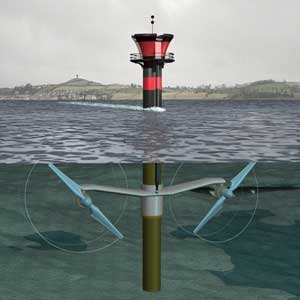 Marine Current Turbines
SeaGen, the world's largest tidal turbine, is being installed off the coast of Northern Ireland this month. With its twin rotors, SeaGen will produce electricity for approximately 1,000 homes.
This month contractors will install the world's largest, most powerful tidal turbine, named SeaGen, in Strangford Lough off the eastern coast of Northern Ireland. Marine Current Turbines (MCT), the company that designed SeaGen, estimates the turbine should provide enough electricity to power approximately 1,000 homes, serving as a prototype for future commercial tidal turbines.
SeaGen relies on the sea's changing tides to create strong water currents that turn the blades of the turbine's two 16-meter-wide rotors, which in turn spin a generator to create up to 1.2 megawatts of electricity. Tidal turbines, such as SeaGen, can "reduce the need for burning oil, gas and coal by putting clean energy into the grid," says Paul Fraenkel, MCT's technical director.
Because tides are predictable, tidal energy is more reliable than other forms of renewable energy, such as wind or solar power, Fraenkel says. Tidal energy may also be cheaper than wind because given the same amount of output, tidal turbines can be smaller than wind turbines, and thus cheaper to produce, he says.
Some critics are concerned the turbine's spinning rotors may harm marine life. Researchers from Queen's University Belfast in Northern Ireland and St. Andrews University in Scotland will conduct environmental impact studies over the next few years to determine any such effects. Fraenkel says he expects SeaGen will receive a "clean bill of health," given that MCT's previous turbines have not caused any apparent harm.
Taking what it learns from SeaGen, Fraenkel says MCT plans to begin installation of a seven-turbine tidal farm off the coast of northern Wales in 2009 or 2010, which would provide more than eight times more electricity than SeaGen. Like the early days of aviation, Fraenkel says, it's too early to tell how far-reaching tidal energy will be in the future. He is optimistic, though, that it will be "at the very least a niche market."
---
William E. Brooks, a U.S. Geological Survey mineral commodity specialist, has compiled the following information on silver, an ancient commodity with many modern applications.
Silver has been used for thousands of years as ornaments and utensils, for trade and as the basis of many monetary systems. The metal has played an important part in world history. Silver from the mines at Laurion, Greece, for example, financed the Greek victory over the Persians in 480 B.C. Silver from Potosi, Bolivia, helped Spain become a world power in the 16th and 17th centuries. And silver from the gold-silver ores at the Comstock Lode in Virginia City, Nev., helped keep the Union solvent during the Civil War.
The primary source of silver is argentiferous galena, as it is relatively abundant and relatively easy to smelt. However, there are many other ores of silver, including acanthite, anglesite, argentite, cerargyrite, cerussite, proustite, pyragyrite and stephanite, and it also occurs as a native metal. Silver may be present in many geologic environments, and byproduct silver may be obtained from the processing of copper, gold and lead-zinc ores. More than two-thirds of U.S. and world resources are contained in such polymetallic deposits and the remainder is found in silver deposits.
Silver's traditional end uses include coins and medals, common retail and industrial applications, jewelry and silverware, and photography. The consumption of silver in common retail and industrial applications has increased and includes the use of silver in bandages for wound care, batteries, solar cells, catalytic converters for automobiles, cell phone covers to reduce the spread of bacteria, clothing to minimize odor, for wood treatment to inhibit mold and water purification. Silver and mercury, the components of dental amalgam, are biocides and their use prevents recurrent decay. Silver is also widely used in miniature Radio Frequency Identification Antennas, which are used in passports and on packages to track shipments. The physical properties of silver that make it so useful include ductility, electrical conductivity, malleability, reflectivity and biocidal properties.
In 2005, approximately 99 percent of U.S.-produced silver came from base-metal ores at 15 mines and from precious-metal ores at 10 mines in 11 states. Alaska led the country, followed by Nevada, known as the "Silver State," and Idaho, famous for the Coeur d'Alene District in the Silver Valley. With about 1,100 metric tons of silver production in 2006, at a value of $400 million, the United States ranked 8th in the world, and held an estimated 9 percent of the world's silver reserves. Approximately 1,000 metric tons of silver was recovered from scrap in the U.S. in 2006, and 60 to 90 metric tons of silver were reclaimed and recycled from photographic wastewater.
In 2003, the average price of silver was $4.91 per troy ounce. By 2006, it was up to $11.20 per troy ounce, and it continues to rise thanks to demand for its many applications as well as a new investment category — the silver exchange traded fund or ETF. In April 2006, the ETF was established, and physical silver destined for use for industrial or other purposes was diverted and held by an investment agency.
Tantalum and titanium may replace silver in surgical applications, and aluminum and rhodium may be used to replace silver in mirrors and other reflective applications. Germanium may be added to silver flatware to help keep tableware from tarnishing. But silver will not lose its place of importance, as its modern uses continue to increase.
For more information on silver and other mineral resources, visit minerals.usgs.gov/minerals.