---
Highlights 2005 — Natural Hazards
---
Drilling a fault
Mount St. Helens awakens
Reviewing Sumatra
For a complete list of hazards headlines from 2005, see the December 2005 print issue.

---
SAFOD crosses the fault


Big advances in understanding can come from little earthquakes. That's what is happening along the San Andreas Fault just north of Parkfield, Calif. In August, the drilling component of the National Science Foundation's EarthScope project hit scientific pay dirt, crossing the fault at a depth of 3 kilometers in a zone where magnitude-2 and -3 earthquakes nucleate (see Geotimes online, Web Extra, Aug. 12, 2005). With this phase of drilling complete, a string of geophysical instruments has been inserted down into the fault zone, providing the first-ever ringside seat for future (small) events.

Back to top

---
Mount St. Helens awakens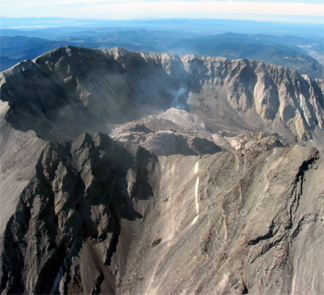 For volcanoes, as for earthquakes, there is no substitute for studying an active system. And few volcanoes have been as active this past year as the reawakened Mount St. Helens (see Geotimes, March 2005). Since steam-and-ash explosions began on Oct. 1, 2004, the eruption has been nearly continuous, building a new dome that is already two-thirds the volume of the dome that formed during the six years following its catastrophic 1980 eruption.

Mount St. Helens' dome, shown here in September, has undergone extensive growth this year as the volcano reawakened. Image courtesy of Ken McGee/USGS.

Since last October, the extrusion rate has averaged 2.3 cubic meters per second. Before a partial collapse, the new dome's elevation was within 3 meters of the lowest point on the crater rim. The current eruption has been an important opportunity for volcanologists to study an active system up close, and to do so with a number of technological improvements unavailable during the 1980 to 1986 eruption, including high-precision GPS and new remote sensing techniques to measure gases and surface temperatures, and track volcanic-ash plumes. As the most active volcano in the Cascades, Mount St. Helens is yielding knowledge that can be applied to others in the mountain chain, many of which pose a significant threat to population centers. A new U.S. Geological Survey report assesses the threat from all active U.S. volcanoes and lays out a plan for a National Volcano Early-Warning System that will provide adequate monitoring to protect communities and aviation (see Geotimes, July 2005).

David Applegate

Links:
"Monitoring a restless volcano — the 2004 eruption of Mount St. Helens," Geotimes, March 2005.
"Monitoring the most dangerous U.S. volcanoes," Geotimes, July 2005.

Back to top

---
Reviewing Sumatra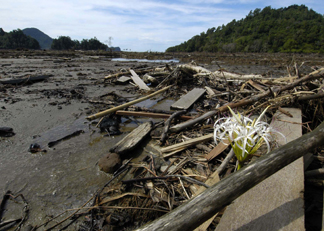 The Sumatra fault slipped on Dec. 26, 2004, eliciting one of the most powerful earthquakes ever recorded and making Earth ring like a bell — it even threw off the planet's rotation by microseconds. The huge event set off a tsunami that traveled across the Indian Ocean, killing hundreds of thousands of people in coastal communities throughout the region. A magnitude-8.7 earthquake followed several months later in March, which triggered a smaller tsunami event.

The Dec. 26, 2004, tsunami that struck Sumatra, Indonesia, left this small valley in the region of Glebruk in ruins. Image courtesy of U.S. Navy; photo by Photographer's Mate 2nd Class Elizabeth A. Edwards.

The shocking destruction wrought by the tsunami led to pledges for a real-time, multi-buoy warning system, maintained by the international community. The inaugural meeting of the Indian Ocean Tsunami Warning and Mitigation System took place last summer in Australia, as efforts to place more buoys across the world's oceans continued.

The Sumatra events also spawned a fusillade of geoscience papers in the scientific literature in 2005. Thorne Lay of the University of California, Santa Cruz, marshaled several dozen seismologists to study the earthquake. Their analyses, published in the May 20 Science, showed the Dec. 26 earthquake to have been the longest fault rupture ever recorded, as well as the longest lasting — up to about an hour. With offsets from 5 to 20 meters along the fault, the temblor triggered a swarm of small earthquakes near Mount Wrangell in Alaska, half a world away. Roger Bilham of the University of Colorado in Boulder, calculated the total energy released, or the moment magnitude at 9.15, to be equivalent to 0.8 gigatons of TNT (11 days' worth of energy consumed in the United States), though he wrote that "the most reliable" estimate is closer to 0.25 gigatons of TNT.

First measured at magnitude 8.7, the quake was upgraded to 9.0 within a day of its occurrence. Seth Stein and Emil Okal of Northwestern University in Illinois used long wavelengths from seismometers in the Global Seismic Network to calculate that the earthquake may well have been a magnitude 9.3, posting their results online in February. Their work was later confirmed by Jeffrey Park of Yale University and colleagues, publishing in the May suite of Science papers, with calculations that used free oscillations — waves from the ringing Earth — to come to the conclusion that the earthquake was three times bigger than initial measurements showed. More results are to be presented at the American Geophysical Union's annual meeting this month in San Francisco, including modeling by Richard Gross of the Jet Propulsion Laboratory in Pasadena, Calif., and his colleagues on how the event changed Earth's rotation and shape, if only slightly.

Other large historic earthquakes in the Sumatran subduction zone, where the Australian, Indian, Sumatran and other plates come together, have measured around magnitude 8. Past work by Kerry Sieh of Caltech in Pasadena, Calif., and Phil Cummins of Geoscience Australia indicated that something bigger could have been on the horizon. Now, new research on the Chilean subduction fault zone, which is quite similar to the Sumatran system, further indicates that the portion of the Sumatra fault that ruptured has probably been relieved of a huge amount of stress, so that it will not repeat its immense Dec. 26 earthquake anytime soon. Nevertheless, measurements of stress on other segments of the fault show that magnitude-8 and smaller earthquakes are, of course, still in Sumatra's future.

Naomi Lubick

Links:
"Shift in Chile's seismic history," Geotimes, November 2005.

---