---
Profiles: News about people from AGI and its 43 member societies
---
Archive of past Society Page/Profiles stories by date
---
Geoscientists meet Hill policy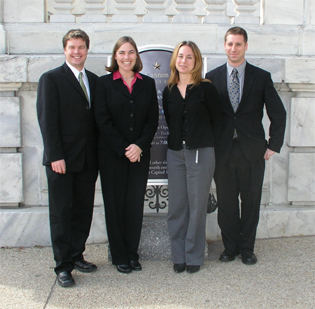 Every year, a cadre of scientists descends on congressional offices in Washington, D.C., sponsored by more than 30 professional and scientific organizations, in a program managed by the American Association for the Advance-ment of Science. One thing that has brought this year's geosciences congressional fellows to the Hill, they say, is the desire not necessarily to bring science to the political process, but to bring policy back to science.
Four geoscience fellows already serving on Capitol Hill (left to right): Steve Quane, volcanologist; Eryn Robinson, geotechnical engineer; Nicole Gasparini, river geomorphologist; Josh Trapani, paleontologist.
Eryn Robinson, a geotechnical engineer, says her sponsoring society, the American Society of Civil Engineers, perceives her experience on the Hill as an advantage to her entire professional community and encourages her to "come back to communicate policy issues to engineers." Working for the Republican majority on the Senate Committee on Environment and Public Works, Robinson will cover nuclear energy issues, as well as the response to hurricanes Katrina and Rita during her yearlong fellowship.

A Columbus, Ohio, native, Robinson, 29, says that she first became interested in natural hazards as an undergraduate civil engineering student at Princeton University, participating in a geohazards course taught by Gregory van der Vink (see Geotimes, November 2005). Robinson mapped flood hazards and conducted post-disaster fieldwork for a Federal Emergency Management Agency contractor, before returning to school to pursue professional engineering.

Most recently based in Alexandria, Va., Robinson worked for a defense contractor examining data on underground nuclear tests for insights on how to deal with "hard" and deeply buried targets, such as underground tunnels or bunkers. Such work also piqued her interest in armed services issues, in addition to other topics she will cover for the Senate committee.

The fellows, however, often find themselves tackling unfamiliar issues. Nicole Gasparini, for example, the Geological Society of America fellow, has taken on human rights in her position in the office of Rep. Edward Markey (D-Mass.). Gasparini also recently researched potassium iodide for an amendment Markey sponsored for responses to attacks on nuclear power plants (the chemical can stop biological uptake of radioactive iodine). Researching the topic showed her how difficult it can be for science to translate into scientific policy solutions. The 33-year-old hydrologist and river geomorphologist has also covered issues closer to home, though, such as recent flooding in New England and climate change.

Gasparini, who grew up in Buffalo, N.Y., wants to bring policy back to her research, she says. (She remains active in her current geomorphology research at Yale University, where she was a postdoctoral fellow before heading to Washington.) Students are not necessarily best served by solely academically oriented teaching, she says. Plus "it's interesting to me to be on the political side, to see how scientists present themselves" to policy-makers, she says, in situations where both sides do not necessarily understand the other side's culture.

Josh Trapani, a paleontologist who is the American Geophysical Union fellow, says that he was more interested in writing and politics while growing up on Long Island, N.Y., than science. Trapani, 31, was instead "sucked in" by an introductory college geology course. Learning about geologic time and understanding "how things came to be" made him into a "paleo-guy," eventually earning a Ph.D. in geology at the University of Michigan in Ann Arbor.

Trapani's most recent work, as a postdoctoral researcher at the University of Colorado in Boulder, focused on the evolution of teeth in several species of fish — a far cry from the meetings, memos and letters he focuses on now in his research on public lands and NASA funding, serving in Sen. Dianne Feinstein's office (D-Calif.). The possible loss of funding for NASA's life sciences and aeronautics research could impact such California institutions as NASA Ames in Mountain View and the Jet Propulsion Lab in Pasadena, he says.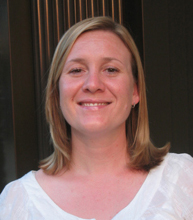 These fellows say that they have always been interested in politics. "I love doing science for science's sake, but I want to get information to policy-makers so they can make the best decisions," says Kit Batten, who will start in January in Sen. Joseph Lieberman's office (D-Conn.), as the congressional fellow sponsored by the Soil Science Society of America, American Society of Agronomy and Crop Science Society of America.

Soil microbial ecologist Kit Batten will start her yearlong fellowship in Sen. Joe Lieberman's (D-Conn.) office in January.

As a chemist turned soil microbial ecologist, Batten's focus on invasive species (and their effects on soil) brought her to Washington, D.C., once before, to intern with the Global Invasive Species Programme, during her Ph.D. work at the University of California, Davis. Batten, 30, currently works for the American Institute of Biological Sciences, as a postdoctoral researcher addressing aspects of the National Ecological Observatory Network program. Batten says she is looking forward to working in a congressional office, where she will focus primarily on climate and energy issues, as well as the Endangered Species Act.

Steve Quane, the William L. Fisher Congressional Fellow sponsored by the American Geological Institute, sees the fellowship as a great way to get an insider's view of politics (see Geotimes, November 2005). Like congressional staffers from outside academic science attempting to pick up the science that they need as quickly and accurately as possible, grasping the political process from inside academia is "nearly impossible," says Quane, a 30-year-old volcanologist originally from Colorado, who is now working in the office of Rep. Tom Udall (D-N.M.). After their work is done on the Hill, he says, the fellows will have important insights to bring back to the scientific community.
"The Increasing Costs of U.S. Natural Disasters," Geotimes, November 2005


---