Subscribe

Archives

Classifieds

Advertise

Customer Service

Geotimes Search
---
---
---
Geomedia
---
Geotimes.org offers each month's book reviews, list of new books, book ordering information and new maps.

Check out this month's On the Web links, your connection to earth science friendly Web sites. The popular Geomedia feature is now available by topic.

Books: Holiday reading picks (Fiction | Nonfiction | Regional | Kids and young adults)
---
The Geotimes editors have once again compiled together books on our shelves left unreviewed from the past year. This edition includes nonfiction and fiction alike, as well as some kids' picks and regional reads. Whether for yourself or for your geologically minded friends or loved ones, these books may make good holiday gifts.
---
Fiction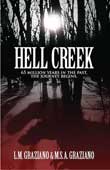 Hell Creek: 65 Million Years in the Past, the Journey Begins by L.M. Graziano and M.S.A. Graziano.
Trafford Publishing, 2006. ISBN 1 4120 9238 8. Softcover, $19.96.
Paleontologist Julian Whitney and three other people transported from present day to 65 million years ago must try to survive alongside dinosaurs and other Cretaceous creatures. Meanwhile, police and physicists in the present day try to figure out how, and if, they can bring them back. The brother-and-sister authors, a neuroscientist and oceanographer respectively, bring authentic science to the story, and include a glossary of scientific terms.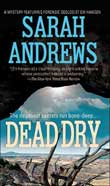 Dead Dry by Sarah Andrews.
St. Martin's Paperbacks, 2006. ISBN 0 3129 3736 9. Softcover, $6.99.
The latest in a series of books following Em Hansen, a forensic geologist, finds the heroine investigating the death of a water and drought expert, whose body authorities discovered crushed in a landslide in Utah. Geologist and writer Sarah Andrews' writing style is both entertaining and smart. First published in hardcover in 2005, the book is now available in softcover.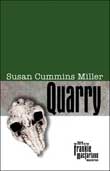 Quarry by Susan Cummins Miller.
Texas Tech University Press, 2006. ISBN 0 8967 2574 X. Hardcover, $24.95.
Geologist-turned-writer Susan Cummins Miller is back with her third geology-based mystery that follows the adventures of geologist Frankie MacFarlane. As MacFarlane prepares to defend her doctoral dissertation, she must first deal with attacks on two of her dissertation committee members, and the abduction of a fellow student working in a fossil quarry. The author's previous work in geology and with the U.S. Geological Survey contributes to the vivid setting descriptions that are sure to entertain geologists and nonscientists alike.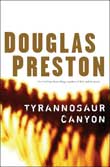 Tyrannosaur Canyon, by Douglas J. Preston.
Forge Books, 2006. ISBN 0 7653 4965 5. Softcover, $7.99.
A missing moon rock, blood in a New Mexico canyon and a murderous scientist are likely to keep readers enthralled in Douglas Preston's latest thriller. This best-selling author has taught English at Princeton, but also has some experience with science, as he has also worked for the American Museum of Natural History.
---
Nonfiction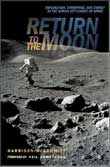 Return to the Moon: Exploration, Enterprise, and Energy in the Human Settlement of Space, by Harrison H. Schmitt.
Springer, 2006. ISBN 0 3872 4285 6. Hardcover, $25.00.
Astronaut, geologist and former U.S. Senator Harrison Schmitt describes what it will take to realize President Bush's plan to return to the moon, and eventually to explore Mars and beyond. Citing the history of the Apollo space program as a management lesson, Schmitt lays out the complex technology, business and organizational issues that affect such a mission. The book will likely hold the interest of space aficionados.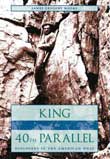 King of the 40th Parallel: Discovery in the American West, by James Gregory Moore.
Stanford University Press, 2006. ISBN 0 8047 5223 0. Softcover, $21.95.
Relive the adventures of Clarence King, geologist and first director of the U.S. Geological Survey, as he and colleague James Gardner worked to explore and map the U.S. West. Maps and photos add color to an already engaging story.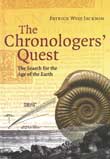 The Chronologers' Quest: The Search for the Age of the Earth, by Patrick Wyse Jackson.
Cambridge University Press, 2006. ISBN 0 5218 1332 8. Hardcover, $30.00.
The age of Earth has been debated by scientists and philosophers for thousands of years. Now, author and geologist Patrick Jackson takes readers through a historical narrative of how people have tried to determine Earth's age, starting with early chronologies from about the year 1600 that were based on sacred texts. He also explores the evolution of the idea that Earth is composed of datable layers of rocks and fossils. Images throughout the book, as well as thorough explanations, make this book accessible to almost anyone with an interest in the history of earth science.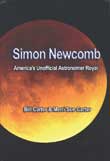 Simon Newcomb: America's Unofficial Astronomer Royal, by Bill Carter and Merri Sue Carter.
Mantanzas Publishing, 2006. ISBN 1 5911 3803 5. Hardcover, $26.95.
Audiences unfamiliar with astronomy may never have heard of Simon Newcomb, an eminent U.S. astronomer and mathematician who lived from 1835 to 1909. Newcomb's life story makes for an entertaining read, however, from his immigration into the United States at age 18, to refining the measurement of the distance from Earth to the sun, to his effort to help save the life of President Garfield, who was fatally shot. The story is aptly told by a father and daughter team, who work as a research geodesist and an astronomer, respectively.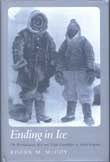 Ending in Ice: The Revolutionary Idea and Tragic Expedition of Alfred Wegener, by Roger M. McCoy.
Oxford University Press, USA, 2006. ISBN 0 1951 8857 8. Hardcover, $29.95.
The title of this book might be a clue that Alfred Wegener's final expedition does not end well. Following Wegener as he and his father-in-law explore the Greenland icecap to collect data about ice ages, Roger M. McCoy, a University of Utah physical geography professor, tells the story of Arctic exploration and the sometimes tragic process of scientific discovery.
---
Regional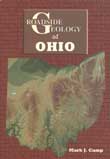 Roadside Geology of Ohio, by Mark J. Camp.
Mountain Press Publishing Company, 2006. ISBN 0 8784 2524 1. Softcover, $24.00.
If you're traveling through Ohio, don't forget to grab a copy of the latest book in the Roadside Geology Series. Select a chapter to learn about the geology alongside a wide selection of Ohio interstates spanning western Ohio, the Ohio uplands, lakeshore Ohio and the Ohio Valley. The 410 pages are packed with pictures, maps and a glossary.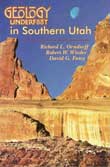 Geology Underfoot in Southern Utah, by Robert W. Wieder.
Mountain Press Publishing Company, 2006. ISBN 0 8784 2517 9. Softcover, $18.00.
Utah, rich with natural arches, spires, canyons and domes, is meant to be explored. Before you go, however, learn how the state's famous features were formed, as well as about some interesting sites. The book describes 33 such sites, from dinosaur tracks and oysters in the desert to mines and rock glaciers.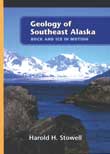 Geology of Southeast Alaska: Rock And Ice in Motion, by Harold Hilton Stowell.
University of Alaska Press, 2006. ISBN 1 8899 6381 X. Softcover, $19.95.
Southeast Alaska is ripe with interesting geology, from mountains and glaciers to its array of active faults. Geologist Harold Stowell covers the basics of the region's geology, including a rundown of the most interesting features and an easy-to-understand description of how they came to look as they do. If a geologic word is unfamiliar, look it up in the book's concise glossary.
---
Kids and young adults

Curious George's Dinosaur Discovery, by Anna Grossnickle Hines (Illustrator).
Houghton Mifflin, 2006. ISBN 0 6186 6376 2. Hardcover, $12.95.
Curious George, the classic inquisitive little monkey, and the man in the yellow hat bring the excitement of paleontology to kids. George visits the museum and then helps scientists in the field dig for dinosaur fossils. It takes quite a lot of time digging before George uncovers a large dinosaur find, showing kids that science is about more than just results, but also about the process.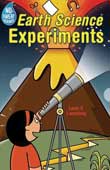 No-Sweat Science: Earth Science Experiments, by Louis V. Loeschnig and Jack Gallagher (Illustrator).
Sterling, 2006. ISBN 1 4027 2333 4. Softcover, $5.95.
Kids between four and eight years old can get an early start in learning about earth science through this hands-on activity book. Ideas and descriptions for projects include building a seismograph, filtering water and building mountains.

The North Pole Was Here: Puzzles and Perils at the Top of the World, by Andrew Revkin.
Kingfisher, 2006. ISBN 0 7534 5993 0. Hardcover, $15.95.
After three trips to the North Pole, New York Times science reporter Andrew Revkin shows how global warming is affecting this ice-covered region, in a book geared to young adults, ages 10 and older. Descriptions of work by ocean scientists and geologists, along with colorful photographs, make readers feel as if they, too, made the Arctic trek.