Subscribe

Archives

Classifieds

Advertise

Customer Service

Geotimes Search
---
---
---
GEOMEDIA

---
Check out the latest On the Web links, your connection to earth science friendly Web sites. The popular Geomedia feature is now available by topic.
Museums: Blending of Art and Science
Products: Holiday Gifts for Geologists
Books: Holiday On the Shelf
Mailing: A Scientific Way to Mail Your Holiday Cards
---
Blending of Art and Science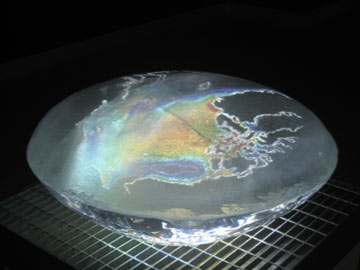 Lillian Ball
Lillian Ball, 66 Degrees, 32 minutes, 50 Years
Map morph animations projected on ice (shown in photo) or ice water (as currently exhibited) 2007
At first glance, art and science may appear to be separate worlds, but the exhibition Weather Report: Art and Climate Change currently on display at the Boulder Museum of Contemporary Art in Colorado shows that the two can meld together. The show, which runs through Dec. 21, features the work of 51 artists who — based on input from numerous scientists — address issues such as pollution, floods, environmental degradation and climate change through photographs, sculptures, videos and other media.
Weather Report is the largest component of this year's EcoArts event, which brings together scientific, environmental and arts organizations to raise awareness about climate change and a sustainable future, a job that art is uniquely positioned to do, says curator Lucy R. Lippard. "[Artists] are freer to imagine outcomes than scholars and … can make the realities of climate change more vivid and immediate than any other medium in this visually oriented society," she says.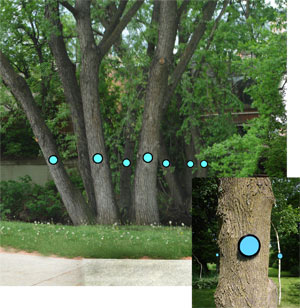 Courtesy of Mary Miss
Mary Miss, Connect the Dots: Mapping the High Water, Hazards and History of Boulder Creek
A study for outdoor work in Boulder, Colo.
Mixed media
One example of a vivid illustration of possible future scenarios resulting from climate change is Mary Miss' Connect the Dots: Mapping the High Water, Hazards and History of Boulder Creek. Based on data compiled by the city of Boulder, Miss walked around Boulder and marked where water would reach during a potential 500-year flood by attaching more than 200 blue paint can lids to trees and buildings across the city of Boulder: A stroll through town illustrates that hardly any buildings would survive such a scenario, as the guides, available at the museum, show you.

Chris Jordan's series of inkjet prints called Running the Numbers: An American Self-Portrait makes a statement about our consumer society. Plastic Bottles portrays 2 million water and soda bottles — the amount consumed in the United States every five minutes. The individual bottles are depicted in such minute scale that the entire piece looks like an abstract pattern unless viewed from very close up. Jordan used the same approach in Denali Denial, a black and white inkjet print of Alaska's Mount Denali assembled from 24,000 tiny logos of GMC's Yukon Denali, an SUV. The number equals six weeks of sales of the SUV model in 2004, according to the exhibit. Showing this piece in Boulder is particularly appropriate since the city — though renowned for its eco-friendly spirit — has the largest percentage of SUVs per capita in the entire country, according to the museum.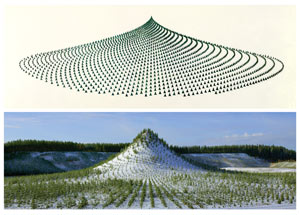 Agnes Denes
Agnes Denes, Tree Mountain - A Living Time Capsule—11,000 Trees, 11,000 People, 400 Years
Top image: View of original design drawing from 1983. Bottom image: Winter view from 2001 of actual mountain/forest with the mathematical pattern beginning to show. Color photograph on foam-board. 1983, 2001
But Weather Report reaches far beyond Boulder's city limits. Agnes Denes' Tree Mountain — A Living Times Capsule — 11,000 Trees, 11,000 People, 400 Years is one such example. Between 1992 and 1996, 11,000 people from around the world planted 11,000 trees in a symmetrical pattern atop a huge human-made mountain in Finland, as part of a land reclamation project. The mountain — 420 meters long, 270 meters wide and 28 meters high — will one day become a man-made forest and is supposed to be maintained for 400 years. Denes' photographs that document various stages of the project, including one picture that shows the bare mountain of dirt and one in which the trees have grown a meter high, are on display in Weather Report.
Weather Report is a new and unusual approach of communicating the possible implications of climate change, and its direct, confrontational style examines climate change in a way that few news articles or scientific reports do.
Even though the art show is not online, an exhibition podcast is available at www.bmoca.org/education/multimedia.php that describes the individual pieces and contains an interview with curator Lucy R. Lippard. If you want to see the exhibition without going to Boulder, you can order a Weather Report catalog from the same Web site.
Nicole Branan
Geotimes contributing writer
---
Holiday Gifts for Geologists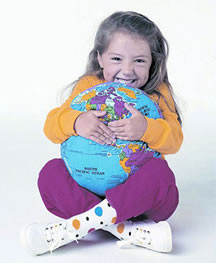 Hugg-a-Planet images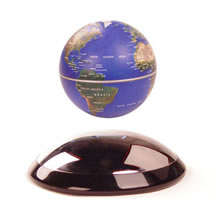 Levitron/Creative Gifts, Inc.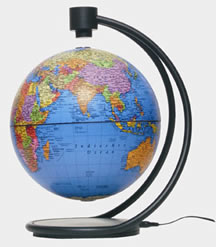 Fascinations
This holiday season, gifts and gadgets abound that are sure to please the budding — or tried and true — geologist in your family. Geotimes scoured the shelves for a few fun ones to tell you about this year.
GeoDecorate!
Fun in a Box

Science is fun! And you might even be able to convince your kids of this with the help of one of these learning kits, which contain all the necessary ingredients to teach budding geologists and rock stars about the mysteries of Earth and space. Here are a few to try:
Paleo Products
If you're looking for the right gift to brighten the day of the paleontologist or fossil hound in your life, you might consider these: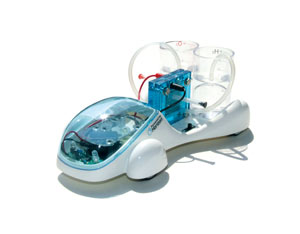 Horizon Fuel Cell Technologies
Good for You, Good for Earth
Blend do-gooder urges with cool techy fun with one of these solar- or hydrogen-power do-it-yourself kits: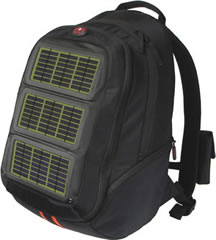 Voltaic Systems
Geeking it up in the great outdoors
---
Holiday On the Shelf
If you're stumped by what to get the geology buff in your life for the holidays this year, then you might want to consider an earth-science-themed book of photography. To make your search for the perfect picture book easier, the Geotimes staff has chosen a few favorites from the past year. Filled with glossy photos of some of the most awe-inspiring places on Earth, any one of these books is bound to please even the most discriminating geo-minded reader.

Planet Earth: As You've Never Seen It Before, by Alastair Fothergill.
University of California Press, 2007. ISBN 052025054. Hardcover, $39.95.
The companion volume to the BBC/Discovery Channel series of the same name, Planet Earth showcases 400 colorful photographs of Earth's diverse landscapes and wildlife, with chapters devoted to the world's forests, plains, deserts, mountains, caves, oceans, rivers and the poles. Satellite images, aerial views and close-ups offer a variety of vantage points from which to admire the planet and its inhabitants.

Antarctica: The Global Warning, by Sebastian Copeland.
Earth Aware Editions, 2007. ISBN 19333784199. Hardcover, $55.00.
Photographer and environmental activist Sebastian Copeland provides a candid look at Antarctica with his photographs of the region taken during a six-week stay aboard an Antarctic research vessel. In addition to the artistic photographs of frosty icebergs that look like floating sculptures that would be at home in any fine art museum, Antarctica also discusses how climate change has affected the poles and includes excerpts from Copeland's diary from his Antarctic trip.


Over the Mountains: An Aerial View of Geology, by Michael Collier.
Mikaya Press, 2007. ISBN 1931414181. Hardcover, $29.95.
In Over the Mountains, geologist and pilot Michael Collier weds his two passions to bring you stunning aerial shots of some of America's most breathtaking mountains. The book is great for geology professionals and novices alike, as Collier provides illustrated explanations of everything from plate tectonics to erosion, to explain how various American mountains formed. The book also includes a glossary of geologic terms.

Wondrous Cold: An Antarctic Journey, by Joan Myers.
Smithsonian Institution Traveling Exhibition Service/Smithsonian Books, 2006. ISBN 1588342387. Hardcover, $35.00.
You'll find more than just pictures of icebergs and penguins in photographer Joan Myers' Wondrous Cold, which chronicles her visit to the South Pole. In addition to photos of snowy scenery, Myers highlights the people who live, work and occasionally play in the Antarctic, and documents the abandoned huts and discarded artifacts of earlier explorers. Her journal entries also give a first-hand account of what it's like to be in one of the most desolate places on Earth.


Oasis of Stone: Visions of Baja California Sur, by Bruce Berger and Miguel Ángel de la Cueva (photographer).
Sunbelt Publications, 2006. ISBN 0916251764. Hardcover, $49.95.
Photographer Miguel Ángel de la Cueva and writer Bruce Berger work together in Oasis of Stone to tell the story of Mexico's Baja California. Divided into four chapters, the book explains the geology of Baja California and how it came to be, describes the hardy plants and animals that call the desert peninsula home and recounts the story of the region's earliest human inhabitants by highlighting their rock and cave art.

Earth Under Fire: How Global Warming Is Changing the World, by Gary Braasch.
University of California Press, 2007. ISBN 0520244389. Hardcover, $34.95.
In Earth Under Fire, photojournalist Gary Braasch takes you along on his trek across the globe from the Arctic to Antarctica to document the effects of climate change. His collection of more than 100 photographs, including before-and-after shots of receding glaciers and eroding shorelines, illustrate these effects. The book also introduces you to the science behind climate change, explaining what climate change is, how scientists study it and ways to minimize human impacts.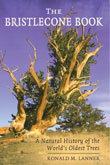 The Bristlecone Book: A History of the World's Oldest Trees, by Ronald M. Lanner.
Mountain Press Publishing Company, 2007. ISBN 0878425381. Softcover, $12.00.
Though not as famous as the redwood or sequoia, the age-defying bristlecone pine is equally majestic. Tree expert Ronald Lanner seeks to remedy this lack of recognition in The Bristlecone Book, a short illustrated guide to the tree's biology and natural history. In the book, Lanner explains how the trees can live for thousands of years, where you can go to see a bristlecone pine and how to identify one.
After Sputnik: 50 Years of the Space Age, by Martin Collins.
Smithsonian Books, 2007. ISBN 0060897813. Hardcover, $35.00.
If you love space history but can't make it to the Smithsonian National Air and Space Museum in Washington, D.C., then After Sputnik is for you. Edited by Smithsonian curator Martin Collins, the book chronicles the 50-year history of space exploration through more than 200 photographs of objects from the Smithsonian's collection, including the Freedom 7 spacecraft that took Alan Shepard into space, a spacesuit worn by Neil Armstrong and a Mars Pathfinder. Stories about each item accompany the photographs.

---
A Scientific Way to Mail Your Holiday Cards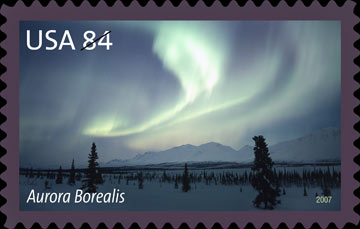 © USPS. Used with permission. All rights reserved.
The U.S. Postal Service is offering many different ways to show your science inclination this holiday season. On Oct. 1, the post office released Polar Lights stamps to commemorate the International Polar Year (IPY), the latest in a line of stamps relating to science that includes everything from the wealth of the wetlands in Florida to the wonders of Yosemite National Park. In fact, several countries with polar interests are offering such commemorative stamps during IPY, a multi-nation interdisciplinary polar research program that runs from March 2007 through March 2009.
In the United States, the Polar Lights stamps feature both the southern lights (aurora australis) and the northern lights (aurora borealis), and bring attention to the role of polar research in studying these phenomena and other Arctic processes, according to the postal service. Canada, Sweden, Norway, Denmark, Greenland, Iceland and Finland all released polar stamps this year as well. And France, where IPY was launched, issued stamps celebrating both the 50th anniversary of Sputnik and the International Geophysical Year (1958).
If you're not a fan of the polar stamps, the U.S. Postal Service has other geoscience-themed stamps to use on your holiday cards this season. In addition to beautiful stamps of various national parks, you might want to use the "Wonders of America: Land of Superlatives" stamps, a fun collection of the biggest and the best in America. This collection includes 40 different places, structures, plants and animals, such as "Windiest Place," at Mount Washington, N.H., "Largest Glacier," which is the Bering Glacier in Alaska, and "Most Active Volcano" at Hawaii's Kilauea.
Another fun — and educational — collection is the Alpine Tundra stamps, which is the ninth set in a series designed to "promote appreciation of major plant and animal communities in the United States," according to the postal service. The Alpine Tundra stamps include 24 plant and animal species, all suggested by scientists, that you might encounter on a trek through the tundra in Rocky Mountain National Park, postal officials say.
This year, you can send off your holiday mailings and stamp your support for science at the same time.