Subscribe

Archives

Classifieds

Advertise

Customer Service

Geotimes Search
---
---
---
Profiles: News about people from AGI and its 44 member societies
---
Archive of past Society Page/Profiles stories by date
---
Susan Cannon: Watching for flowing mud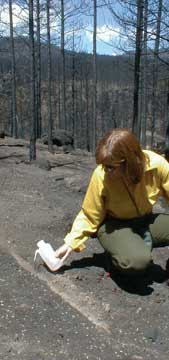 Susan Cannon tests water-repellant soils following the 1996 Buffalo Creek Fire in Colorado. Cannon, a USGS geomorphologist, is working both on mapping and developing a landslide warning system for wildfire-stripped regions that have become susceptible to catastrophic debris flows. Photograph is by Linda Cicero.
Susan Cannon has a warning for Southern California: Not all landslides are created equal. Ravaged by wildfires in many places, the region is prone to a particular kind of fast-moving, devastating landslide that can occur when the land is stripped of its trees, leaving a bare, unanchored expanse of soil vulnerable to heavy rains. Cannon's goal is to develop a warning system for these dangerous landslides that she hopes will help save lives.
"Essentially, I've been talking about a way to create a map" that outlines the areas "that could be bad," she says. "I like the field because of the potential impact. We feel like we're working on an issue that can really protect life and property."
Cannon, a geomorphologist and landslide specialist, has been working on a type of landslide called a "debris flow" for more than two decades at the U.S. Geological Survey (USGS). Originally hired by the agency to work on glaciers, Cannon quickly found the potential of landslides to impact human lives much more compelling than the more slow-moving glaciers, she says. "Alpine glaciers haven't been known to ever kill a person."
Now a researcher at the USGS Landslide Hazards Program in Golden, Colo., she has taken on a project based in Southern California that aims to both understand how and why such debris flows form and maps the regions that are most vulnerable to heavy rains and subsequent mudflows, with the goal of giving officials enough information to warn the public and design evacuation routes. And she has helped lead a paradigm shift in the field, which now considers these water-weighted, gradually building mudslides and debris flows in deforested areas as distinct in origin from landslides that occur when a land surface suddenly fails.
"[Cannon] has developed a conceptualization for how [debris flow] systems work," says David Kinner, a geomorphologist at Western Carolina University in Cullowhee, N.C., who worked at USGS with Cannon from 2003 to 2006, while on a Mendenhall Fellowship. "She's one of the people who's on top of the idea."
Cannon, Kinner says, has spent much of the past two decades in the field, examining debris flows and gauging rainfall patterns across Southern California, as well as in other areas. "One of the important ideas she's pursuing is what causes these things to form," not only in burned areas, but also in areas that simply lack vegetation, he says. "It's a matter of getting the process right — she works really hard for this stuff."
Working with Cannon was easy, he says, because "she doesn't have a huge ego. It makes it very easy to learn from her and work with her."
After graduating from Humboldt State University with a degree in geology, Cannon went on to study both geomorphology and soil mechanics — a perspective that is essential for understanding landslides, she says — at the University of Colorado, Boulder. While still in graduate school, she began working for USGS in 1981. In 1989, she began working with the Colorado State Geological Survey on landslides, but returned to USGS in 1990. Although she loves the fieldwork, her project has expanded such that she now spends only a third of her time in the field.
In recent years, Cannon's, and others', efforts to design warning systems for this type of landslide have received increased attention, possibly as a result of several years of massive wildfires across the Southwest. One such event was in October 2003, when blazes swept across parts of Southern California, followed by December storms that eventually triggered deadly debris flows throughout the area on Christmas Day. Mudslides buried a church camp and a campground in the San Bernardino Forest, killing 16 people and causing millions of dollars in damages.
"In Southern California, fires occur so frequently, and people are moving closer and closer to the mountain front, where the material comes down," Cannon says. Following a fire in Ventura in fall 2006, she was alarmed to find that many of the area's residents "didn't know that fires could happen there, much less that there could be debris flows once the rains came," she says.
Cannon hopes to get the word out to both the public and officials, and is developing tools to assess both rainfall probabilities and the stability of soils across the area, in collaboration with NOAA's National Weather Service (NWS). "I've learned more about meteorology than I thought I wanted to know," she says with a laugh. "It seems to be a high priority — we're getting a lot of interest in using the methods that we've developed from many different levels," including state offices, the Forest Service and land management agencies.
"So far, our tools have been used in emergency response mode," such as issuing landslide watches, she says. Eventually, however, she hopes that with a better understanding of the processes that form deadly debris flows, scientists can not only help people escape them, but also avoid them by determining safer places to build (see story, this issue).
Carolyn Gramling
Links:
"Prevention Is the Best Medicine: Doing Site Evaluations to Prevent Geological Hazard Catastrophes," Geotimes, February 2006 Print Exclusive