---
DOWN TO EARTH WITH...: News about people from AGI and its 44 member societies
---
Archive of past profiles stories by date
---
Robin Bell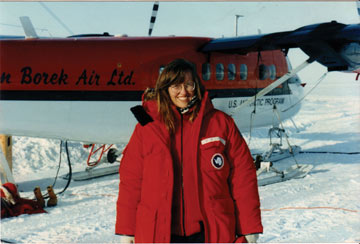 Keith Najmulski
Geophysicist Robin Bell, one of the architects of the 2007 to 2009 International Polar Year, recently discovered several new lakes hidden beneath the Antarctic ice.
Without Robin Bell, the 2007 to 2009 International Polar Year (IPY) might not have gotten off the ground. As the chair of the National Academy of Sciences' Polar Research Board, Bell, a geophysicist at the Lamont-Doherty Earth Observatory at Columbia University in New York, helped "rally the troops," convening a meeting of scientists to brainstorm about how best to bring polar science into the public eye. The conclusion of that meeting: launch a large-scale, international research effort.
When not helping to outline the scope of IPY as the U.S. representative to the IPY International Planning Committee, Bell's own interests have taken her to the farthest, iciest corners of the globe, where she discovered a volcano beneath the West Antarctic Ice Sheet and several new lakes beneath the Antarctic ice. Most recently, she has been investigating the previously hidden role that such subglacial lakes play in speeding up the Antarctic ice sheet's collapse. Closer to home, she has promoted diversity as the director of the ADVANCE program, designed to raise awareness about the different experiences of men and women in the sciences, for Columbia University's Earth Institute.
Bell talked with Geotimes reporter Carolyn Gramling about international science efforts, supporting women scientists and doing research at the southern pole of inaccessibility.
CG: How did IPY come about?
RB: It started as a celebration [of polar science]. But then it became very clear that we should sit down and decide on a reasonable approach for studying the planet in the year 2007, and we decided we need to do research, and not just have a party. We were motivated by the fact that the poles are the fastest-changing part of our planet, and we have to understand [them] and polar processes. And they're one of the final frontiers on Earth.
CG: Have you always been driven to work in these extreme places?
RB: Actually, I started out in mid-ocean ridges. But I had an opportunity to work in Antarctica, and it became very clear to me that that's where one can [merge] the understanding of solid Earth into an understanding of ice sheet behavior. That was a very important question that not a lot of people were looking at. One of the reasons I was driven to the poles is that it's a place where I thought studying Earth had ramifications for society — we're all driven to understand how our planet works, and this felt like societally relevant research.
CG: How has the study of subglacial lakes changed over time?
RB: There wasn't a community interest in studying these lakes. It's taken about 15 years to put together the community to articulate why these aren't just museums of subglacial life, like finding something in your grandmother's attic — "oh, that's cool but it doesn't really matter." What we know now is that they're not static: They're dynamic and appear to be a key part of ice sheet dynamics.
CG: You've also spearheaded the ADVANCE program at your institution. What's involved in that?
RB: [ADVANCE] was in response to an MIT report from 1996 that recognized that although MIT had been providing support for individual women [in the sciences], they needed to take a more "ecosystem" approach — how to change institutions as opposed to individuals. It's founded on the concept that you look at the science of diversity: This is how we treat men and women differently, hire people differently. By raising awareness of how decisions are made, you can change the process. At each institution, it also requires looking at what's unique about the institution.
CG: What are you working on next?
RB: Our project is going to a place in Antarctica that's close to the "pole of inaccessibility" — it's the point in East Antarctica that's the farthest from any station. The Russians established a station there in 1958 and left a statue of Lenin there. When the U.S. went there in 1964, Lenin was up to his chin in snow. It's a place that would be impossible to go to without the framework of the International Polar Year. The Americans are bringing fuel and airplanes, the British are bringing a plane, the Australians are running the camp, the Chinese are helping to move fuel, the Germans were the first to bring fuel to the continent and are providing support, and the Italians and Japanese are providing seismometers. And we'll be driving over the subglacial lakes with the Norwegians in their traverse vehicle.
CG: Wow. That is an international effort.
RB: Yes. The poles remain difficult places to work, and single nations just cannot get a synoptic view of them.
Links:
International Polar Year