---
Profiles: News about people from AGI and its 43 member societies
---
Archive of past Society Page/Profiles stories by date
---
Norman Newell: Legendary and versatile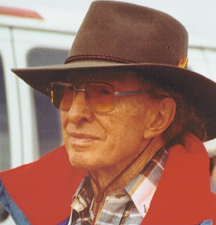 "The work of graduate students is part of a mentor's reputation forever, because we trace intellectual lineages in this manner," Stephen Jay Gould wrote in Wonderful Life, his book on the Burgess Shale and evolution. "I was Norman Newell's student, and everything that I ever do, as long as I live, will be read as his legacy (and, if I screw up, will redound to his detriment — though not so seriously …)."

Gould, a renowned paleontologist and author, is one of many in a cast of geoscientists who have followed in the footsteps of Norman Newell. For his life's work, Newell was named Legendary Geoscientist by the American Geological Institute (which publishes Geotimes).

Norman Newell received the title Legendary Geoscientist from the American Geological Institute in November. Photo by Adolf Seilacher, courtesy of Norman Newell.

Don Boyd, a former student of Newell's at Columbia University in New York and a geologist and professor emeritus at the University of Wyoming, Laramie, accepted the award at the annual meeting of the Geological Society of America (GSA) held in Denver last November. "Ironically, this is the first year in several decades that [Newell] will not have visited the Rocky Mountain region," Boyd said in his speech on Newell's behalf; due to illness, Newell could not attend.

Newell first came to Colorado as a 12-year-old boy, to collect fossils with his father in the Florissant Fossil Beds near Colorado Springs, now a national monument (see Geotimes, November 2003). He eventually pursued geology at the University of Kansas, and came back to the Rockies for field work in 1928. On that trip, Boyd said, Newell rode in the back of an open farm truck with his classmates, with his advisor Ray Moore ("a legend in his own right," Boyd said) at the wheel. The "terrific sunburn" he got, riding with his shirt off, led him to never go into the field again without adequate cover — a way of thinking that was, typically, quite ahead of its time, Boyd said.

From the beginning of his career, Newell analyzed fossils for his research using zoologic concepts, Boyd said, an approach that "only later became standard practice among paleontologists." Newell presented this concept of interdisciplinary thinking on evolution to his students and colleagues. In his work at the American Museum of Natural History (AMNH) in New York, where he is now a curator emeritus in the Division of Paleontology, Newell researched modern sedimentary environments in places such as the Bahamas in the 1950s, in order to understand ancient ones.

In an essay documenting past AMNH research, Daniel Brumbaugh, the marine program manager for the museum's Center for Biodiversity and Conservation, wrote about Newell's work in the Bahamas, which mixed biology with a geologic field study working on the origins of the Grand Bahamas Bank. The sketches and observations Newell made documented the extent of seagrass meadows and coral in the Andros reef, with "observations on major biological communities," Brumbaugh wrote, which are now part of the biological scientific literature about the Bahamas.

In reminding his listeners of the "versatility of a legendary career," Boyd noted work Newell completed on the Peruvian Andes in the 1940s. "Done under considerable hardship, [it] resulted in a geologic map of an area half the size of Pennsylvania" and a GSA Memoir, Geology of the Lake Titicaca Region of Peru and Bolivia.

Boyd said that Newell was also "one of the first" to call attention to mass extinctions in the history of life — the several major "revolutions," as he termed them. His specialty is the Permian-Triassic boundary extinction, 250 million years ago, but he documented such shifts in the fossil record in a more quantitative way than most other work, says Paul Olsen, a paleobiologist at Columbia University. Olsen says that Newell set the stage for how people now think of the Cretaceous/Tertiary boundary and other major extinction events with his first "seminal" paper, published in 1967, which successfully showed that these large-scale changes in fauna "were real and not just an artifact of the geological record."

Olsen, who was hired partly to fill Newell's teaching post at Columbia, notes that getting into the classroom allowed Newell to have a "different impact" than he might have had if he had been only a curator. Newell became one of a long line of distinguished AMNH researchers and curators who also were faculty members at Columbia, including George Gaylord Simpson and Malcolm McKenna.

Newell, who received GSA's Penrose medal in 1990 and was elected to the National Academy of Sciences in 1979, passed on his broad way of thinking to his students, including Gould. His work on extinctions also laid the groundwork for Gould's work pursuing cutting-edge thought on evolutionary theory (Niles Eldredge and Gould published their theory of punctuated equilibrium in 1972).

And Gould in turn performed what Newell considers of utmost importance: communicating science to lay people. "When I receive my monthly copy of Natural History, I first search for Steve Gould's excellent column," Newell wrote in 1999, before Gould's death in 2002. Newell himself wrote Creation and Evolution: Myth or Reality?, which gave scientists and others information to debunk creationism.

"Norman was ahead of his time — the Paul Revere as one commentator has written," Boyd said in his acceptance speech, "in being one of the first to recognize the growing problem of scientific illiteracy, and the threat to science education from the anti-evolutionists."
Naomi Lubick

Links:
"The Fossils of the Florissant," Geomedia, Geotimes, November 2003

Back to top

---