---
Geomedia
---
Geotimes.org offers each month's book reviews, list of new books, book ordering information and new maps.

Check out this month's On the Web links, your connection to earth science friendly Web sites. The popular Geomedia feature is now available by topic.

Movies: IMAX film storms into wetland issues: A review of Hurricane on the Bayou

Books: An earthquake — and fire and racism in the aftermath: A review of Yokohama Burning
---
IMAX film storms into wetland issues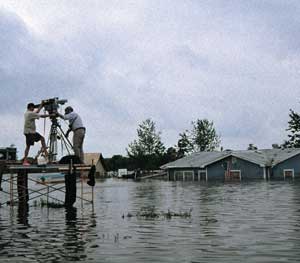 The production crew of Hurricane on the Bayou film a house submerged by floodwaters after Hurricane Katrina (above). The IMAX film includes scenes from an airboat (below) to give audiences a sense of the bayou environment. Photographs are courtesy of MacGillivray Freeman Films.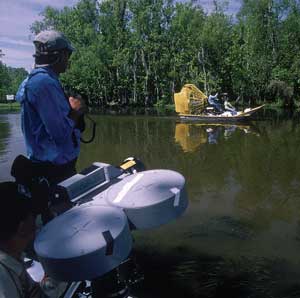 Early in 2005, filmmaker MacGillivray Freeman and crew traveled to Louisiana's coastal wetlands — mammoth-sized IMAX camera in tow — to begin shooting a film under the working title "Hurricane Warning." Unbeknownst to the team, that hurricane "warning" would soon turn into reality, as Hurricane Katrina barreled down on the Gulf Coast to become the United States' most costly natural disaster.
While the hurricane may have rewritten the script mid-production, the disaster only underlined the film's initial underlying message — that Louisiana's wetlands are disappearing, posing alarming consequences. The film has since been renamed Hurricane on the Bayou, and it opened in IMAX theaters worldwide on Dec. 22.
Hurricane on the Bayou tells the story of Louisiana's disappearing wetlands, with an added urgency made evident by Hurricane Katrina. The film begins three months before Katrina, depicting a healthy bayou brimming with alligators, turtles and birds.
Audiences then get a taste of New Orleans as a narrator describes the city's rich cultural history. In fact, it is through the eyes of some of the city's musicians that the audience experiences the region's wetlands. Amanda Shaw, a fiddle player, and Tab Benoit, a singer and guitar player, make up part of a band whose goal is to get the word out about vanishing wetlands.
Benoit explains that since he was young, he has watched how the decline of wetlands has affected the region — from wiping out fish spawning grounds and thus hurting the local fishing industry, to reducing the wetlands' effect as a natural speed bump for hurricanes approaching land. Every 5 kilometers of wetlands reduces storm surge by about a third of a meter, Benoit says in the film.
Scientists at the U.S. Geological Survey (USGS) tell a similar story. "Louisiana has lost in excess of 1,200 square miles [about 3,100 square kilometers] of coastal lands since the 1950s," says John Barras, a geographer for the USGS National Wetlands Research Center stationed at Louisiana State University, who has not seen the film.
Barras says that wetlands do act as speed bumps for hurricanes. The benefits of such speed bumps, however, are "dependent on coastal morphology, wetland extent, hurricane track, hurricane size and strength, surge magnitude and surge area," he says.
Hurricane on the Bayou next moves to a scene, created prior to Katrina, that depicts with eerie foresight how a Category-5 storm would likely affect New Orleans. The crew used wind generators, water pumps and even mock rescues from rooftops, to replicate such an event.
Enter the actual 2005 hurricane season and the arrival of Hurricane Katrina: The film shows residents preparing for the hurricane and footage from news clips showing the mass evacuation.
Six months after Hurricane Katrina struck the Gulf Coast, the IMAX crew returned to New Orleans to capture on film the devastating aftermath, including a toppled water tower, ships strewn across the highway and a flooded city. An aerial tour flies viewers over post-hurricane flooded wetlands.
Separate from the film, Barras and other USGS scientists have been working to quantify the amount of wetlands lost from hurricanes Katrina and Rita by looking at changes in imagery taken by Landsat Thematic Mapper Satellite Imagery. In a report released a report on Oct. 3, 2006, they found that after hurricanes Katrina and Rita, 349 square kilometers (217 square miles) of land on the coast of Louisiana had turned to water. That's equivalent to almost 10 Manhatten Islands.
The area impacted by the two hurricanes was beyond what Barras observed in Landsat images after Hurricane Andrew in 1992 and Huricane Lili in 2002. "I was somewhat surprised by Katrina's impacts," he says. "I was expecting impacts on the scale observed with Hurricane Andrew." Surge from Katrina and Rita destroyed remnant wetlands located within the boundary of wetlands previously lost, but the storms also devastated regions that had been stable since the 1950s, Barras says.
It remains to be seen whether or not coastal Louisiana's wetlands will recover from the hurricanes, and if so, to what extent. The floating freshwater marshes that were ripped open by storm surge "could revegetate within a few years," Barras says. Those same weakened spots in the marsh, however, might also be more easily damaged by future storms, he says.
Hurricane on the Bayou concludes with a call to act to protect the wetlands. Musician Benoit describes ways to accomplish rebuilding, such as by planting mangroves or building more flood gates, so that the Mississippi River can replenish the wetlands.
Indeed, modern restoration efforts focus on water diversion techniques and the redistribution of sediments. "The wetlands are resilient if provided with adequate sediment and freshwater," Barras says. Deltas along Louisiana's Atchafalaya River and Wax Lake exemplify that resiliency, as they continue to grow after being hit by three hurricanes over 14 years.
"Hurricanes are a fact of life along the Gulf Coast," and have helped shape Louisiana's coast, Barras says. Still, he says, restoration efforts can make a difference, and toward that effort, "informing the public of Louisiana's wetland loss situation would be beneficial." Would he be interested to see a film about such a topic? "Sure," he says.
Kathryn Hansen
---
Book review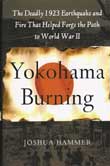 Yokohama Burning: The Deadly 1923 Earthquake and Fire that Helped Forge the Path to World War II

by Joshua Hammer.
Free Press, 2006.
ISBN 0 7432 6465 7.
Hardcover, $26.00.
An earthquake — and fire and racism in the aftermath
John Eichelberger
Just before noon on Sept. 1, 1923, Yokohama, Japan, was struck by a subduction earthquake of magnitude 7.9. The collapse of tile-roofed homes and masonry buildings, and ensuing firestorms killed some 140,000 people in Yokohama and the Tokyo area. In Joshua Hammer's recounting of this event in Yokohama Burning, we have another entry in the currently popular disaster genre of great storms, great eruptions, great earthquakes, and even second comings. (Epidemics seem sadly neglected and one must imagine that somewhere an author is writing feverishly about the 1918 influenza pandemic.)
As disasters go, earthquakes are about as good as they get, exceeded only by asteroid impacts that have not occurred in human memory. But for storytellers, earthquakes pose the difficulty of being only a few minutes in duration. At least volcanoes rumble ominously beforehand. How to make a book out of earthquakes? The answer that Hammer and others have found is to carefully set the stage and then extend the event.
Hammer does well, through meticulous research, in bringing us into a variety of mostly American lives. The reader can watch with god-like foreknowledge as people go about their routines on what they think is an ordinary day, knowing that things are about to take a horrific turn. Once the earthquake starts, we are teleported from place to place as the ceilings fall again and again and again and again. This went on for more pages than I was able to enjoy.
Then, of course, fires break out. Fire provides some variety and also takes longer to do its damage then simple shaking. We see heroism, cowardice, responses both skillful and inept, looting, racial incidents, and finally a gradual reestablishment of order.
Afterward, there is guilt among those who failed to foresee the hazards or who dithered in the hour of need. There is praise for those who worked tirelessly to alleviate suffering. Hammer provides an epilogue in which he outlines the rest of the lives of the American participants in the drama, and also very briefly the subsequent and even more disastrous turn in U.S.-Japan relations and their remarkably similar consequences for Yokohama.
The advertising for this book is a bit misleading. The claims are that the book describes the greatest natural disaster of the 20th century and shows how it led to World War II. Neither is convincing. The book itself states that the 1976 earthquake of Tang Shan, China, killed 100,000 more people than the Yokohama event.
And while Hammer makes connections between the earthquake and the growing conflict between Japan and its neighbors and the United States, the theme is not well developed. I presume, or hope, that most Americans are aware that the hatred of "whites" that developed in Japan during the 1920s and 1930s paralleled a rise of virulent racism against the "yellow race" in the Pacific states of the United States. American citizens of Japanese ancestry were forced to segregate and denied property rights, precursors to the California and Oregon concentration camps of World War II. A popular novel on this topic is Snow Falling on Cedars by David Guterson.
That said, it was interesting to read of the conflicts that arose immediately following the disaster in Yokohama. There was much looting, allegedly by Koreans. And there was much killing of Koreans allegedly for this reason.
The other aspect, which I had not appreciated, was the intellectual and artistic vigor of the foreign expatriate community in Yokohama before the disaster, and that contact with some of the best of the "West" was destroyed by the earthquake. In contrast, in our later relationship with the Soviet Union, Russian author Aleksandr Solzhenitsyn said that only "sewage" from the West seeped under the Iron Curtain.
The rise of xenophobia and/or racism following a disaster may be a universal reaction of societies, and is perhaps the most important message, even if not fully explored, of this book. On a hopeful note, Hammer states that people predicted that the recovery of Yokohama would take 25 years, which would have been 1948. In fact, Yokohama recovered twice from total destruction to vibrancy on much shorter timescales. There is a rich photographic record of the Great Kanto earthquake of 1923 available on the Web. Recovery is a testament to the incredible energy and resiliency of people. There is hope for New Orleans.
Natural disasters and all-out modern war do not discriminate among men, women and children as victims. But there is a difference between natural and human-induced disasters in their legacy. Yokohoma is a city rebuilt by the survivors. Nagasaki is a new city built where there once was another city.
---
Eichelberger is a volcanologist and chair of the geology and geophysics department at the University of Alaska, Fairbanks.