---
Profiles: News about people from AGI and its 44 member societies
---
Archive of past Society Page/Profiles stories by date
---
Max Mayfield: In the eye of the storm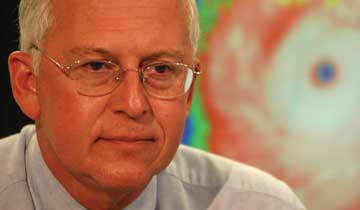 Max Mayfield has had a busy seven years. Mayfield, who has been the director of National Oceanographic and Atmospheric Administration's (NOAA) National Hurricane Center (NHC) in Miami, Fla., since 2000, has guided the country through some of the busiest hurricane seasons on record, including the record-breaking 2005 season. Throughout it all, co-workers say, he has been a voice of calm and reason in the face of chaos.
Max Mayfield, director of NOAA's National Hurricane Center, shepherded the United States through the record-breaking 2005 Atlantic hurricane season, which included Hurricane Katrina in August (shown here on the radar). Photograph is by Andy Newman.
"He has a rare combination of skills that has been critical: He's a respected scientist, a very good communicator and a successful administrator," says Edward Rappaport, the deputy director of NHC and Mayfield's second-in-command. "And he's very humble and respectful to everyone."
Mayfield's fascination with storms began early, he says. "I grew up in Oklahoma, and you can't help but be interested in meteorology there, with all the tornadoes and thunderstorms."
He earned a degree in mathematics while a member of the Air Force ROTC program at the University of Oklahoma. He always intended to work for one of the big hurricane centers, he says — Miami or New Orleans — and in 1972, he began an internship at NHC.
More than thirty years later, he's still there, after working his way up to marine forecaster, aviation forecaster, satellite analyst and — after earning a master's degree in meteorology from Florida State University in 1987 — hurricane specialist. In 1998, he became NHC's deputy director, and took the helm as director in 2000. He is also the chair of Region IV of the United Nations' World Meteorological Organization, which includes North and Central America and the Caribbean.
During his watch at NHC, Mayfield says, the United States has spent more hours under hurricane warnings than under any previous director, and he is quick to praise the dedication of his staff. After the 2005 season particularly, he says, "we had some very tired people here." When hurricanes Katrina and Wilma passed over Miami, many of the staff lost power or even suffered damages to their homes, but continued to work. "We had people sleeping on the floors," he says.
Katrina "was a very intense period," Rappaport agrees. "What [Mayfield] demonstrated during that period is the vision of the NHC: to be America's calm, clear and trusted voice in the eye of the storm."
That has included giving some tough answers. In the aftermath of Katrina and the breached levees in New Orleans, Mayfield says, he spoke at six different congressional hearings. "At one, someone asked me when we first became concerned with the levees," he says. "My answer was, about 60 years ago. That was not a surprise — every director of the NHC has repeatedly emphasized that southeastern Louisiana was the greatest concern we had anywhere in the Gulf of Mexico."
In hurricane off-seasons, Mayfield spends much of his time traveling around the country and delivering a now-familiar mantra. "I've said for years that the battle against the hurricane is won outside the hurricane season — make no mistake about that," he says. "You can't wait for the hurricane to be knocking on your door before you make plans." He conveys his message at professional scientific conferences, workshops and training sessions for local emergency managers around the country. All the effort is worth it if it convinces people of the importance of planning ahead, Mayfield says.
"It's a consuming, demanding job that he's given everything he has to," Rappaport says. That level of dedication has taken its toll, however: Mayfield will step down from his position as director of the hurricane center on Jan. 3. He says he is already scheduled to speak at several upcoming hurricane conferences and will continue his efforts to raise hurricane awareness in communities. First, however, he plans to simply take some time off.
"The toll of the job, especially after the last couple of seasons, is a heavy burden," says Craig Fugate, director of the Florida Division of Emergency Management. Mayfield was always there when you needed him — he didn't just deliver warnings, but worked closely with the local emergency managers, he says.
With a hurricane bearing down on a city, Fugate says, Mayfield would want to make sure the communities were prepared, and would call up the mayors to talk about the storm. "People said, was that unusual? But it wasn't, not if you knew Max Mayfield," he says.
Throughout his tenure, Mayfield's personal approach has earned him the respect and admiration of colleagues and the public alike. With hurricanes in high profile lately, Mayfield has also become a kind of celebrity, even fielding requests for autographs. "That kind of embarrasses Max," Fugate says, laughing.
Asked about his newfound fame and the autograph requests, Mayfield also laughs. "A lot of people have said some very kind things," he says. The downside of being often in the news, however, is that "I can no longer buy water or batteries or hurricane supplies in a store," he says. "I have my wife do it. People tend to say, do you know something we don't?"
Carolyn Gramling