---
DOWN TO EARTH WITH...: News about people from AGI and its 44 member societies
---
Archive of past profiles stories by date
---
Marshall Shepherd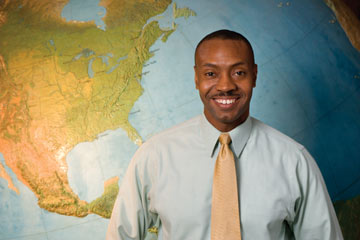 UGA Public Affairs
It's worth keeping an eye on meteorologist Marshall Shepherd, who has been hailed as a talented young researcher to watch. In 2004, he received a Presidential Early Career Award at the White House for his research at NASA's Goddard Space Flight Center on weather and climate systems, has appeared in the media to explain weather, climate and remote sensing, and was a contributing author to the 2007 Intergovernmental Panel on Climate Change report — and he's only just getting started.
Shepherd earned his bachelor's and master's degrees from Florida State University in Tallahassee, Fla., and in 1999, he became the first African-American to earn a doctorate from the university's Department of Meteorology. During his 12 years at Goddard, he contributed to the still-orbiting Tropical Rainfall Measuring Mission (TRMM) satellite and served as Deputy Project Scientist for the upcoming Global Precipitation Measurement (GPM) satellite mission.
Shepherd left NASA in January 2006 to join the University of Georgia's Department of Geography, where he continues to study issues related to climate, the atmosphere and the water cycle. Recently, he talked with Geotimes reporter Carolyn Gramling about his experiences.
CG: At one time you wanted to be an entomologist.
MS: I did, until I found out that I was highly allergic to bee stings, to the point where I'm supposed to carry the "EpiPen™" around.
CG: So you switched to meteorology?
MS: Well, I was always interested in science, and I did a sixth-grade science project called, "Can a sixth-grader predict the weather?" I made weather instruments from things around the house, did a little weather forecast. I was dabbling in all types of science but after that project I steered myself toward the weather — not so much forecasting, but why things happen. Interestingly, four to five years later I ended up working on a children's book about weather: Dr. Fred's Weather Watch.
CG: One of the things you've been working on is "urban rainfall" — precipitation around cities. What are some of the questions you're interested in?
MS: I've been researching the effects of the urban environment on precipitation and the water cycle, such as changes in land cover and pollution. We've now moved beyond the question of "can cities create or affect rainfall" to hypothesizing reasons why they can cause or affect rainfall.
CG: You've also investigated something called "thunderstorm asthma." What's that?
MS: That's an interesting thing — there is scientific literature, mostly from the United Kingdom and Australia, which suggests increased rates of hospitalization for asthma after thunderstorms. But most of those studies were done by public health workers, so the meteorology aspect was fairly basic. We have expertise in using radar rainfall and Doppler wind measurements so we thought we could bring a more robust approach to this problem, and have recently been working with a group at Emory University that has a large database of hospitalization information for asthma linked to pollution and ozone.
The main hypothesis is that at moderate rainfall rates, the raindrops can actually break pollen into smaller particles through osmotic shock, and those particles more easily infiltrate respiratory passages than larger pollen grains. Downdrafts of cold winds around thunderstorms also kick up and disperse pollen.
CG: During the busy 2004 and 2005 Atlantic hurricane seasons, you were a favorite TV interviewee. The last couple of years have been relatively quiet in the Atlantic, though. Do you miss the media frenzy?
MS: [Laughs.] No, I don't miss it. I don't mind doing it; if it comes up and I have the time I'll do it. And I still do a lot of media locally about weather, not just hurricanes.
CG: Why did you make the switch from NASA to academia?
MS: One thing is that in academia you can go off and explore some strange, interesting things [like thunderstorm asthma] more easily than you can in a mission-specific agency like NASA. Academia allows more research freedom to explore those ideas.
CG: What do you hope the GPM mission (scheduled to launch in 2013) will accomplish?
MS: The only way we can establish if something [in the climate] is changing is if we have a long-term record. The TRMM mission will likely end in the next three to five years, so we need to continue that record of precipitation, to relate changes in precipitation to possible climate change. GPM is exciting because it will extend that record into the next decade. It will also take global measurements of precipitation every three hours — those are time and space scales that are useful not just to study climate, but also can be useful to water resource managers, or public health officials studying vector-borne diseases.
CG: Apparently you're an avid Scrabble player. Do you have a word you're most proud of?
MS: We used to have a little Scrabble club when I was a kid; kids from the neighborhood came and we had Scrabble competitions. I mostly play with my wife now, who can never beat me. [Laughs.] I can't think of a favorite word, but I've used all seven tiles several times.