Subscribe

Archives

Classifieds

Advertise

Customer Service

Geotimes Search
---
---
---
Travels in Geology July 2008
posted July 17, 2008
---
Taiwan: Poetry in motion
Jordan Clary
Jeff Chen
Sun Moon Lake in Nantou County is a perfect place to experience Taiwan.
If you ask someone from Taiwan who is the most prolific artist in their country, they might tell you the wind. The wind, after all, has gone about its business for eons and its hand can be seen in the eroded cliffs of Taiwan's coastline and in the rocks that look like they were sculpted by a post-modernist visionary. But the wind is just one aspect of this mountainous island province's volatile geology.

One might be inclined to overlook Taiwan with its massive neighbor, and motherland, China, just to the west, but this small island province, which consists of 79 islands and islets and one main island that is just over 36,000 square kilometers (slightly larger than the states of Maryland and Delaware combined), is well worth a visit. Given the chance, Taiwan could carve a place for itself in the realm of geo and eco travel. With one of the most diverse landscapes in all of Asia, visitors can see within a short distance of one another, snowcapped mountains and subtropical bamboo forests, steep, rocky gorges and racing rivers, sandy beaches and gentle green hills where tea and coffee grow in abundance. Furthermore, you can see sedimentary, igneous and metamorphic rocks, ranging in age from tens of thousands of years old to hundreds of millions, all within a couple hours' drive. It's no wonder that Taiwan's inhabitants look at their landscape as a large canvas where nature's hand has created a masterpiece.

Taiwan originally formed when an island arc collided with the Asian continental margin, which along with ongoing subduction at the confluence of the Eurasian and Philippine plates, manifests in several mountain ranges, including the "backbone" of the island, the Central Range. Ongoing subduction continues to build the steep Coastal Range. Subduction and numerous faults that underlie the country cause earthquakes that frequently rattle the country. The country is also shaped by typhoons that blow through on a yearly basis. All of these natural elements leave their mark on the landscape.

Taiwan has strong connections to China, both culturally and physically. When sea levels were lower during the last glacial maximum more than 10,000 years ago, dry land connected Taiwan to what is now mainland China — the 150-kilometer-wide Taiwan Strait is still less than 100 meters deep. Today, while Taiwan pays homage to its Chinese roots, it is also proud of a culture that is uniquely its own.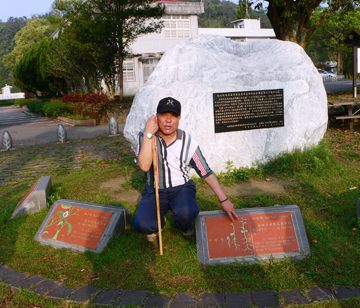 Jordan Clary
Jeff Chen, general manager of Hotel Del Lago on Sun Moon Lake, is also a great tour guide.
If you don't have a lot of time to spend in Taiwan, you could easily center a visit on the Sun Moon Lake area. With a circumference of 37 kilometers, Sun Moon Lake, situated where the Central Range melds into fertile western plains, is Taiwan's largest natural lake. Just a two-hour drive southeast of Taipei near the small town of Yuchi in Nantou County, the largest and only land-locked county in Taiwan, this craggy landscape is filled with ancient lake basins. In fact, nearly half of what is now Nantou was covered with water during the early Miocene more than 20 million years ago, when much of the island was still submerged. During the late Oligocene some 30 million years ago, continental uplift caused most of these lakes to dry out and the subsequent erosion resulted in the fertile plains that exist today.

Because of its high elevation, Sun Moon Lake was less affected by the uplift and erosion and preserves many of the same characteristics it has had since the surrounding mountains formed. These formations consist mostly of black to dark gray slate with thin metamorphosed sandstone. Boulders containing Nummulites fossils have been found in the area, leading to the conclusion that this landscape formed around 40 million years ago. Nantou County sits on top of the Chelongpu Fault and was the epicenter of the devastating magnitude-7.6 earthquake that struck the island in 1999, killing thousands of people and causing billions of dollars worth of damage.


Jordan Clary
Tea is a major crop in Taiwan.
With many hiking and biking trails, you will never tire of the stunning scenery or want for anything to do. High mountains surround the lake and Yuchi has plenty of restaurants and shops for browsing. Sun Moon Lake is named for its shape — the eastern part of the lake is round like the sun, while the western half curves in a crescent half-moon shape. A small island, Lalu, sits in the middle of the lake and is sacred to the Shao indigenous people. Although this island is off-limits to visitors, you can take a ferry around the lake, which passes by Lalu at regular intervals throughout the day.

It's easy to fall in love with Sun Moon Lake. Just ask Jeff Chen, general manager of Hotel Del Lago, an elegant hotel on Sun Moon Lake. Every morning Chen rises early before work and walks to the top of the hill where he can watch the mist over the lake dissolve into the early light. When he speaks of the lake, the reverence he feels is clear. His descriptions border on poetry. "One afternoon I watched a storm come in," he told me as we walked up Mt. Maolan trail behind the lake. "To the left were black clouds. To the right, white clouds. They met and began chasing each other around and around in the sky like a boy chases girl. They joined together in marriage." He clapped his hands loudly. "Then the storm comes!"

Chen speaks metaphorically when describing the life of the tea plant as well. Tea is to Taiwan what wine is to Italy and the ritual surrounding it is nearly as important as the cup itself. "The life of the tea plant is like the life of a human," Chen said, twirling one of the green stems in his fingers. "It begins with pregnancy, and then travels through babyhood, childhood, adolescence or the educational period, adulthood or the working years, and then finally retirement." A black tea called Assam grows around Sun Moon Lake; one of the retired Assam trees now resides in front of the Hotel Del Lago.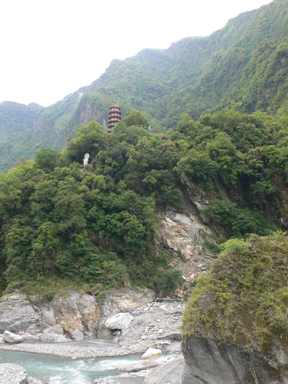 Jordan Clary
Many of the granitic mountains in Taroko Gorge in Taroko National Park reach three kilometers high.
An hour or so south of Sun Moon Lake will take you to the Alishan district. The Alishan Mountain Range consists of interbedded shale, siltstone and sandstone, which reaches 1,000 to 1,500 meters altitude. These mountains are home to the most ancient trees in the world — some of these cypress are 2,000 years old. In fact, they are so old that in the Chinese language they are not even called old; instead they are referred to as tree gods. These giants exude a mysterious presence and it's easy to feel you are walking among living myths. For an entire cultural experience of the Alishan area, consider staying at the rustic Holiday Farm. You might need some help here with translation but the proprietors of this establishment will go out of their way to give you a warm welcome. You can sample a variety of local teas, eat the local cuisine and learn how to make sticky rice. Early risers will also want to hike up the mountain for a stunning sunrise view.

Travel to the north of Sun Moon Lake for about two hours and you can hike through the dramatic Taroko Gorge where huge granite boulders lay piled up like building blocks from a giant's toy box. Towering peaks and steep gorges are the main geological attractions of Taroko National Park. Nearly half of the mountains in this area are more than 2,000 meters above sea level and many of the peaks stretch higher than 3,000 meters. Mt. Nanhu, the tallest peak in Taiwan, reaches 3,742 meters above sea level. For a relaxing break in a beautiful setting right in Taroko National Park, you can stay at Leader Village. This resort will also treat you to presentations on the local Taroko culture, such as local music performances.

Wind up your Taiwan visit by relaxing on one of the sandy beaches, such as Kenting, near Taipei. Taipei is well worth spending a few days visiting for a glimpse into one of Asia's most cosmopolitan cities. The National Palace Museum has an outstanding collection of antiques and artifacts, many of which were smuggled out of China after the communists took control of mainland China and exiled the opposing Kuomintang party to Taiwan. Taipei also has many top hotels and restaurants to please every palette.
---
Links:
Visit Taiwan
Sun Moon Lake
Taroko National Park
Exploring Karst in Guilin, China, Geotimes, July 2008