Subscribe

Archives

Classifieds

Advertise

Customer Service

Geotimes Search
---
---
---
NEWS NOTES
---
Mapping Arizona's cracks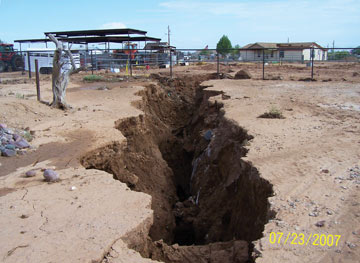 Arizona Geological Survey
This earth fissure is one of hundreds that geologists measured in Chandler Heights, Ariz.
Smart home buyers know a home inspection is a must before purchasing a house. No one wants mold, termites or hidden leaks as a housewarming gift. But residents in Arizona have an additional hazard to contend with — earth fissures. The Arizona Geological Survey (AZGS) is working to raise public awareness of these giant cracks by mapping them throughout the state. In April, AZGS released its first maps.
Earth fissures are cracks in the ground that form when groundwater is pumped out faster than it can be replaced. What starts as a thin, innocuous crack can grow to be several kilometers long and hundreds of meters deep. With the power to damage houses, roads and utility lines, earth fissures are a serious problem, says Todd Shipman, manager of the AZGS Earth Fissure Project. Although no humans have suffered injuries due to earth fissures, livestock are at risk — at least one horse has been swallowed up by a giant crack. As Arizona's population continues to grow and more land is developed, Shipman says, the problem is only getting worse.
AZGS is mapping fissures in 23 areas of southern Arizona where they occur. Using old maps, aerial photographs and word of mouth, AZGS geologists locate possible fissures and then hit the ground to investigate. Each fissure is measured and then mapped using GPS devices.
On April 23, AZGS released maps of two areas — Apache Junction and Chandler Heights, both on the outskirts of Phoenix — that are home to about 400 fissures. Those maps are free to download from AZGS (www.azgs.az.gov/efmaps.html). Free interactive maps that allow land developers, potential home buyers and city officials to investigate fissures at the street level are also available at azmap.org/fissures.
Once all areas are assessed, the fissures will be continuously monitored for changes, Shipman says. Right now, "avoidance is the best form of mitigation," he says. But as AZGS learns more about how earth fissures work, better strategies should follow. "Over the next 10 years," Shipman says, "a real wealth of knowledge will come from this."
Links:
Arizona Geological Survey: Earth Fissure Study Area Maps
AZMap Earth Fissures Viewer
Hazardous Cracks Running Through Arizona, Geotimes, August 2006