Subscribe

Archives

Classifieds

Advertise

Customer Service

Geotimes Search
---
---
---
NEWS NOTES
---
Petroleum reserve filling halted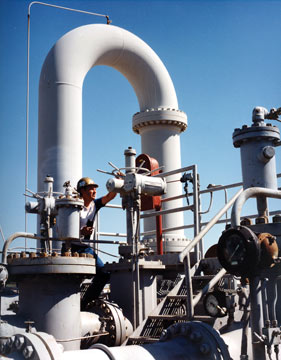 Courtesy of the U.S. Dept. of Energy
A technician inspects a pipeline valve at the Strategic Petroleum Reserve in Bryan Mound near Freeport, Texas.
On May 13, Congress overwhelmingly passed a bill outlining a new strategy for fighting high gas prices: Stop filling the Strategic Petroleum Reserve. Three days later, President Bush grudgingly signed the bill into law.
The United States had been pumping about 68,000 barrels of oil a day into the reserve, which is close to 97 percent full. The oil isn't purchased: It comes in lieu of cash royalties from oil companies exploring in the Gulf of Mexico. But lawmakers say that a temporary freeze on depositing oil will lessen demand, potentially driving prices down.
In a press release, Sen. Byron Dorgan, D-N.D., called the move "a step in the right direction," saying, "When the American consumer is being burned at the stake of higher gas prices, the government should not be carrying the wood."
Others weren't convinced. The Bush administration has repeatedly pointed out that the quantity of oil being stockpiled is modest — less than a tenth of a percent of global daily consumption and less than 0.3 percent of U.S. consumption.
According to The New York Times, Rep. Joe Barton, R-Texas, said the measure was meaningless. "If all the members of the House would go out onto the steps and clap our hands three times and say, 'Down prices, down prices,' that would have as much impact as passing this bill."
Cassandra Willyard
Links:
Desperately seeking salt dome, Geotimes, July 2008
Oil: Is Now the Time to Fill the Strategic Petroleum Reserve?, Geotimes, March 2008