---
GEOMEDIA

---
Check out the latest On the Web links, your connection to earth science friendly Web sites. The popular Geomedia feature is now available by topic.
Science Infiltrates Fiction in Second Life
What's Hot in Documentaries? Climate Change
---
Science Infiltrates Fiction in Second Life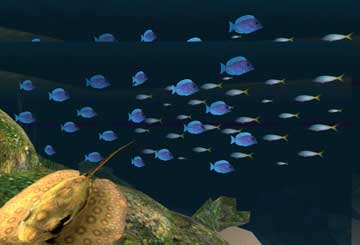 Eric Hackathorn/NOAA
A school of digital fish swims around a coral reef just offshore the virtual island Meteora, NOAA's Second Life hub, where visitors can explore multiple ecosystems, fly through a hurricane or watch a tsunami unfurl.
It's sunset in Second Life. As I watch the sky turn pink over the shoulder of my avatar, or virtual self, I think: Tonight, I want to ride into a hurricane.
That sort of thing is possible in Second Life. This 3-D virtual world is the brainchild of Linden Lab in San Francisco, Calif., which created the central Web site (secondlife.com) — a doorway through which more than six million virtual inhabitants have already entered its graphical terrain since it went public in 2003. Second Life is not a static creation or a video game, however much it may resemble one; it's a mutating work in progress, built and owned by virtual residents who buy virtual real estate with virtual currency. These inhabitants are constantly reshaping and adding to its landscape, filling their alternate world with attractions, shops, classes, conversation, news, sex, politics, personalities and even graffiti — essentially, the best and worst of what real world society has to offer. So what does this world have that the real world doesn't?
Second Life denizens may cite the appeal of creating an alternate persona or of communicating in real time with people from all over the world — in a setting far more visually compelling than a text-based chat room. But is any real science among these digital hills and oceans?
Both NOAA and NASA have purchased (with actual dollars) pieces of digital real estate, called "islands," in Second Life. NOAA's Earth System Research Lab bought its island in August 2006 to serve as a platform for its experiments with virtual lectures, educational outreach and cool conceptual rides. Eric Hackathorn, a computer programmer at NOAA and now the chief architect of its virtual worlds project, worked with a Second Life design company to create the island, named "Meteora," which roughly translates to "things suspended in the air."
Meteora contains five or six different ecosystems, from melting glaciers to beaches beset by tsunamis. In the guise of Second Life alter ego Hax Haven Harford, Hackathorn also guides curious visitors around Meteora's wonders. About 35 percent of these visitors, he says, have never even heard of NOAA before.
"It's sad, but it means we're reaching a whole new audience," Hackathorn says. NOAA's island offers its visitors a 3-D introduction to some of Earth's most powerful forces. Visitors can walk through a tsunami, fly through a hurricane, float on a weather balloon, watch glaciers melt, take a submarine ride to hydrothermal vents and observe a real-time map of weather moving across the United States. To help its audience better understand what they're seeing, the island also offers a talking guidebook, a kind of sign that visitors pick up and "wear" while it narrates to them.
The island also has numerous kiosk-type stations that you can click on to link back to NOAA's main Web site for more information. "You can relay certain types of information much more effectively as text," Hackathorn says. "There's a place for that [on Meteora], just like there's a place for that in a museum." Such blending and feedback between 3-D and the more standard 2-D designs will likely become more common over time, he says, "allowing users an experience much more like real life."
The advantage of this "immersive environment," Hackathorn says, is that it is much more conducive to learning than standard Web pages. "It's a new way of communicating with the public, a collaborative environment. We have a virtual staffer giving tours, leading the community through scientific experiences — it connects in ways you can't get from Web sites or textbooks."
I decide to give this a try myself. I visit Meteora's tsunami exhibit on one side of the island. To get there, my avatar passes through a small village along a beach. The water beyond the beach is quiet, but as I walk under the waves, chunks of ground rise and fall. An earthquake. On the surface, a NOAA buoy is bobbing; on the seafloor, as I balance on the rocking ground, a pressure sensor measures the temblor and a series of placards explains the tsunami warning system. I head back to the beach as the tsunami begins to roll forward and watch as a giant wave washes over the buildings and reduces them to rubble. A textbook description of the event wouldn't compare.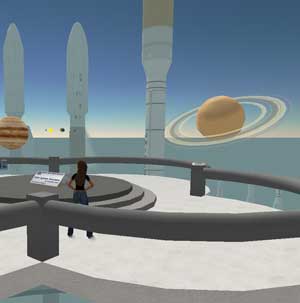 International Spaceflight Museum
From a platform at the International Spaceflight Museum, a space enthusiast's playground, the writer's alter ego admires the mysteries of the animated cosmos.
Next, I teleport over to NASA's island (which strikes me as an appropriate way to travel here). NASA's virtual CoLab (short for Collaborative Space Exploration Laboratory) is an extension of the actual CoLab, a partnership between NASA and the technology community, located in San Francisco, Calif. The virtual CoLab is intended as less of a theme park and more of a professional networking hub where space scientists can meet, hold lectures and share information. For those seeking more gee-whiz fun, however, the International Spaceflight Museum is just next door. The museum is actually the creation of non-NASA-affiliated enthusiasts and predates the NASA island. It boasts 52 virtual rockets, including Saturn 5 and the SpaceShipOne rocket plane. Visitors can also fly or teleport up to a low Earth orbit and watch a shuttle dock with the space station, or can teleport to displays of the planets.
Curious to see what else Second Life has to offer a science enthusiast, I use the program's search function and exhaust a short list of geology-related words. "Fossil" turns up the Fossil Shop, a small building filled with dinosaur skeletons, ammonites and other paleontological curiosities in a spot called the Isles of Eden. The Fossil Shop's proprietor is Mea Yao, the alter ego of a paleontologist who — as is customary among many Second Life inhabitants — prefers to keep his real identity secret.
Yao's merchandise is a smorgasbord of virtual fossils, versions he "built" through a painstaking process of reshaping and adding texture to digital images he has taken of his own real collection. He also sells jewelry and T-shirts. Among his displays of worm casts and trilobites is a 175-million-year-old ammonite from France. The digital version is modeled after one in his collection that is Aalenian, from the middle Jurassic. "I have it here on my desk for real," he says. "Gorgeous fossil."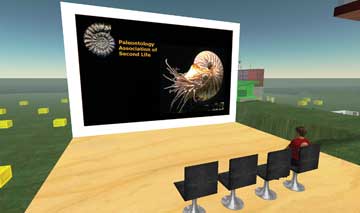 Mea Yao
The headquarters of the fledgling Paleontology Association of Second Life — not to be confused with the real-world organization — is a meeting room atop Mea Yao's Fossil Shop.
"I have always wanted a real life fossil shop — always," Yao says. "So this is the next best thing." There's no money in selling fossils in real life, but setting up virtual shop cost him nothing, he says. He does hope to sell enough to cover the virtual costs of presentations, lectures and paleontological networking between students, professors and enthusiasts, or possibly even a conference where both virtual and real world scientists can interact. Meanwhile, he plans to keep sprucing up his shop, sprinkling it with new stock to draw in fossil enthusiasts. "I want a real cave of delights," he says.
Leaving the Isles of Eden, I return to NOAA's island and board a plane scheduled to fly up to a hurricane. It's not the most effective exhibit — although interesting, I don't feel fully enveloped by the storm. Watching the tsunami was far more frightening. But this small taste of what's possible has piqued my curiosity. NOAA's earth science cave of delights is a powerful lure.
One can only wonder what's next for this virtual reality. "We're all sort of staring at this like, 'This is huge, and I don't quite understand the implications,'" Hackathorn says. He has a grander vision for the future, in which disparate laboratories within NOAA — long divided by organizational structure and localized boundaries — may reunite in this new world to create a unified city, or even a continent, where they can connect with each other and the public. NOAA might even link up with NASA and other government agencies, which are working on their own islands, he says. "It's the element of creating a community that doesn't exist today, that will be useful. It's fun to feel ahead of the curve."

Carolyn Gramling
Links:
Second Life
---
What's Hot in Documentaries? Climate Change
The Great Warming
Global Warming: What's up with the Weather?
An Inconvenient Truth
The 11th Hour
Too Hot Not to Handle
---
Growing concern over climate change has taken center stage in Hollywood, as entertainers speak out about the issue. Alanis Morissette and Keanu Reeves recently entered the documentary arena as narrators of "The Great Warming," which was released in theaters nationwide in fall 2006.
Beyond the famous faces, however, Stonehaven Productions' "The Great Warming," based on the book "Storm Warning: Gambling with the Climate of our Planet," by Lydia Dotto, is similar in format to most climate change documentaries. It contains interviews with leading scientists, such as Wallace Broecker, an oceanographer at Columbia University in New York City, who pioneered research about the connections between Earth's oceans and climate (see Geotimes, April 2007), and Kevin Trenberth, who heads the Climate Analysis Section at the National Center for Atmospheric Research in Boulder, Colo., and who helped write the 1995, 2001 and 2007 assessment reports for the Intergovernmental Panel on Climate Change.
This film differs from most, however, in that it is available in four different versions, each of which is tailored to a specific audience. One version is the film plus 70 minutes of extras. Another is directed to churches and synagogues, and offers downloadable religious education discussions. The other version appealing to the faithful includes interviews from Christian leaders. The last one, made in conjunction with the National Wildlife Federation, comes with additional information about how climate change could impact wildlife.
Visit the film's Web site to find out more about the film and its producers, view photos and video extras, and to read various reviews. www.thegreatwarming.com
---
Global Warming: What's up with the Weather?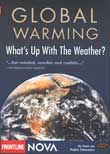 WGBH Boston Video
Temperatures are rising, but finding out exactly what the causes are and determining the solutions are challenging tasks that have become full-time jobs for some climate researchers. "Global Warming: What's up with the Weather?" takes a close look at these researchers' progress, as well as the political and economic hurdles that stand in the way of possible solutions.
The 112-minute-long documentary gives scientists, policymakers and supporters of industry time to state their case, including climate change skeptics, some who say a rise in carbon dioxide is actually healthy, at least for trees. The film then meanders on for a look at possible solutions, from nuclear energy to renewable resources.
Award-wining NOVA and Frontline filmmaker Jon Palfreman produced "Global Warming," which was released on the Public Broadcasting Service (PBS) in 2007. Palfreman's previous productions have covered issues ranging from examinations of Gulf War syndrome to the proposed link between power lines and cancer.
True to PBS style, the accompanying Web site features abundant educational tools, such as Palfreman's answers to frequently asked questions about climate change. And visit the discussion board to submit a comment about your thoughts about the show and climate change. www.pbs.org/wgbh/warming
---
In an Academy Awards first, a former vice president of the United States took the stage in February 2007 to accept an Oscar for the category of "Best Documentary Feature." Al Gore's film, "An Inconvenient Truth," which was directed by Davis Guggenheim, received top honors for documenting the ins and outs of his campaign, not just for office but also for public understanding of climate change. The one-hour and 40-minute film follows Gore taking his climate change slideshow on the road to audiences across the nation.
Since the film hit U.S. theaters in May 2006, it has grossed more than $24 million — trailing only "Fahrenheit 9/11" and "March of the Penguins" as one of the top three grossing documentaries for theater revenues since 1982.
The film's accompanying Web site is easy to navigate, and provides the basics, from the science behind the show and synopses of the film and DVD, to news, blogs and suggestions about ways to take action. www.climatecrisis.net
---
In addition to the rest of the Hollywood crowd's climate change campaign is Leonardo DiCaprio. "The 11th Hour," produced and written in part by DiCaprio, includes interviews with a wide range of scientists and leaders. Among the more than 70 people interviewed during the film's four years of production are many notable individuals, such as Stephen Hawking and Mikhail Gorbachev, who present their thoughts about the environment and "ecoliteracy."
"The 11th Hour" was scheduled to premiere at this year's Cannes Film Festival in May, prior to wider release in theaters in October 2007. In the meantime, check out the film's Web site. While it lacks the breadth of educational outreach and film information compared to other climate change film sites, you can read blurbs about each of the interviewees and how their work relates to the environment and climate.
"The 11th Hour" is not DiCaprio's first venture into environmental films. Check out DiCaprio's "Eco-Site" to view two shorts that he wrote and narrated, including "Global Warming" and "Water Planet."
11thhourfilm.com/index.php
www.leonardodicaprio.org
---
In addition to making an appearance in theaters and public television, the topic of climate change has also ventured into the realm of cable television programs. In spring, Home Box Office (HBO) aired "Too Hot Not to Handle," which the show's Web site calls a "cautionary" documentary about how America has contributed to a changing climate.
The show spans the major issues related to climate change, including interviews with scientists, a discussion of the greenhouse effect and weather patterns, as well as a look at solutions to curbing greenhouse gas emissions. Interestingly, other ways that climate change could affect human health, such as spreading disease (see the May 2007 issue of Geotimes), are also covered.
To see the show, check out HBO's Web site for its programming schedule or view it on DVD. The Web site offers unique extras, including a podcast that makes the entire show available in audio format. You will also find a list of 25 things you can do to reduce your impact on the environment. www.hbo.com/docs/programs/toohot/index.html