Subscribe

Archives

Classifieds

Advertise

Customer Service

Geotimes Search
---
---
---
GEOMEDIA

---
Check out the latest On the Web links, your connection to earth science friendly Web sites. The popular Geomedia feature is now available by topic.
SHOWS: The Evolution of a Science Comedian
MOVIES: 10,000 B.C. Should Have Stayed in the Pleistocene
WEB: Geology Bloggers Rock
WEB: Science Bloggers Question Their Role
---
The Evolution of a Science Comedian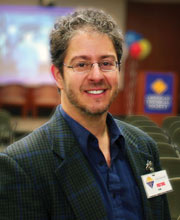 Tara Fredette
On a warm spring evening last April, a small group of NASA employees met after work at the Marian Koshland Science Museum of the National Academy of Sciences in Washington, D.C. They were joined by some physicists and a few young adults with an enthusiasm for science (or at least whose parents have the science bug). But they were not there to attend the opening of a new museum exhibit or to listen to an esteemed scientist give a lecture. They were there to laugh and be entertained by the planet's self-proclaimed premier science comedian, Brian Malow.
That night, Malow debuted his new comedy show "The Final Frontier?" in which he explores several fields of science — everything from discoveries of "extremophile" bacteria that make their homes in sulfurous volcanic vents to his predictions on the future of space travel (including his take on what the comedy act of a "hack" alien comic on the interstellar comedy circuit might be like) to how the Internet and information age are affecting our brains. But this is not your typical stand-up comedy show, Malow says, where it's just "joke, joke, joke." In fact, it's more like listening to a science fiction writer draw upon the world's current scientific knowledge to synthesize his vision for the future — with several one-liners thrown in for good measure.
And if the particle physicist in the front row who laughed uproariously and nodded along in agreement — plus the stream of audience members who lined up after the show to invite Malow to perform at future events — are any indication, the show was a success.
"The Final Frontier?" is hardly Malow's first science-centric routine. It was his third performance at the Koshland Museum. His previous shows included "Rational Comedy for an Irrational Planet" and "Science Comedy: It's Infectious," a show devoted entirely to infectious disease. He has also brought his unique brand of comedy to the American Chemical Society, the National Association of Science Writers, Microsoft, Apple and dozens of other organizations, corporations, schools and college campuses. He has also appeared at traditional comedy clubs across the country.
But Malow says his innate curiosity drew him to science before he ever discovered his knack for humor. "When I was a kid, I asked my mom 'Why is the sky blue?' and she said, 'Because I said so.'" Malow says. "At first, I was in awe of my mom, later I learned not to trust her on matters of science." Instead, he transferred his awe to his childhood idols, science writers Isaac Asimov and Arthur C. Clarke, and found science was not just interesting, but also entertaining. "They wrote in very clear, understandable language … with a sense of humor," Malow says of his heroes. They had a way of making the material engaging, he says.
Although he "considered pursuing a path in professional science," Malow ultimately followed what he calls his more "creative" aspirations. Malow says his life as a comic began after entering a "funniest person" contest "a long time ago, in a galaxy far, far away." That galaxy, he says, was Austin, Texas. He didn't win, but the encouragement he received from other comedians motivated him to continue in the field. Back then, he never used the label "science" comedian. But science has always infused his work. "It was very natural for me to bring up an odd or funny science topic," Malow says, "or just to use metaphors and the language of science."
Malow didn't evolve into a full-fledged science comedian until a couple years ago, after he began performing for science organizations. At those venues, he found that he could finally perform his favorite jokes about Newton's equation for gravity or the conservation of mass — or even more obscure science references — and people would get it, and even laugh.
That's not to say Malow has abandoned the layperson. He plans to introduce "The Final Frontier?" to the masses this month. Perhaps in his own way, he's just trying to follow in Asimov and Clarke's footsteps. "I like the idea of presenting science in a fun and interesting way," Malow says. "It's rewarding to bring laughter to a field that's often considered dry."
A sampling of Malow's musings on science
On human evolution: "My mom always used to tell me to stand up straight, which is fairly universal. In fact, I think mothers have been telling their children to stand up straight for longer than we realize. Perhaps even to pre-human days. What if that were the driving force behind the evolutionary trend to walk erect? Mothers nagging their children up the evolutionary ladder: 'Stand up straight! Don't drag your knuckles when you walk! What, were you born in a tree?!'"
On Darwin: "I just started reading The Origin of Species. Don't tell me how it ends!"
On the environment: "We treat the Earth like the Who treats a hotel room."
On the future: "Stephen Hawking has become a proponent of humans getting off the Earth and out into space, in order to secure the survival of our species. That makes me worry … Does Stephen Hawking know something that he's not telling us?!"

Back to top
For more information about Malow and his upcoming shows, check out his Web site: www.sciencecomedian.com.
---
10,000 B.C. Should Have Stayed in the Pleistocene
When Geotimes heard that director Roland Emmerich — you might remember him from The Day After Tomorrow, a movie about exceedingly abrupt climate change — had made a film called 10,000 B.C., we couldn't resist taking a few experts to see it. Geotimes reporter Cassandra Willyard was joined by geologist Callan Bentley and paleontologist Will Straight, both of Northern Virginia Community College in Annandale, and husband-wife archaeologists Dennis Stanford and Margaret Jodry of the Smithsonian Institution in Washington, D.C. They laughed, they cried and then they retired to a coffee shop to discuss the science.
"Some of my colleagues would be curious to find out that corn developed in Africa," remarks archaeologist Dennis Stanford, sipping his coffee. And when Stanford says "some," what he really means is "all." That's because corn originated in the Americas, not Africa, and it wouldn't have been around 12,000 years ago. Yet there it is in 10,000 B.C., growing lush and green in what looks to be an African village.
To be fair, the corn is peripheral to the plot and the least of the movie's concerns. 10,000 B.C. is an epic hero's quest, the tale of a young dreadlocked mammoth hunter named D'leh (Steven Strait) who must rescue his kidnapped girlfriend Evolet (Camilla Belle) to save his village. His journey takes him from spectacular snow-capped mountains, into a predator-filled bamboo jungle, across desert sands, to what looks to be the pyramids of Giza (complete with Sphinx) — all in the span of a few days.
But neither the presence of corn nor the rapidly changing flora and fauna — which were, according to Stanford, "disharmonious in all dimensions" — can beat the scientific inaccuracy of this whopper: Mammoths helped build the pyramids. No, that's not a misprint. When a road-weary D'leh finally arrives at the city where his girlfriend is being held captive, he sees harnessed mammoths pulling stone blocks up the ramps that flank the pyramids.
D'leh is not perplexed. We, on the other hand, are. The idea is preposterous. "These are cold-adapted critters," says paleontologist Will Straight. "If you haul them down into the desert, they'll drop dead just standing around. You won't get any labor out of them." Furthermore, he adds, "they're grazers and I saw no grass."
But mammoths not having grass is less problematic from a scientific perspective than, say, Earth not having mammoths. Construction began on the Egyptian pyramids no more than 5,000 years ago. By then most mammoths were long gone (although remnant populations survived on several islands). "I would not want anyone to think that woolly mammoths lived at the same time as the Egyptians (if that's who they were) were building the pyramids," Stanford says.
Mammoths weren't the only animals out of place in 10,000 B.C. The large, flightless "terror birds" that attack D'leh and his friends in the jungle shouldn't have been there either. "The last ones died out 2 million years before this," Straight says. ("You didn't know that there was a refuge?" Stanford deadpans). And the saber-toothed tiger that D'leh saves from a watery death in a flooded pit should have been extinct too — at least in Africa, Europe and Asia, Straight adds. Instead, the computer-generated cat bounds from one side of the screen to the other, and in an Aesopian twist, decides not to eat D'leh and his friends when the two meet again, presumably out of gratitude. The cat is strikingly rendered, if overly large and anthropomorphized. Visual effects supervisor, Karen Goulekas, told Popular Mechanics she spent hours filming real lions, tigers and leopards at Tala Game Reserve in Durban, South Africa, to better understand how the animals move.
If only the film's creators had put as much research into the people of 10,000 B.C. "These were sophisticated people," says archaeologist Margaret Jodry. Yet D'leh and his mammoth-hunting tribe wear little more than ragged skins. The men walk around bare-chested despite living high in the mountains. "These people survived the ice age," Stanford says. "They did that with tailored clothing."
But the movie's intent was never scientific accuracy. "It's not like they tried to get it right and didn't," Jodry says. In fact, in a special "behind the scenes" look at the movie, Goulekas said she likes to start with "some base of reality" and then "make something cooler." Surprisingly none of the Geotimes reviewers took exception to that approach. "There's no shame in them playing fast and loose with the paleontology of the era to get a good story," Straight says. Geologist Callan Bentley agrees: "I'm definitely willing to forgive bad science if it's a good movie," he says. But 10,000 B.C. is not a good movie: The plot had all the subtlety of a Warner Brothers cartoon and none of the slapstick humor. We all laughed, but this film wasn't meant to be funny.
The cinematography and special effects, on the other hand, were top notch. And Jodry, the optimist of the group, points out that the message was uplifting, a rare thing in Hollywood these days. To bring his girlfriend back, D'leh must unite all the tribes of Africa into an army large enough to defeat her evil captors. "At least this [movie] had a message of bonding together cross culturally to accomplish something that benefits a lot of people," Jodry says. And perhaps that will be enough — at least for the nonscientists.
10,000 B.C. will be released on DVD June 24.
---
Geology Bloggers Rock
Reunite Gondwanaland! Schist happens. Geologists have gotten in on the blogging business, and geeky geo-nerd titles abound. Welcome to the geoblogosphere, a growing but still tight-knit community, where geobloggers engage each other in lively, digital and geology-centric conversations.
When asked why there's been a recent surge in geology blogs, Lee Allison, the state geologist of Arizona and director of the Arizona Geological Survey — and possibly the only state geologist with an official blog — says geologists simply may have reached a "tipping point," where enough of them have been reading what's out there in the mainstream media and thought they had something to add. Instead of writing about the minutiae of daily life, he says, geobloggers have been embracing the social networking aspect of the blog, avidly discussing the latest papers, ideas and controversies in the field.
That sense of community among geobloggers "probably helps to encourage new people to stick their toes into the water," says Chris Rowan, a geologist at the University of Johannesburg in South Africa. Rowan started his own blog because it "resonated with my strong belief that as scientists we're duty bound not just to generate knowledge, but to share it with as many people as possible." Although he originally planned to focus on new research, "I've come to realize that this approach ignores some of the more interesting possibilities of blogging as a medium," Rowan says. In a blog, he adds, there is time and space to go deeper into the history of a scientific debate, or segue into basic concepts in the field.
"I've been really excited to see how it's grown, not just in numbers but in the quality and different directions people are going," Allison says. "I think this is one of those new paradigms that are going to cause us to rethink the way we do and enjoy our science." Here are just a few of the geoblogs in this active, growing community.
---
Lee Allison
• Day job: State Geologist of Arizona, Director of Arizona Geological Survey in Tucson
• Blog: Arizona Geology (arizonageology.blogspot.com)
• Started: January 2006
• Raison d'être: The official blog of the state geologist, Allison's blog is intended to help build a geologic community in Arizona and provide news about geoscience (and some politics) around the state.
• Hot topic: In March, a landslide closed down a major highway in the state, and hundreds of people visited the blog (instead of the Department of Transportation) to get the most up-to-date photos and info, Allison says.
---
Callan Bentley
• Day job: Geology instructor at Northern Virginia Community College in Annandale (full disclosure: Bentley is also a frequent Geotimes contributor)
• Blog: NOVA Geoblog (www.nvcc.edu/home/cbentley/geoblog/)
• Started: December 2007
• Raison d'être: It's all in the tagline: "Earth science observations, news, photos, teaching, & commentary"
• Hot topic: March 28, 2008: Fossils, stratigraphy, glacial striations — Bentley's photo-rich blog contains multiple showcases for his geology classes and fieldwork.
---
Kim Hannula
• Day job: Geology professor at Fort Lewis College in Durango, Colo.
• Blog: All of My Faults Are Stress-Related (shearsensibility.blogspot.com)
• Started: June 2007
• Raison d'être: "This blog has changed from me talking to myself about things I saw or things I read, to me talking to other people. It's nice to be part of a community, but I would like to go back to writing about odd observations more often," Hannula wrote in December 2007.
• Hot topic: Feb. 16, 2008: "Gender and the geoscience pipeline," Hannula's answer to a Nature Geoscience article on gender parity in the field.
---
Brian Romans
• Day job: Geologist at Chevron Energy Technology Company in San Ramon, Calif.
• Blog: Clastic Detritus (clasticdetritus.com)
• Started: September 2006
• Raison d'être: "Clastic Detritus" are pieces or fragments of other rocks, Romans writes. "Sediments and sedimentary geology are what I spend most of my waking hours pondering. … In a way, this blog itself is a collection of pieces and fragments of various topics as well."
• Hot topic: Jan. 18, 2007 to present: "Where on (Google) Earth?" Two years ago, Romans initiated this popular online photo contest (in a former blog), which is still enthusiastically circulating through the geoblogs. (Note: The contest is not affiliated with Geotimes' Where on Earth? contest.)
---
Chris Rowan
• Day job: Geologist and post-doctoral researcher at the University of Johannesburg in South Africa
• Blog: Highly Allochthonous (scienceblogs.com/highlyallochthonous)
• Started: March 2007 (but an earlier incarnation of the blog began in September 2005)
• Raison d'être: The name of the blog "poetically reflects my aspirations to cover the vast diaspora of disciplines which make up Earth Sciences," Rowan writes.
• Hot topic: April 5, 2008: Rowan posts his thoughts on the "position and responsibility of science bloggers," prompted by two commentaries that debated the issue in April's Nature Geoscience.
---
Ron Schott
• Day job: Assistant professor of geology at Fort Hays State University in Hays, Kan.
• Blog: Ron Schott's Geology Home Companion Blog (ron.outcrop.org/blog)
• Started: March 2005
• Raison d'être: Over his three years as a geoblogger, Schott has posted about anything and everything on the subject of geology.
• Hot topic: March 17, 2008: "St. Patty's Day Deskcrop GeoPuzzle" — try your luck at identifying the various types of greenish rock samples (or "deskcrops").
---
Chris Town
• Day job: Geology graduate student at Victoria University in Wellington, New Zealand
• Blog: goodSchist (www.goodschist.com)
• Started: August 2007
• Raison d'être: Per Town's blog: "geology and planetary science. done good."
• Hot topic: April 13, 2008: "PodClast Episode 1," the inauguration of Town's new podcast about geology.
---
---
Science Bloggers Question Their Role
Blogging about blogging, or "metablogging," is nothing new. After all, "Why am I here?" will probably always be a favorite question among the seemingly endless list of topics to discuss online.
Science bloggers, of course, are no different. But in April, the question left the digital world and appeared in print, as two commentaries in Nature Geoscience debated a question close to the heart of many science bloggers: Are we ultimately helping or hindering our field? The authors' different takes on the subject set off ripples within the science blogosphere.
Gavin Schmidt, a climatologist at the NASA Goddard Institute of Space Science in New York who co-founded the climate change blog www.realclimate.org, wrote his Nature Geoscience commentary in support of blogging. RealClimate was originally created as a place to debunk public misconceptions and misunderstandings about the science of climate change. Climate change is one of several complicated — and politically and emotionally charged — scientific topics, along with others such as stem cell research and genetic modification of food, that tend to command a lot of public attention, Schmidt wrote. Blogs, however, are a way for scientists to talk to the public directly, casually and in depth about these issues. And scientist bloggers in particular, he added, can help by employing their expertise to sift through the steady stream of new, dense studies to find the most interesting and important stories.
But climatologist Myles Allen of the University of Oxford in England had a different take. He had initially thought science blogging was a great idea, he wrote in the second commentary in Nature Geoscience. But after RealClimate posted a discussion about his work that appeared to rebut it — and that story was picked up and subsequently distorted by a major media outlet — Allen began to see something potentially more damaging in science blogs. Blogs tend to emphasize wit, humor and criticism over careful commentary, he wrote. So rather than arguing over scientific studies in public, and thus risking the facts being distorted by people who don't understand the context, scientists' opinions of a peer-reviewed study should be kept within the peer-review process. Meanwhile, he argued, scientific results, too, should be communicated the time-honored way — through science journalists (who, he also noted, aren't that bad).
Because so many science bloggers are themselves scientists, the question of the blogger's ethical responsibility — including whether peer-reviewed science and science blogging ought to overlap — has been taken quite seriously by the science blogging community. Responding to the two Nature Geoscience commentaries in his blog Highly Allochthonous (scienceblogs.com/highlyallochthonous), geologist Chris Rowan, a post-doctoral researcher at the University of Johannesburg in South Africa, wrote, "I've never encountered the notion that science blogging might be detrimental to the scientific enterprise before." Sure, he mused, bloggers who provide their own viewpoints on a study, which are perhaps counter to the officially sanctioned editorial viewpoint of a published paper, are probably bound to ruffle some feathers. But, he says, the underlying issue is that the nonscientists don't generally have a feel for the process of science. "People truly don't seem to realize that argument and dissent are built into the very fabric of what scientists do," he says. "Blogging can give the outside world a window into how scientific ideas are really developed and contested."
On the whole, the Nature Geoscience commentaries may have given some science bloggers an even stronger sense of purpose, by forcing them to examine where they stand. Despite the many posts and comments at RealClimate and other science blogs on the topic, few of those comments appeared to support Allen's more restrictive view of the science blogger's role. Many commenters still relish the freedom of the blog, and, as in the larger blogosphere, some also revere the role of the outsider. And although not all science bloggers express a distrust of science journalists, one common theme is that they have a strong desire to set the facts straight — in their own words.
Links:
www.realclimate.org
scienceblogs.com/highlyallochthonous