Subscribe

Archives

Classifieds

Advertise

Customer Service

Geotimes Search
---
---
---
NEWS NOTES
---
Afghanistan's untapped wealth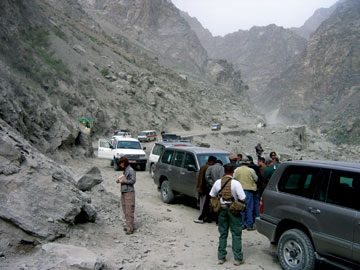 U.S. Geological Survey
Geologists inspect an outcrop along a highway in Afghanistan.
Afghanistan is rich in copper and iron, and also holds large, undiscovered deposits of many other metals, gemstones, industrial minerals and building materials, according to a recent preliminary assessment of the country's minerals. The authors of the assessment hope the findings will stimulate Afghanistan's mining industry and foster economic growth.
With funding from the U.S. Agency for International Development (USAID), a team of geologists from the U.S. Geological Survey (USGS) and the Afghanistan Geological Survey gathered existing data on Afghanistan's minerals and estimated undiscovered resources using geologic models. The results, released in November, show the country hosts 2.2 billion metric tons of known iron ore and 60 million metric tons of known and undiscovered copper, as well as an abundance of other minerals, including gold, mercury, graphite, potash, sand and gravel and lapis lazuli. The team also identified 20 sites "amenable to rapid development" that warrant more study.
Assessing Afghanistan's minerals was important because the country is "very underexplored," says team leader and USGS geologist Stephen Peters. The preliminary assessment drew heavily upon previous studies by the Soviet Union and its allies from the 1950s through 1985, he says. Since then, however, more accurate resource-assessment techniques have been developed. USGS hopes better knowledge of Afghanistan's resources will attract mining companies to the country, stimulating economic development and creating jobs.
USGS did a "crackerjack job of putting this together," says Jack Shroder, a geologist at the University of Nebraska in Lincoln. "This mineral survey offers proof positive that there are a lot of goodies that need to be exploited."
Some countries already recognize Afghanistan's mineral potential. The state-owned China Metallurgical Group Corporation, which won mining rights in November, is already looking to exploit Afghanistan's largest copper deposit, Aynak, which may be one of the largest copper reserves in the world, Shroder says.
USGS has requested additional USAID support to further assess Afghanistan's minerals, which would involve collecting samples and using standard exploration techniques to better evaluate resources, Peters says. If funded, he says, the project would focus on the 20 sites highlighted in the preliminary assessment. "The country really needs to develop and generate growth, so everyone agrees that it's the best use of our time and resources," he says.
Links:
USGS Projects in Afghanistan
"Afghanistan has oil," Geotimes, May 2006