Subscribe

Archives

Classifieds

Advertise

Customer Service

Geotimes Search
---
---
---
GEOMEDIA

---
Geotimes.org offers each month's book reviews, list of new books, book ordering information and new maps.
Check out this month's On the Web links, your connection to earth science friendly Web sites. The popular Geomedia feature is now available by topic.
DVDs: Geo Families: A Tie That Binds
TV: A twisted vision of geology: Saul of the Mole Men
---
Geo Families: A Tie That Binds
David Emme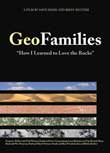 Growing up, geologist Brian Richter was dragged along on his father's geological fieldwork expeditions across the United States and Mexico. All the now-grown children of geologists featured in Geo Families can relate. Image is courtesy of David Emme.
About six months ago my dad looked at me and said, "Dave, by the time you finish this film, you're gonna want to be a geologist." I thought that was a pretty bold claim, but, by this point in my life, bold claims about the greatness of geology didn't phase me. I grew up as the son of two geologists, so the study of Earth was a constant presence in my life. After twenty years of family camping trips, dinner table discussions and timely geology-infused life lessons, I naively assumed that making a film about geology would leave my view of the subject largely unchanged.
Against this backdrop, I began work on Geo Families, an interview-based documentary intended to highlight the essential stories and experiences that define a geologist. My colleague Brian Richter is the son of a geologist, as well as the film's creative founder, and when he pitched the film to me, the familial aspect was the definitive element. I knew that I needed to get into the geologic community, but beyond that I also needed to find multigenerational geological families. At the time I wasn't sure why family should be on equal footing with geology in this film, but the concepts seemed to play well off one another, so I pressed forward.
As I began conducting interviews and raising funds, I was surprised by the hospitality and support extended to me by the earth science community. Cold calls and e-mails to CEOs and professors regarding the film were actually answered, and despite the fact that they knew little about the project or even me, seven families found time to get together and sit down for interviews.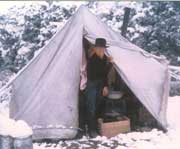 Geologist Bob Weimer took his family on camping and fieldwork expeditions, such as to Wyoming, as seen here. His son Paul is also a geologist. Photograph is courtesy of Bob Weimer.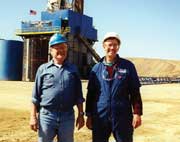 Father and son geologists Frank and Ron Pritchett are both in the energy exploration business. Photograph is courtesy of Frank and Ron Pritchett.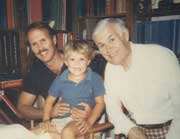 Steve Sonnenberg and his father, Frank, are both geologists in the energy business. Steve's son Case is in the middle. Photograph is courtesy of Frank and Steve Sonnenberg.
In one of my first interviews with Bob Weimer, I was blown away by the extent of his preparations. The 13 questions I had e-mailed him as a guideline were printed out and every white space was covered in itty-bitty annotations and notes. As I marveled at the sheer quantity of information on that one page, Weimer pulled out 13 numbered, labeled and critically overstuffed envelopes filled with corresponding pictures. For the next hour we sat at his dining room table feeling out each story's relevance to the film and only then did we turn on the camera. While Weimer whipped up a seamless interview, his wife, Ruth, whipped up lunch, and before I left I had a camera full of stories, a stomach full of food and a bag full of cookies.
As the interviews continued, so did the generosity, and I had to start cushioning my schedule to make time for homemade casseroles, roast beef sandwiches and additional stories and pictures that we hadn't gotten around to in the official interview. I felt so unconditionally welcomed that I almost didn't notice one very important thing: Every family I interviewed actually liked each other and genuinely enjoyed the time they were spending together. Amid stories of childhood rock collections, discovery wells and world travels was a strong sense of community and family values.
As I met more geologists, I began to realize that the whole community of earth scientists is held together by a special bond. Conventions, symposiums, study groups, field trips, group vacations, happy hours: Geologists create any number of excuses to get together and talk about rocks. As I heard more stories and studied them in the editing process, I came to appreciate the connection to Earth that geologists have, and how it draws them together. Learning about the world is something that everybody does from infancy, but unlike most people, geologists never reach a point where they say, "I know enough." Their natural curiosity drives them to pursue answers to all of Earth's mysteries, and the magnitude of that task unifies them. In the family and the community, everybody learns together, and their common pursuit is their bond. Every success is a contribution to the shared body of knowledge, and every failure leaves the community with one more puzzle to solve.
I found that what differentiates much of geology from other purely academic pursuits is its vital importance in locating natural resources. This places geologists on the front lines of global political and socioeconomic trends and creates another bonding opportunity — namely, drinking. Geologists celebrate together when the resources they locate are in demand, and drink together when they're not. The turbulence in the market fosters camaraderie and personal growth, and it weeds out people who aren't in geology for the right reasons. The people who stay in the field are passionate about what they do and their shared struggles and experiences create an exceptionally strong sense of community.
As I neared completion of Geo Families, I began to see the community of geologists as a family and I understood why Brian Richter had connected those two concepts. Each family and person has a unique story, but all of those stories begin with common elements of curiosity, exploration, discovery and community. I think this creates a connection between geologists and their colleagues, and I hope that connection will extend to the families in the film. All of the featured families gathered for the premiere of Geo Families on March 2, and it was a source of great pride for me to hear them react to the film. Whenever there was a gasp or a chuckle or a groan from the audience, I knew there was a common experience.
Parents have a way of being more astute than we give them credit for, and while I probably won't drop all of my plans and become a geologist, I think I will live a bit more like a geologist. I'm sure mom and dad are bursting with pride, wondering how they ever succeeded in making this happen, and I'd say it probably happened the same way it did to everyone in Geo Families. My parents raised me with a sense of wonder and an appreciation for the people and things around me, and we shared a common set of experiences in the outdoors and around the world. I feel very blessed that those lessons led me to the Rocky Mountain Association of Geologists, Brian Richter and all of my new extended family in the geologic community. Please enjoy the film!
Geo Families: A shared experience
Geo Families: How I Learned to Love the Rocks is an oral history film for geologists, about geologists. The new documentary takes a glimpse at the shared experiences of seven families of geologists.
The families include five father-and-son duos, a father and two geologist sons, and a mother-father-son geologist trio, all of whom have been involved in energy exploration at some point. Everyone in this group is clear that to stay in the field you have to love it.
The film is a collection of their stories. One family spins a great yarn about the early days of oil prospecting in the West, when they simply hiked out, drilled a hole and hoped for the best. (They even struck oil!) The families share stories of the boom and bust years of oil exploration from the 1940s into the 1980s, when some lost nearly everything as oil prices collapsed.
The now-grown children tell of trekking across the United States in beat-up old cars with cardboard boxes in the back for collecting interesting rocks and minerals, à la Lucile Ball in the 1954 movie The Long, Long Trailer, and of camping everywhere from Europe to New Mexico, both for vacations and during their parents' fieldwork expeditions. These were kids who grew up immersed in geology.
Although many viewers will relate to being dragged camping or on a long road trip as a child against their will, these children of geologists were dragged out most summers, they say. But playing in nature, picking up a rock and wondering where it came from and how it got there is what piqued their own interests in the field. Ron Pritchett, son of geologist Frank Pritchett, says while growing up, he was out in the field so often that the "difference between me and dirt wasn't much."
Some of the stories in the documentary feel a bit repetitive thanks to the families' similar histories, and the film probably could have been a bit shorter, but geologists will appreciate the shared experience that comes from being in the profession — the love of the outdoors, the love of travel and the excitement of learning about Earth. The film may also interest young students who want to learn about some of the history of exploration geology in the United States, and to learn what the field is like before pursuing it as a career.
To purchase a copy of Geo Families, visit www.rmag.org or call the Rocky Mountain Association of Geologists.
Megan Sever

Back to top
---
Emme is president of Dre Films and producer of Geo Families.
---
A twisted vision of geology: Saul of the Mole Men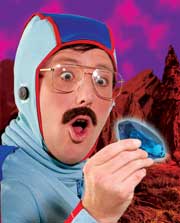 Saul, of the Cartoon Network's show Saul of the Mole Men, is a geologist who believes rocks are sentient creatures. Photograph is TM & © 2007 Cartoon Network.
The first thing to know about Saul of the Mole Men is that it is not about serious geology. The second thing to know is that it is extremely funny. If you like the sophomoric humor triumvirate of sex, violence and bodily functions, you will forgive Saul its ridiculous science. The new show on the Cartoon Network presents a bizarre perspective on geologists.
The title character, Saul Malone, is a geologist who works for STRATA, a top secret organization. He is part of a mission to journey to the center of the Earth in a drill-nosed ship, but in the first episode the ship crashes. The only survivors are Saul, a robot and a perpetually smiling British pop star. This unlikely crew of castaways lands in the middle of a society of "Mole Men," hairy creatures with bulging eyes and a habit of digging holes in rocks.
Saul was created by Craig Lewis, who crafted it to resemble campy shows from the 1970s like Land of the Lost. Lewis claims the inspiration for the show "came out of delirium," and the show certainly looks delirious. The sets are full of lurid colors, fire and monsters. "I knew [the show] had to have Mole Men," Lewis says. Geology entered the mix later. "I don't have much in the way of formal experience with geology," Lewis says — so don't expect any part of the geology to be accurate.
"Saul loves rocks more than anything. He's completely obsessed," Lewis says. Despite being a graduate of Tallahassee Tech (where he graduated "magma" cum laude), Saul has a wacky theory that rocks are sentient beings. This notion hasn't won him any friends in the geologic community. "Saul is shunned by his peers," Lewis says. The show reveals that there are in fact sentient rocks in Earth's center, which validates Saul.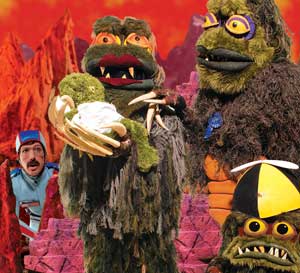 Saul's ship crashes on its way to the center of the Earth. He and the other castaways find "Mole Men" living where they crash. Photograph is TM & © 2007 Cartoon Network.
Josh Gardner, who plays Saul on the show, describes his character as "a gneiss guy." (You can see the kind of campy humor.) As Gardner sees it, Saul's obsessive nature is in keeping with the stereotype of geologists. "Of all the scientists, they seem to be the most focused on their field," Gardner says. Saul takes this to a ridiculous extreme. The sight of rocks perforated by the Mole Men literally sickens Saul. He decides that his mission is to lead the Mole Men "savages" toward a more enlightened attitude about rocks.
Matthew Kirby, an assistant professor of paleoclimatology at California State University at Fullerton, has been a friend of Gardner's since they attended Hamilton College together. Kirby watches every episode of his friend's show. "Very rarely is there a show where a geologist is made to look cool," he says. "…Not that Saul looks cool, exactly."
And what about Saul's much-maligned theory of sentient rocks? "What the geological community needs to understand is that if this theory is proven correct, it is going to change fundamentally how we understand Earth's interior," Kirby says with a grin. "But first Saul has to survive. We'll only find out about it if he makes it back and goes to an AGU meeting!"
New episodes of Saul of the Mole Men (11 minutes each) air at midnight starting May 12, as part the Cartoon Network's "Adult Swim" programming block.
Callan Bentley
Geotimes contributing writer