---
GEOMEDIA

---
Check out the latest On the Web links, your connection to earth science friendly Web sites. The popular Geomedia feature is now available by topic.
EXHIBITS: Pictures from the Edge: Polar-Palooza's Scientists Share Their Stories
BOOKS: Talking Fossils with the Authors of Cruisin' the Fossil Freeway
BOOKS: The Catskill Geologist Spins a Good Yarn
---
Pictures from the Edge: Polar-Palooza's Scientists Share Their Stories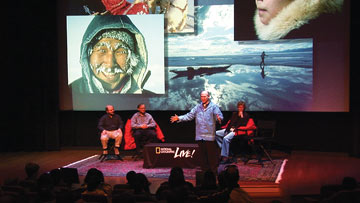 courtesy POLAR-PALOOZA
Geologist and whaling captain Richard Glenn, a resident of Barrow, Alaska, tells tales of the far northland and the people who live there at the National Geographic Society in Washington, D.C.
The last two years have marked a turning point for scientists trying to spread the word about changes in Earth's climate. The groundbreaking report by the Intergovernmental Panel on Climate Change and the success of the documentary An Inconvenient Truth — which together shared the 2007 Nobel Peace Prize — increased public awareness of global climate change issues by putting them squarely on the front page.
Nowhere is the impact of warming more visually evident than in the shrinking ice at the poles, says Waleed Abdalati, head of the NASA Goddard Space Flight Center's Cryospheric Sciences Branch in Greenbelt, Md. "Ice is binary — it's there or it's not," Abdalati says. "And lately, it's been not there. Anybody can look at that and say, 'Wow.'"
That straightforward visual message is one that Abdalati and about 30 other polar scientists are hoping to convey through Polar-Palooza: Stories from a Changing Planet, a multimedia and multi-scientist event that is currently touring the United States. In partnership with the National Science Foundation, NASA and the International Polar Year (which lasts from 2007 to 2009), Polar-Palooza is being brought to a city near you by Passport to Knowledge, an educational earth science outreach effort (which previously sent scientists and engineers out on tour with Marsapalooza).
Of the 32 polar researchers and Alaskan residents on the Polar-Palooza team, six different experts appear at each stop on the tour to share their stories, accompanied by images, video, sounds and even some props. "At each city, the team is unique," says Jackie Richter-Menge, chief of the Snow and Ice Branch of the U.S. Army Corps of Engineers' Cold Regions Research & Engineering Lab in Hanover, N.H. During the presentation, the researchers share different aspects of the same story, telling of Earth's history, its ice, oceans and atmosphere, as well as the polar bears, penguins, seals and people who live in these extreme but beautiful environments. "We're trying to get across a message," Richter-Menge says, "and we're trying to do it in a way that's not boring."
On March 13 and 14, the Washington, D.C., Polar-Palooza team consisted of Abdalati, Richter-Menge, Pennsylvania State University glaciologist Richard Alley, University of Alaska at Fairbanks marine biologist Mike Castellini and Richard Glenn, a geologist, whaling captain and resident of Barrow, Alaska. Moderated by science writer Andrew Revkin of The New York Times, the scientists described their firsthand observations of climate change at the poles, and showed photographs and video of majestic ice­scapes, scientists traveling across ice crevasses on dogsleds and charismatic penguins and other creatures. They also brought along some visual aids, such as sealskin hats, ice augers (handheld drills used by ice fishermen and scientists alike) and bulky red arctic parkas. After discussing the importance of ice cores to understanding climatic history and polar ice caps, Alley produced his pièce de résistance: a carefully transported core of Greenland's ice containing 130,000 years of climate history.
The team-presentation approach adds an important dimension, Abdalati says. "I give a lot of talks by myself, and I think they're okay," he says. By sharing a stage with the other speakers, however, "my 10 minutes feels like part of something big. You play off of each other. All of us are just really motivated by our subject matter, and our belief that it's very important to communicate that."
An already snowballing public awareness of climate change may be helping to draw large audiences to Polar-Palooza, Richter-Menge says. The increased interest is "really gratifying. I think three years ago I probably would have been talking to 10 people in the audience," she says. Yet the impact the traveling presentation itself will have on raising awareness "remains to be seen."
At each stop, the researchers stick around after the presentation to chat with audience members, answer questions and hear critiques. Penny Beevis, a nurse in Washington, D.C., who attended the March 13 event, says she told Richter-Menge that she appreciated that the message was easy to follow and largely jargon-free. "The main thing I would say is, I get it," Beevis says.
That reaction is gratifying for members of the Polar-Palooza team, who are hoping for similar reactions throughout the tour. "It's a communication effort," Abdalati says. "We want people to walk away with a few things: insight into the science, the recognition of its importance and the recognition that people are working really hard for the sake of society."
To see when Polar-Palooza might be coming to a city near you, visit passporttoknowledge.com/polar-palooza/.
---
Book review
Courtesy of
Fulcrum Publishing

Cruisin' the Fossil Freeway

by Kirk Johnson (author) and Ray Troll (illustrator).
Fulcrum Publishing, 2007.
ISBN 1555914519.
Paperback, $29.95.

Kirk Johnson met his first paleontologist when he was 12 years old. His mother had dropped him off at the Burke Museum in Seattle to spend some time with Wes Wehr, a paleobotanist and artist. "Wes was great. We spent hours together talking about fossils. I was lucky I got to experience all of these great fossils, plus I learned the secrets of finding fossils," says Johnson, a self-described "paleo-nerd" who courted girlfriends with fossilized plants.
Ray Troll didn't meet a paleontologist until much later in life. Instead, he collected dinosaur figurines and postcards of prehistoric animals. He found rocks in the playground and declared they were from undiscovered dinosaurs. But what Troll really liked was drawing dinosaurs. "I truly loved it. My first drawings were of T. rex, and I am still doing it 50 years later," he says.
Troll and Johnson first met at the Burke Museum in 1993, but not until 1996 did they began the collaboration that led to their recently released book, Cruisin' the Fossil Freeway. The book — mixing science, nuttiness, history and passion — details the pair's road trips around the American West in search of fossils big and small, famous and obscure, rare and common. Johnson, who is chief curator of the Denver Museum of Nature and Science, wrote the text and provided color photographs, while Troll, an illustrator best known for his warped, fish-focused and scientifically informed work, provided the drawings. "I am not a 'paleo-realist' but a 'paleo-surrealist,'" he says.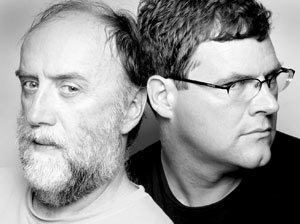 Courtesy of Fulcrum Publishing
Paleontologist Kirk Johnson and illustrator Ray Troll teamed up on Cruisin' the Fossil Freeway.
Written in first person, Cruisin' is accessible, fast-paced and informative, showing the rich history of fossil collecting in the American West, as well as an intriguing cast of past collectors. Johnson describes the trip as "cherry picking the best sites and best stories"; for example, while driving a heavily loaded, dark blue Ford F-250, they happen upon a cabin made of dinosaur bones, the Hell Pig, Archaeotherium, crocodile tracks and the occasional cheeseburger.
They also discover fellow fossil fanatics, each characterized by the disease "Isolated Paleo-Nerd Syndrome," or IPNS, for short. "When two IPNS sufferers m[e]et, their conversation speeds up and they fall into a rapturous state, finally able to lapse into paleo-speak without fear of being ostracized," Johnson writes. Troll and Johnson's interactions with fellow IPNS sufferers provide some of the highlights of the book, especially their encounters with "Buck-a-bug" Jimmy Corbett; Robert Harris, the "King of Trilobites"; and Lace Honert, who married her husband for his "localities," or familiarity with fossil-rich sites.
Cruisin' the Fossil Freeway is a good read for anyone who cares about fossils. You won't find detailed science or a fossil-finding guide, but you will find inspiration, passion and stunning and fun illustrations.
Johnson and Troll recently sat down with freelance writer David Williams to talk about their experiences.
DW: You two are those kids who never outgrew your love for fossils. Why do kids outgrow that love?
RT: It's amazing how teachers can make science dull. We don't keep feeding kids the science bug and there is too much dumbing down. Kids can use Latin. Look at all the names they know. When they learn to say and spell it, they own it.
KJ: Kids like dinosaurs in a way so bizarre that we don't know why. They lose it at puberty. We have to create an interest and wonder. Kids have to experience finding stuff. Once you learn the secret of finding fossils you don't ever want to quit.
DW: What were the highlights of your road trips?
RT: Finding my first bone. It was a Plesiosaur. I had this vibe and said to Kirk "Stop!" He let me get out and there it was. Of course, Kirk didn't let me keep it.
KJ: Finding the iridium layer [from the Chicxulub impact 65 million years ago] in North Dakota. I had been looking for the contact for 20 years and had about given up. I was showing Troll an outcrop and there was the layer. It had the round beads of glass formed by the cooling of droplets of molten rock that the meteor generated.
DW: What's the big picture of the book?
KJ: Fossils are everywhere, if you know where to look. Every road cut asks a question. Now that we've finished the book, I would change the focus a bit. There is so much bad science out there on climate change, evolution and the age of the Earth that I would have been more methodical in making these elements central to the narrative. These three topics are the key nodes of the anti-science movement, and anything that makes the huge and obvious science behind them more palatable to more people will be a step in the right direction.
DW: Do paleontologists take themselves too seriously?
KJ: Putting someone in jail for collecting fossils is bull. No, you shouldn't loot fossils. There is a rogue commercial element of bad players but there is also an over-pious side that says all fossils belong to science. Amateurs have done lots of good. We all share a common language; it's what unites the paleo-nerds.
---
Book review
Purple Mountain Press

The Other Side of Time

by Robert Titus.
Purple Mountain Press, 2007.
ISBN 1930098820.
Softcover, $15.00.
The students of Hartwick College in Oneonta, N.Y., know Robert Titus as a geology professor. But to the average resident of the Hudson Valley region in New York, he's better known as the "Catskill Geologist." He's earned that title by writing numerous articles for the regional magazine Kaatskill Life and three local newspapers. For the past 17 years, he's provided his readers with a window to the past, introducing them to the area's ancient, ever-changing landscapes and explaining the geological forces that have shaped the region.
Being a popular writer is not something Titus ever planned on. But writing, he says, has become a fun, creative way to share his passion of geology with the general public and an effective way to generate interest in the discipline. Now after writing more than 300 articles, Titus has gathered together his favorites for his new book The Other Side of Time.
Written in first-person with a conversational tone, the articles in the book cover both geology and nature as well as how geology has affected local culture and history. A good read for geological experts and novices alike, The Other Side of Time will likely have many wishing they too called the Catskills home.
Titus recently spoke to Geotimes reporter Erin Wayman about the book and life as a geology columnist.
EW: How did you get started writing for the public?
RT: It was very much by accident. The Catskills had a new regional magazine called Kaatskill Life. I subscribed for awhile and they covered natural history, so I thought "Oh, maybe they'd like to have a few articles on Catskills geology." I wrote a few up. I expected I would get a rejection slip in the mail. Instead, they called me up and invited me out for lunch [laughs]. They were very interested and put me on the team. I've been writing for every issue ever since.
EW: Being an academic, was it difficult to write for a lay audience when you first started?
RT: It's a funny thing. I took to it. I really found that I enjoyed writing at that level because it gave me a chance to express my feelings about geology in a way that you can't do in a professional journal. There's a lot of geology that is simply not suited for professional journals.
EW: Can you give me an example?
RT: Our hometown of Oneonta is exactly the way it was at the end of the ice age. All of the deltas, all of the terraces and all of the lake deposits are exactly as the glaciers left them. That's a marvelous thing, but perfectly unsuitable for a professional article. I wrote an article called "Ice Age Ghost Town." For the general public, it was wonderful to learn that Oneonta was just exactly as it was when the last bit of ice melted.
EW: Do you find that your readers are unaware of the topics you write about?
RT: Yes. My book on the Catskills during the ice age was regarded by a lot of people as virtually an epiphany. We have great ice-aged lakes around the Catskills; no one knew anything about them. It was almost sinful that this was not more widely known.
EW: Where do you get inspiration for your articles?
RT: I keep the hard disk of my computer filled with ideas. And I sit down and I'll start working on an article and sometimes it just essentially writes itself. The Muse really does exist and she really does speak to me. Other times the article just really doesn't work out. There are just so many interesting avenues to pursue.
EW: What's the hardest part about writing these stories?
RT: Of course, keeping up with the deadlines. Deadlines, deadlines, deadlines. [Laughs.] Being that I write for four publications, there's always a deadline. It has to be done; you can't go to the professor to ask for an extension.
EW: What led you to publish The Other Side of Time?
RT: The sad thing about being a newspaper writer is that once the newspaper is a week or two old your work disappears into oblivion. And I did have a lot of articles that I was very fond of and I wanted a place that would be far more permanent for them to be, so the book was just the natural thing to do. It's a way of generating interest in geology beyond the newspapers and magazines.
EW: Before you started writing for Kaatskill Life, was writing something you enjoyed doing?
RT: [Laughs.] No. All my professors in college said I was a lousy writer. They're astonished; I'm astonished. There was a lot of geology inside of me that I didn't know about and a lot of approaches to geology that I didn't know about. And it comes out in the creative juices of writing.
EW: Do you have any advice for other geologists who might want to follow in your footsteps?
RT: I think I am on to something. I think a geology column sounds like a preposterous notion, but it has worked out so well. What if there were scores of people like me all across the country? Can you imagine what an enormous benefit that would be to the whole science of geology? Can you imagine how difficult it would be for creationists to attack us when many of the local papers were publishing fascinating articles on local geology that people could read about and then go out and look at the rocks and learn for themselves? I urge people to try to follow in my footsteps. I hope people will.