---
DOWN TO EARTH WITH...: News about people from AGI and its 44 member societies
---
Archive of past profiles stories by date
---
Don Paul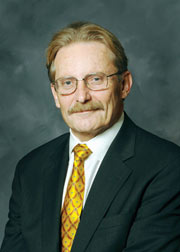 Courtesy of Chevron
In 1975, Don Paul joined Chevron as a research geophysicist. In 2001, he became the company's chief technology officer. In that role, Paul helped set the company's technology course over the past decade. After more than 30 years of watching the ups and downs of the oil industry, Paul will retire this year. And as he and his fellow retiring baby boomers leave a gaping hole in the workforce, Paul says there's never been a better — or more crucial — time for students to enter the geosciences. Paul talked with Geotimes reporter Erin Wayman about his past and the future of energy.
EW: What drew you to geology?
DP: Earth's history is something I was interested in as a young boy. I really evolved to thinking about it more professionally when I got into graduate school, although when I began I wasn't thinking about the oil business.
EW: What did you think you would do?
DP: I thought I would probably end up working at a national laboratory like Los Alamos [National Laboratory in New Mexico].
EW: Why did you choose the oil industry instead?
DP: I had some graduate student friends who had gone to work for Chevron and seemed to like it very much. The second [factor] was that the kind of role I would have played at Los Alamos would have been as part of nuclear weapons design, and I wasn't sure I wanted to do that. At Chevron, I started in the research laboratory, but in pretty short order I wanted to get out into the operating companies, because it seemed to me that's where things were happening. That changed my worldview of what I wanted to do. I think that's the nature of many people's careers. I've never been successful predicting my next job. Not once. But that turned out to be fine.
EW: How has the oil industry changed since you started at Chevron?
DP: When I came into the industry in the mid-70s, there was the formation of OPEC and then the oil boom of the '70s and early '80s. That gave way in the mid-80s to an oil crash. And then the restructuring of the whole oil industry. One of the things that happened in [the early '80s], which was very important but not noticed so much at the time, was that the [information technology] revolution was really beginning to surface. It was just beginning, but the industry as whole, which had always been dependent on computers for very specific things like seismic processing, really moved aggressively to stay on the IT curve and I think that ultimately allowed the industry to raise its productivity enough to endure as oil prices collapsed.
The other thing that occurred in the mid-80s, in part because of the low oil prices, was the large scale globalization of the oil business, where countries opened up access to their resources and brought in multinational companies as partners to help them bring capital and technology to develop those resources. And then you had consolidation and mega-mergers as well as the rise of strong regional, independent companies, particularly in Canada, the U.S. and the U.K. In this last decade, you're seeing people look at more challenging, more diversified sources of energy — oil sands, biofuels — all of these things are a part of the evolution. There's always been change, but the one constant is the world continues to need fuel and at increasing volumes, particularly with the growth of economies in Asia.
EW: What sources of energy do you think will be most important in the future?
DP: My one word answer is: All. You're going to need every source to make fuel and electricity. Oil, gas and coal will continue to be essential, even dominant. But you will see material growth in renewables, including biofuels, and non-traditional energy sources like oil sands.
EW: What are some of the challenges the geosciences face in the future?
DP: Encouraging people to consider it as something to study. In general, universities do not teach geology to a broad cross-section of the student population. The challenge is: Can you ramp up the interest in earth science so that there is a broad understanding of it? There are some very important societal decisions to be made about how land is used, how natural resources are developed or not, how you manage the overall environmental health of the oceans, the atmosphere and all earth systems. Potentially everyone is impacted and it would be great if society at large had more knowledge about it. If society is better educated, then I think we have a better chance of making the right decisions. This will create an encouraging environment for students who have the individual interest and aptitude to follow that and provide the key rejuvenation of the talent pool that we're going to need over the next 10 or 15 years.