---
Profiles: News about people from AGI and its 43 member societies
---
Archive of past Society Page/Profiles stories by date
---
Ernie Mancini: Bridging oil research and politics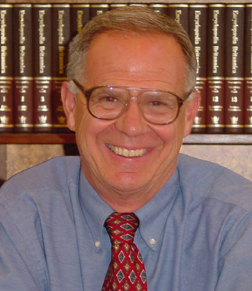 On the campus of University of Alabama, Tuscaloosa, between Sixth Avenue and Hackberry Lane, a cluster of buildings houses the state's geoscience resources. Smith Hall houses fossils, minerals and other state treasures of the University of Alabama's natural history museum, while across the way, W.B. Jones Hall contains the Geological Survey of Alabama and the State Oil and Gas Board, including the state's geological and oil and gas archives. Further down Hackberry Lane, the Bevill Research Building is home to the university's geoscience students and professors.

Ernie Mancini has walked back and forth among these buildings and the pursuits that they represent in a variety of positions, often combining both in his work as an educator and as Alabama's state geologist, in a career that has lasted some three decades. In honor of his career as an educator and in public service, Mancini received the Ian Campbell award this month, the highest honor from the American Geological Institute (which publishes Geotimes).

Mancini worked for the Geological Survey of Alabama for 14 years, guiding both it and the State Oil and Gas Board from 1982 to 1996. The state began to benefit from gas production in its coastal waters during his tenure and now gets millions of dollars a year from oil revenues. While Mancini was director of the board, Alabama also adopted regulations for coalbed methane extraction, which has become a major source of revenue for the state, he says.

Serving as state geologist led Mancini to involvement in the Association of American State Geologists, for which he has been president. "He has been involved in the national scene, dealing with Congress, both as part of the state geologists' group and his job," says Larry Fellows, Arizona's state geologist. Mancini, Fellows says, is not pushy, and is "a no-nonsense guy" who "gets things done."

But after 14 years with state agencies, Mancini says he wanted to expand his "knowledge of geology beyond the state boundary." So he returned to full-time teaching and research in 1996, which also fulfilled another desire: assisting graduate students in the same way that past professors and colleagues had mentored him.

Mancini, who as an undergraduate started out as pre-med at Albright College, in his birthplace of Reading, Pa., was turned on to ecology by his first advisor. "I got involved in undergraduate research involving the hibernation of bats and the home range of field mice," he says, under his professor John Hall, who gave him a copy of the first textbook on paleoecology. From there, Mancini moved to vertebrate paleo-ecology — mammals and reptiles — in which he received his master's degree in zoology at Southern Illinois University in Carbondale.

But it was the paleoecology he learned at Texas A&M University for his Ph.D. dissertation that set him on the path to his future work. Focusing on invertebrate marine paleoecology and stratigraphy, Mancini did fieldwork in Alaska for Cities Service Oil Company, assessing oil and gas potential onshore and offshore. "That's what I've been doing ever since," he says.

Some of Mancini's fieldwork, past and present, has been done with his colleague and friend Charlie Smith at the University of Alabama. "Ernie is very broad-based," Smith says, and "very experienced."

Now director of the Center for Sedimentary Basin Studies at the University of Alabama, Mancini has academically "fathered" four doctoral students, with four in progress and another candidate to arrive next year. His students have gone to academia and industry, as well as abroad. While he was state geologist, Mancini continued supervising graduate research projects and teaching at the University of Alabama, but he had time to work with only one Ph.D. student. "You cannot devote the time required for Ph.D. students when you are state geologist," he says.

"He's very good at teaching to many different levels, from undergraduate to graduate," says Will Parcell, a former student who is now an assistant professor at Wichita State University in Kansas. "By his actions, he demonstrated what is needed to succeed in the discipline."

Mancini says his return to academia also came from a desire to get back to basic research in oil and gas. As state geologist, he faced a paradox: "The Geological Survey is charged to encourage the development of the natural resources of the state of Alabama," he says, for oil, gas, coal, minerals and more. But the State Oil and Gas Board regulates the petroleum industry. "Wearing a regulatory hat," he says, limited his research opportunities in oil and gas.

Trying to balance those responsibilities, he says, partly "raised the question of who is the advocate for oil and gas development?" While supervising oil and gas, Mancini had to step back and hope industry would take the advocate role. Now, as an academic researcher and a regional director for the Petroleum Technology Transfer Council, he can actively support industry and resource development in the Gulf Coast region.

Mancini's current fieldwork in Texas, Louisiana, Wyoming and Montana includes research into extending the production life of oil fields, among other topics. After meeting Mancini in the 1960s and later spending several years in the field with him, as well as more than three decades working together, Smith says, "I've never met anyone quite like him. I'm 67, and I've met quite a few people in my career. Ernie, he just stands out."
Naomi Lubick

Back to top

---