---
Profiles: News about people from AGI and its 44 member societies
---
Archive of past Society Page/Profiles stories by date
---
Mark D. Myers: Politics, pipelines and permafrost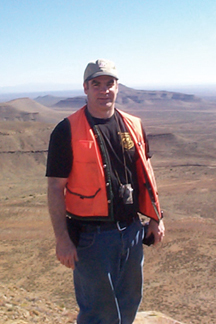 After 23 years in Alaska, Mark Myers, the former head of the Oil and Gas Division of Alaska's Department of Natural Resources (DNR), is heading back down to the lower 48. On Sept. 15, the U.S. Senate confirmed President Bush's nomination of Myers to be director of the U.S. Geological Survey (USGS).
Mark D. Myers, former director of Alaska's Division of Oil and Gas, is the new director of the U.S. Geological Survey. Photograph is courtesy of Mark D. Myers.
"I love Alaska," Myers says. "But this is an incredible opportunity."
Myers has spent more than two decades in the Last Frontier state exploring and mapping Alaska's structure and stratigraphy. He first visited Alaska as an undergraduate at the University of Wisconsin in Madison, when he took a summer geology field course to the Yukon and Alaska. "I fell in love with this part of the world," he says. After earning his bachelor's and master's degrees in geology at Madison, he searched for a way to return to Alaska, he says, eventually taking a position as a petroleum geologist with Atlantic Richfield Oil Corporation (ARCO).
ARCO, however, initially sent him to Louisiana — which wasn't all bad news, he says: "I met my wife there." Less than two years later, he was transferred to Alaska, where he surveyed and explored the most remote parts of the state for the company. In 1987, he left industry to pursue a Ph.D. in geology at the University of Alaska in Fairbanks.
In 1990, he began work as a petroleum geologist for Alaska's Division of Oil & Gas, where he worked for eight years, while also completing his dissertation in 1994. The lure of working with the latest technology drew him back to ARCO for a few years, he says, but in 2000, he again returned to the Division of Oil & Gas — this time as director of the division, which includes the Alaska Geological Survey.
Being director of USGS, the country's largest geological survey, is a monumental task, says David Houseknecht, a geologist with USGS who studies the North Slope (see story, this issue). "When Mark first called me and told me he had been approached for the job, my question to him was: Are you out of your mind?" Houseknecht says, laughing. "But he thought very deeply about it, and decided that he can make a positive impact at USGS."
During his tenure at the Alaska Division of Oil and Gas, Houseknecht says, Myers brought in "more of a research flavor." He incorporated cutting-edge technologies and hired new highly trained personnel with experience in sequence stratigraphy, structural geology and 3-D seismic data interpretation and analysis.
"What he brought to the job in Alaska was a great enthusiasm and understanding of the science," Houseknecht says. That should translate well to Myers' new role in Washington, he adds. "He has a very down-to-earth way of communicating scientific information that will have a lot of appeal on the Hill."
Myers faces concerns, however, from some conservationists and environmentalists worried about his impact on the development of the Arctic National Wildlife Refuge (ANWR). Pamela Miller, the Arctic coordinator for the Northern Alaska Environmental Center in Fairbanks, points to Myers' past support for drilling in ANWR. Myers' approach to the issue may be scientific, coming "from his expertise in geology," she says, "but if you look at the refuge only in the context of geology, you miss the big picture of what's at stake there."
Myers' supporters, however, point to his reputation for scrupulous honesty, and say that he will uphold USGS' role as an objective science organization. "Anyone who is concerned about him being politically influenced and bringing a bias to USGS need only look at the history of the last year," Houseknecht says.
In October 2005, Myers resigned from his director position in protest over Alaska Gov. Frank Murkowski's (R) dismissal of Tom Irwin, commissioner of the Department of Natural Resources, who was critical of the governor's proposed contract with oil companies BP, ConocoPhillips and ExxonMobil to build a natural gas pipeline from Alaska's North Slope (see story, this issue). He and six other officials who also resigned maintained the contract was not good for the state. "I cannot continue as Director and watch silently as the state's interests are undermined," Myers wrote in his resignation letter, alluding to the governor's rejection of proposals by other companies that may have offered better terms for the state.
"Mark is unwaveringly ethical," Houseknecht says. He "understands that this new job is one of directing an objective and unbiased science agency — and will not let politics interfere with that."
Miller says that she agrees that Myers' reputation for honesty is reason for cautious optimism. "I've always gotten the impression that he's a straight-shooter — he tells it like it is," she says. "And from that standpoint, he's a man of great integrity."
Myers, meanwhile, says that he is excited at the prospect of focusing again on research, rather than advocacy, and at finding ways to stretch the USGS budget to acquire and provide that science to the policy-makers. "It's no longer my position to advocate," he says.
Myers adds that he is looking forward to expanding his geological background to include new fields, such as hydrogeology and even biology. "I'm delighted with that," he says. "The survey has so many amazing missions — I'll be like a kid in a candy store."
Carolyn Gramling
Links:
"Sizing Up Oil on Alaska's North Slope," Geotimes, November 2006 Print Exclusive
"Which way should the gas go?" Geotimes, November 2006