---
Geomedia
---
Geotimes.org offers each month's book reviews, list of new books, book ordering information and new maps.

Check out this month's On the Web links, your connection to earth science friendly Web sites. The popular Geomedia feature is now available by topic.

Q&A:
Straight from the Source: Simon Winchester: Writing from geology's front lines Print exclusive

Books:
Who said geology had to be boring?: A review of Never Piss Into the Wind
On shaky ground: A review of A Crack in the Edge of the World


---
Book review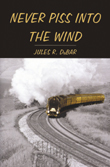 Never Piss Into the Wind
by Jules R. DuBar.
PublishAmerica, 2004.
ISBN 1 4137 1970 8,
Hardcover, $24.95.
Who said geology had to be boring?
Gretchen Sproat
As an undergraduate student in geology, it was refreshing to get a firsthand account of what it is like to be a field geologist from Jules DuBar. In his autobiography Never Piss Into the Wind, DuBar takes a no-holds-barred look at his long career studying coastal deposition in South Carolina. From his tales of playing poker with a young field assistant at a local Elks club to department politics at the University of Houston, the book is one entertaining vignette after another.

Each tale of heading out to study the coast of the southern United States illustrates another aspect of working in this field. Everyday living on limited funding is illustrated through a story in which DuBar explains to his field assistant that food and lodging is limited to $10 a day in a South Carolina workstation. Other stories are filled with experiences looking for the ultimate bowl of chili and beer and dealing with vehicles along back roads. Throughout, DuBar tells us about his life with humor and, in the process, shows us the varied sides of geologists.

DuBar's stories impart what textbooks cannot — the entirely human aspect of the geological sciences. In his stories of working in the field, the mayhem, good times and hard work intermingle with rather touchy situations, such as dealing with the mandates of administrators and with wayward students. It is clear that an understanding of how to deal with people is imperative to survival both academically and personally.

While geologists primarily study Earth, studying people could be said to go hand in hand with their work. It starts with relationships between professors and students and continues through a career as colleagues and acquaintances are met along the way. Field exercises and the occasional conference allow for the opportunity to meet and interact with new people.

For both the geologist and the layperson, DuBar's book is an absolutely delightful ramble. For the student geologist, the book is a relaxing read that begs the question: "Is my chair going to break from my laughing so hard?" For the nongeologist or later-career geologist, the book introduces one remarkable personality that some would call colorful, to say the least.

Anyone who enjoys hearing a good tale and who thinks that a scientist has a boring life or just hides in a room and looks at samples will benefit from this book. Never Piss Into the Wind requires little knowledge of geology to understand the basis of the story — only an interest in understanding humanity.
---
Sproat is a senior geology student at Clarion University of Pennsylvania. She is studying paleontology and sedimentology.


Back to top
---
Book review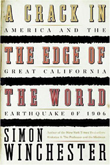 A Crack in the Edge of the World: America and the Great California Earthquake of 1906


by Simon Winchester
Harper Collins, October 2005.
ISBN-10: 0 0605 7199 3.
Hardcover, $26.95
On Shaky Ground
Naomi Lubick
When Simon Winchester sets out to describe something, his story is almost as complete as the Oxford English Dictionary (OED). His new book, A Crack in the Edge of the World, seems to describes the Great Earthquake of 1906 that devastated San Francisco as completely as possible. Sometimes that burden of facts — from tidbits to necessary theories — becomes overwhelming.

Winchester has described in great detail the intricate historical circumstances of a great many things, from the creation of the OED in his book The Professor and the Madman to the eruption of Krakatoa in his book of the same name (see story, page 52). As a geologist and writer, I enjoyed reading Winchester's The Map That Changed the World, his biography of William Smith and "modern geology," and I found the OED history quite entertaining — but that may be because I'm not a lexicographer.

Crack is essentially a history of the world, of humans and of geology, and finally of the Great Earthquake. Winchester rightly situates the beginnings of what he calls the New Geology, based on plate tectonics and present-day understanding, with the 1906 event.

If you are a geologist and a closet historian, reading Winchester's book on the San Andreas Fault, and the earthquake, can be fun for the cultural history he provides (a lot was happening in 1906, following on the heels of Einstein's groundbreaking physics papers to Freud's Interpretation of Dreams). If you are not a geologist, the geology descriptions will be more fun than textbook reading. Still, I have a hard time deciding whether or not Winchester's geology lessons would help or hinder a lay reader. Sometimes, too much jargon makes them seem as though they would be difficult (Winchester is a geologist by training), and sometimes, his poetic descriptions seem to take too much literary license to the point that they would make no sense to an average reader.

Winchester's stories can be like Gobstoppers: concentric rings of ideas, events, people's lives — everything but the topic that he purports to describe until hundreds of pages into the book, and by then the candy center may be slightly disappointing. Crack began to feel a bit tedious after awhile. When I finally got to the earthquake, I felt slightly teased by all the little details Winchester used to set up the state of San Francisco in 1906. Did you know that Sun Yat-sen, writer of China's post-revolutionary constitution lived in San Francisco's Chinatown? Or that "hoodlum" was coined in San Francisco? Neither did I, and I'm not sure I wanted to, but Winchester somehow ties it all into the San Andreas Fault. Even Meteor Crater in Arizona makes it into this book.

Still, Winchester hits everything important, even if it is a bit muddled: the Chinese immigration wave and subsequent xenophobia in San Francisco that led to discrimination and disaster in Chinatown after the quake; the hodge podge (or gallimaufry, to use a Winchesterism) of development during the Gold Rush that led to faulty water and gas lines that contributed to the Great Fire; and, of course, the orientations of the continents through time, from Pangea and Gondwanaland to the less familiar Kenorland.

Winchester also describes some current science. The San Andreas Fault Observatory at Depth (SAFOD) and the Dec. 26, 2004, tsunami get good play. Although the book was completed before the SAFOD drill crossed the fault (see Geotimes Web Extra, Aug. 12, 2005), Winchester does an interesting profile of the project.

If Crack is the only book you read about San Francisco's earthquake, you might walk away not wanting to read more. But now that the 100th anniversary of the Great Quake is almost upon us, it may be worth revisiting Bruce Bolt's book on Earthquakes and Geological Discovery, or Michael Collier's A Land in Motion, or from a historian's perspective, an out-of-print tome called Denial of Disaster that contains original research on how the fire outshone the earthquake, so to speak, and how people perceived the destruction of San Francisco.
I highly recommend A Dangerous Place: California's Unsettling Fate, by Marc Reisner, the author of Cadillac Desert, published posthumously in 2003, in which he imagines the Big One striking San Francisco today. Also try Thurston Clarke's California Fault: Searching for the Spirit of a State Along the San Andreas, published in 1997, for an interesting tour of the places and people shaped by California's tectonic setting.

Winchester's own tour of the San Andreas Fault is essentially a journey through America, from the beginning of geologic time to the present, with some important events highlighted from the early 1900s. The meat of the book is framed by a vague travelog of Winchester's journey through a foreign country (he is British, and some of his judgments of small-town America, for example, can be rather harsh), on his way to describing the San Andreas Fault. And although Crack might be boring and frustrating at times, the payoff of Winchester's descriptions of the Great Earthquake is worth sticking it out.
---
Lubick is a staff writer for Geotimes.

Links:
"Drilling project finds fault," Geotimes Web Extra, Aug. 12, 2005.
"Banking on earthquakes," Geotimes, July 2005.
"Krakatoa," Geotimes, October 2003.
"Searching for the Map," Geotimes, October 2003.

Related Story:
"Simon Winchester: Writing from geology's front lines," Geotimes, October 2005. Print exclusive


---