---
DOWN TO EARTH WITH...: News about people from AGI and its 44 member societies
---
Archive of past profiles stories by date
---
Geologist Sarah Gaines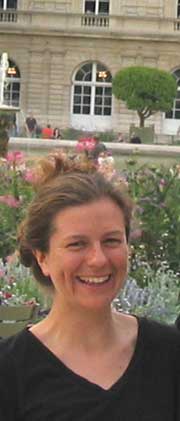 Sarah Gaines
Geologist Sarah Gaines, a member of the Army Corps of Engineers, is one of only 10 young researchers from around the world chosen in 2007 to participate in UNESCO's Young Professionals program. Gaines headed to UNESCO's headquarters in Paris in September to begin her year-long fellowship.
Geologist Sarah Gaines received an impressive distinction this summer: She discovered that she is one of the few earth scientists (and Americans) to receive a United Nations Educational, Scientific and Cultural Organization (UNESCO) Young Professional fellowship in the fellowship program's more than 40-year-long history. The fellowship program is open to young (under 30 years old) candidates from around the world with backgrounds spanning the sciences, social sciences, communication, education and culture — but so far, Gaines says, few earth scientists have been aware it exists. The 10 fellows, who are chosen annually in a global competition, receive a one-year contract to work at the UNESCO headquarters in Paris, France.
Gaines, who left to begin her fellowship in Paris in September, talked with Geotimes' Carolyn Gramling about why she and the UNESCO fellowship were a perfect fit.
CG: How have your career goals been evolving since your undergraduate years?
SG: I was an undergraduate at Princeton, where I got a degree in geology. But I really wanted to live abroad. After graduating, I got a position in South Africa at the University of Cape Town, working as a lecturer, and while I was there I earned a master's degree in Quaternary science. I was there for two years, studying paleoclimatology and geomorphology.
CG: You're currently employed by the Army Corps of Engineers (at the San Francisco office). How did that come about?
SG: Paleoclimate work is really interesting and relevant, but I wanted to see the direct results of my work. I wanted to do work that had a human impact in my lifetime, and the Corps was a surprising fit. They do a lot of interesting work that ended up being pretty great: I worked for them as an environmental planner, and have done work at the Cold Regions [Research and Engineering] Laboratory, where they have the remote sensing center. I worked on delineating wetlands and using different technologies to think about them, and then went out into the field to delineate them for conservation.
CG: Why did you pick the UNESCO Young Professionals fellowship?
SG: I've always been attracted to the United Nations — I really like that it's an organization dealing with culture as well as science, that it's constructed through mutual understanding of cultures as well as science and education. They have this great mission statement about how "wars begin in the minds of men." Everyone I've talked to about this program has been surprised to hear that there are positions for geologists at UNESCO, but they have major programs: managing water resources, man in the biosphere, energy. There's a lot of stuff.
CG: Did you apply for any other fellowships?
SG: This is really the only one, because UNESCO was a pretty unique fit for me. The trick was to find a way to do socially responsible science at an international scale. I wanted to try to find ways to make that work, to use good science and solve problems, but finding my way to it was a little tricky.
CG: What will you be doing during your time in Paris?
SG: There's a little bit of flexibility, but I was hired under the Natural Sciences Sector, in the Division of Ecological and Earth Sciences, as an assistant program specialist. What they were interested in was people with a combination of academic background, work related to climate and climate change, and then the practical experience dealing with environmental management and resource management. They said specifically they're interested in people with experience in water resources, and my research has been the geologic history of water. I'll probably end up doing quite a bit of work mapping landscape responses to climate change and human action.
CG: So what do you hope to do next?
SG: It's a one-year program, and then in theory I'd be offered a permanent position with [the United Nations]. These programs are one of the best ways to get into the system — most of the U.N. and World Bank-type organizations have young professionals programs. I'm going to see how the year goes and what I think of it. I like the idea of going back for a Ph.D. but I haven't settled on a focus. But I want to keep the practical side active.