Subscribe

Archives

Classifieds

Advertise

Customer Service

Geotimes Search
---
---
---
DOWN TO EARTH WITH...: News about people from AGI and its 44 member societies
---
Archive of past profiles stories by date
---
Seismologist Brian Tucker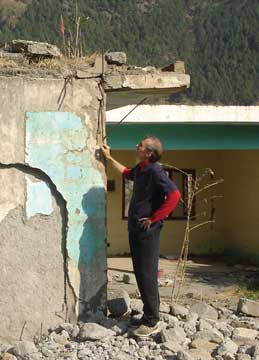 Sikander Ajam Khan
Brian Tucker examines an earthquake-destroyed building in Balakot, Pakistan, in November 2006. Tucker's nonprofit organization, GeoHazards International, seeks to help reduce or prevent such destruction from natural hazards in developing countries.
Seismologist Brian Tucker, a graduate of the Scripps Institution of Oceanography in La Jolla, Calif., spent nearly 10 years as a state geologist with the California Geological Survey (earning a master's degree in public policy from Harvard University along the way). In 1991, however, he left the survey and founded GeoHazards International (GHI), a nonprofit organization in Palo Alto, Calif., that collaborates with concerned governments and citizens in earthquake-vulnerable communities in developing countries to initiate natural hazards safety projects.
For his work, Tucker has won many awards, including a 2002 Macarthur Fellowship and a 2007 George Brown Award from the U.S. Civilian Research and Development Foundation, which he will receive in Washington, D.C., in October. He talked with Geotimes' Carolyn Gramling about GHI's work, traveling the world and how to spend a Macarthur "genius grant."
CG: Why did you create GHI?
BT: I was very happy in the California Geological Survey; I thought it matched my skills and interest in applying earth science to public policy and making communities safer. But I thought the biggest contribution would be to apply these things to where the need is far greater.
While I was finishing my Ph.D., I spent a couple of years in Tajikistan doing research, and I saw what earthquakes could do in a place other than Southern California. There, the buildings are thick-walled, thick-roofed adobe structures, and it was obvious how much more vulnerable that kind of construction is compared to the single-story wood-framed homes found here. Because I traveled back and forth over those years, I had the opportunity to travel in India, Afghanistan, Iran, Greece and even Peru, and saw that millions and millions of people lived in those conditions. Later, when I was head of geological hazards at the California Geological Survey, I thought it might be possible to adapt and apply the land-use and structural engineering techniques, as well as public policy messages, to the most vulnerable parts of the world. And those two things came together in my mind: The biggest need was not in California or Japan, but in these communities.
CG: One of GHI's primary focuses seems to be on school retrofitting.
BT: Yes; we found that throughout the world, when told their schools might collapse, people will not only want the government to spend money but will also volunteer themselves to work or donate money. School earthquake safety is a way to start telling people about the threat of earthquakes in their community, and to spur people to action.
CG: Why do you consider the Kathmandu project (from 1996 to 1999) your biggest success so far?
BT: The local nonprofit organization we worked with really took off. One thing we had learned by the time we took on that project was that it was critical to find a local organization that was honest and competent and would carry on the work after we left. [In Nepal,] we were lucky to work with the National Society for Earthquake Technology, and they are just fantastic. There were many things I was proud of about that project: training masons [to build more structurally resistant buildings], retrofitting schools, raising awareness among government officials. But the thing that will really make a difference is the creation of that wonderful group of people who are still continuing the work.
CG: You've said funding is one of the biggest hurdles. Did you use your Macarthur genius grant to help with that?
BT: Those grants are just made to an individual, so I couldn't give it to my nonprofit. But I used the funding in a way related to my work: My wife took a leave of absence from her job and we took the kids out of school and they spent a year on the road with me, traveling around the world to these countries.
CG: What new projects are you starting up now?
BT: One thing we're really excited about is a collaboration between the United States and Pakistan. We've assembled a team of U.S. structural engineers … who are teaching seismic retrofit methodologies to their counterparts in Pakistan. We want to work there, not just because of the obvious earthquake risk and that earth science and structural engineering are lagging behind there, but also because of the political climate, and the chance to foster goodwill. When I visited the area in the north, where an earthquake occurred in [October] 2005, I was with a Pakistani architect who told me the safest place in Pakistan for an American is up there, because it was here that the Chinook helicopters came and delivered relief after the earthquake.
Negotiating politics and economic frustrations in other countries can be tiring and annoying, but it's really fascinating to see how different communities are organized and what are the factors that are important to develop a country so that children can have a better life than their parents — which we take here as kind of a given.