August 28
Climate change report reexamined
August 22
Looking for life in the Atacama Desert
August 19
Fast earthquakes break speed limit
August 14
Greek Islands blasted with strong quakes
August 11
The Hawaiian hotspot debate: an update
August 4
On Exhibit: Gems at the Bruce Museum

Webextras Archive

News Notes
Greenspan calls for gas imports


Homestake washout
Open house informs public, cheers scientists
Mars Express for geologists
Tertiary acid rain survivors
China fills Three Gorges Dam
Making mountains from a molehill

Geophenomena
Montserrat: Measuring an ozone-depleting volcano in the Caribbean

Technology
Robot Maps Coal Mine in 3-D
Meet Groundhog: a 1,600-pound autonomous robot designed to map abandoned coal mines in 3-D and save lives in the process.
Tim Palucka

Comment
Geosciences and the Future of Environmental
Research at NSF
The geosciences must take an integrated approach to research in order to help decision-makers and society maintain a healthy planet.
Margaret Leinen

Political Scene
A Geological Path to City Hall
How one exploration geologist bucked the trend and became mayor of Denver.
Larry Kennedy

Geologic Column
Is There a Doctor in the House?
Geology and medicine are surprisingly and inextricably linked.
Lisa A. Rossbacher

Profiles
Kathryn Sullivan: It's about the journey

Energy & Resources
Mineral Resources of Peru's Ancient Societies
The survival of ancient Peruvian societies hinged on their understanding and wise use of local mineral resources.
William E. Brooks



Check out this month's Energy Notes!

Geomedia
Sea Legs: Tales of a Woman Oceanographer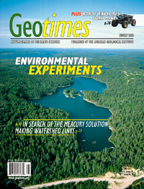 ON THE COVER
Aerial view of Experimental Lakes Area Lake 302 located on the Precambrian Shield of northwestern Ontario, approximately 250 kilometers east of Winnipeg. It is one of 58 small lakes that the Canadian and Ontario governments have set aside since 1968 for use in ecosystem-scale experiments and long-term monitoring. While Lake 302 was the site of eutrophication experiments in the 1970s and later for acid-rain experiments, other lakes have served as sites for research on contamination by metals, such as mercury. Read story. Photo provided by John Shearer, Experimental Lakes Area.
Coming Soon...
September: Diversity in the geosciences
October: Rebuilding Iraq
Visit our searchable archive.