SOILS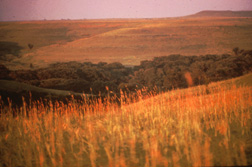 Tracking Farmland Loss
Urban growth in the United States is happening on productive soils that once were or could be farmland.
Egide L. Nizeyimana, G.W. Peterson and E.D. Warner

Storing Carbon in Soil: Why and How?
Boosting a soil's capacity to store carbon could increase crop productivity and improve environmental quality.
Charles W. Rice

Coming Soon...
February: Geology careers in national security
March: Nuclear Legacy


Announcing
Archived Web Extras are now available online! Read past weekly news items in the geosciences.


Jan. 30


Impressions of Ancient Jellyfish


Jan. 18
Volcanic crisis in Congo
Jan. 18
Microbes predicted for Mars found on Earth
Jan. 18
DOE to recommend OK of Yucca Mountain site
read the AGI Government Affairs Program update
Jan. 11
Complicating iron in the core
Jan. 11
Rapidly changing climate on Mars


News Notes
New U.S. support for the Law of the Sea


Peeking below Mount Vesuvius
The dredging dilemma
Oceans beyond Earth
Field Notes

Political Scene
A Decade in the Game:
AGI's Government Affairs Program
The American Geological Institute's Government Affairs Program has been informing earth scientists on science policy for 10 years.
David Applegate

Comment
A Bridge Not Too Far
The U.S. Geological Service is trying to bridge the gap between science and society.
Charles G. "Chip" Groat


Technology
Sniffing out water contamination
A real-time system for monitoring water quality could mean an early warning of water contamination.
Lisa M. Pinsker

Geophenomena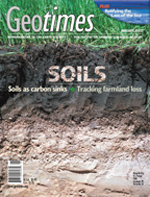 ON THE COVER: A permanent grass cover established under the Conservation Reserve Program resulted in sequestration of large amounts of carbon in this northern Minnesota soil. The dark area in this soil profile is very rich in carbon. Read story here. Photo courtesy of the United States Department of Agriculture.
Print Table of Contents

From the Editor
Where on Earth?
Society Page
Geomedia
Calendar
Classifieds